Harry Potter Mother's Day Gift Guide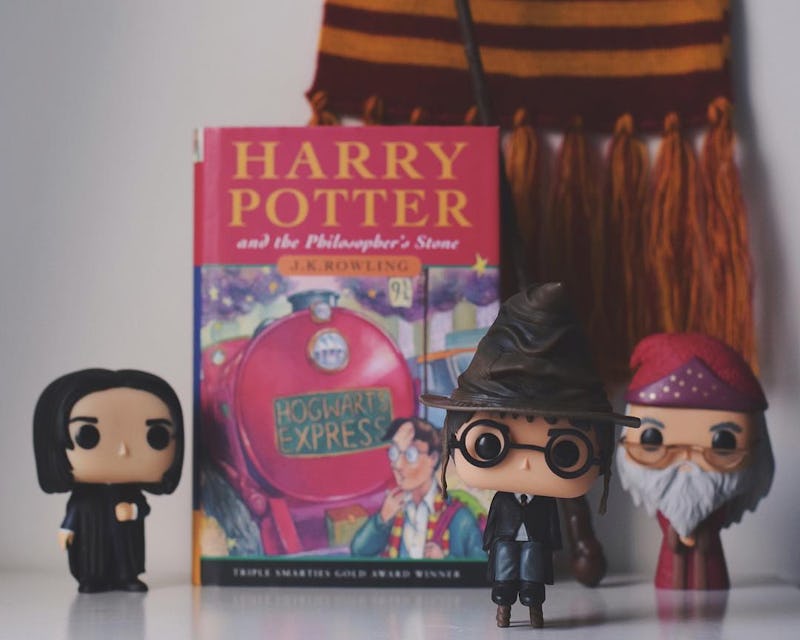 Those of us who grew up with the Wizarding World like to think of ourselves as generation Harry Potter—we're the ones who read and re-read all the books as kids, and who cried with bitter disappointment when we turned eleven and there was no Hogwarts letter in sight. But we're not the only generation to love Harry Potter. If your mother is just as much of a Potterhead as you are (or if you know a brand new Potterhead mom), then you need this Harry Potter Mother's Day Gift Guide to find the perfect magical gift for the magical mom in your life.
I don't know about you other Potter kids, but when I was little my mom used to read the Harry Potter books to me every night before bed. She confessed years later that it was a struggle to keep herself from sneaking into my room after I was asleep to read ahead. Once I was older, we'd take turns reading Harry Potter to each other. And of course, she committed 110% to her Dobby and Hagrid voices. I'm sure there are many Potterhead dads out there too (although my dad only made it a couple chapters into the first book, and so he calls it "that book about Dudley and the snake"). But with Mother's Day coming up, what better way to show your mom or moms some love than with a gift straight out of Diagon Alley?
If you're reading this, you're probably too old to pass off a homemade paper-tissue flower as a present (trust me, I've tried). So here are some Harry Potter gifts for your favorite mom:
Minimalist Harry Potter Necklace, $9, Amazon
For the classy mother who still wants to rep her HP love, I give you this minimalist necklace. I'm guessing your mom doesn't want to lug around a big, gaudy time turner necklace (or maybe you have a super cool mom, I don't know), but this necklace has just enough Harry Potter to it without looking like a piece of costume jewelry.
Gryffindor Themed Deluxe Spa Gift Set, $63, Etsy
If your mom needs to unwind, why not treat her to a spa day dedicated to her very own Hogwarts house? (If your mother doesn't know her Hogwarts house, you might have to trick her into taking a few online quizzes before making this purchase). This set comes with bath salt, lotion, bubble bath, a scented candle, heating pack, and lip balm for on-the-go pampering.
Harry Potter Book Wine Charm Set, $30, Etsy
These are so cute I almost hate them. I mean, they're ridiculously cute. If your mother is anything like my mother, she spends her days wandering the house asking which glass is her glass. Well now she won't have to! (For wine glasses, at least.) These tiny book charms are perfect for a Potterhead mom who likes to have other Potterhead moms over for chardonnay.
Hermione Granger Scented Candle, $15, Mud In My Blood
Scented candles are divisive. Some people find them charming, while other people see them as evidence that you put no effort whatsoever into their gift. But every HP fan will love these candles. I mean, the scents are HARRY POTTER CHARACTERS. Doesn't your mom want her home to smell like Severus Snape? Ok, maybe not Snape. But she'll definitely want to inhale the sweet scent of Hermione Granger.
The Grim Harry Potter Tea Cup, $21, Etsy
The world of Harry Potter mugs and tea cups is competitive. But this one is just plain brilliant: you can see the Grim in your tea leaves every time! Granted, the Grim is not a great omen... but it's still a very cool tea cup. Perfect for a mother who's also a dedicated tea drinker.
The Marauder's Map Hogwarts Harry Potter Scarf, $25, Etsy
Even if your mother isn't the type to stand on a rocky shore and stare out to sea while holding a scarf, she'll find a way to wear this. The artwork is just plain beautiful, and a completely unique take on the famous Marauder's Map. Any fashionable mom would love to rock a scarf designed by her favorite gang of illegal animagi.
Golden Trio Book Page Earrings, $18, Etsy
These earrings are made out of actual pages of the Harry Potter books. I mean, yes, it's distressing to imagine someone cutting up your childhood like that. But these earrings are just subtle enough that your mom will be able to wear them while doing professional mom things. And she'll still be carrying around a little piece of the HP universe with her, everywhere she goes.
Harry Potter Throw Pillow Cushion Cover, $10, Amazon
If your mother's taste in throw pillows has been bugging you since early childhood, this is the perfect opportunity to buy her a pillow cover that you'll both enjoy. This cover features illustrations of items and symbols from the Wizarding World, and it's pretty freaking adorable.
Hogwarts Crest Butcher Block, $43, Amazon
For the culinary-minded mom (or, alternatively, the mom who wants to display cheese on a piece of wood), you can go for a beautifully engraved cutting board. It's perfect for a serious chef who needs a serious chopping block, or for the non-cooking parent who likes to artistically display crackers next to the Hogwarts school crest.
Speaking of culinary moms, why not just spring for The Unofficial Harry Potter Cookbook? If your mom enjoys cooking, then this is the perfect way to convince her to make you treacle tart. Seriously though, this book contains recipes for everything from Cauldron Cakes to Molly's Meat Pies. And if she doesn't enjoy cooking... well, then she'll probably let you borrow it.
Mischief Managed Heat Transforming Mug, $25, Harry Potter Shop
If your mom is more a coffee mom than a tea mom, you're going to want to forget that tea cup and get her this mug instead. At first, it's an ordinary mug that says, "I solemnly swear that I am up to no good." Cute enough. But then you pour coffee in it, and in magically changes color to say, "mischief managed." Ideal for any caffeine-dependent mother.
Lizard Harry - Cute Coaster, $6, Etsy
I mean... look at this. Look at this stupidly cute coaster. Harry's a lizard. You want this coaster. If your mother is an any way cool, she also wants this coaster. It's a pretty adorable lizard coaster.
Harry Potter Travel Poster Set, $35, Etsy
Maybe your mom just moved. Maybe you accidentally gashed her favorite painting while throwing knives around her living room. I don't know your life. But if your mother is in need of a new wall hanging, consider these gorgeous Harry Potter travel posters. The prints are just plain beautiful, and they'll remind her of her favorite fictional locations.
Harry Potter and the Sorcerer's Stone Recycled Book Purse, $55, Etsy
This is the ultimate Potterhead purse. If your mom likes to shout her love for Harry Potter from the rooftops (and if she's pro-recycling), this is a show-stopping gift. It's a handbag made out of a REAL Harry Potter book cover (and yes, they sell all seven). This purse is only for a true fan-mom.
Images: Fictiontea/Instagram