The S'mores Frapp Is A Budget-Friendly Treat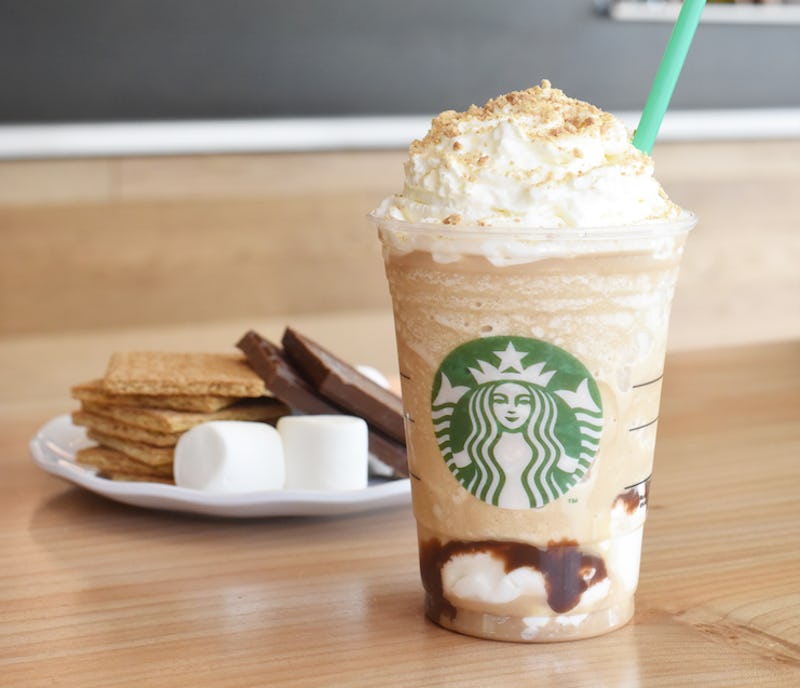 We might have a ways to go before summer finally gets here, but Starbucks is giving us an early sneak peek — in the form of its Starbucks S'mores Frappuccino. As you may recall, the coffee chain first introduced the world to this campfire-inspired drink last year, and now it's back by popular demand for a limited time only. In the flurry of emotions that ultimately come with the arrival of any new Starbucks beverage, you might have a few questions, specifically how much does the Starbucks S'mores Frappuccino cost, and when can you get your hands on one? Breathe easy, my fellow Frapp fans — this beverage is well within your budget.
Customers have had a whole year to dream about the S'mores Frapp, and all its chocolate, marshmallow-y goodness. Starbucks layers the drink with chocolate sauce, coffee, milk, and ice, but the true star player of this concoction is the marshmallow-infused whipped cream. A sprinkling of graham cracker crumble tops the whole thing off, and definitely pulls together the whole summer campfire vibe the drink has going for it.
It's a delicious and caffeinated throwback to your favorite gooey treat from childhood, but it's not going to be around forever. The drink arrived in stores on April 23, and will be temporarily available at participating Starbucks stores through the summer. The S'mores Frappuccino price varies by market, but a tall should run between $4.25 and $4.95, depending on where you live. If that's the cost of happiness, I'm so down. I mean, s'mores, you guys.
Like I said, the drink, unfortunately, won't be around permanently, but you still should have plenty of time to get your hands on one of these seasonal treats. As the weather gets warmer, Frappuccinos become a perfect way to get your afternoon pick-me-up, and the S'mores Frapp in particular contains about 50 mg of caffeine, meaning it'll give you a nice little boost when you need it. (Although if that's not your thing, you can also order a caffeine-free S'mores Creme Frappuccino. Life is all about having options, right?)
So to recap, head to Starbucks, order up a S'mores Frappuccino, taste the glory that is summer in a cup. This season is starting to feel extra sweet.
Images: Starbucks; Giphy