The Female Gaze In 'Lemonade' Is Vital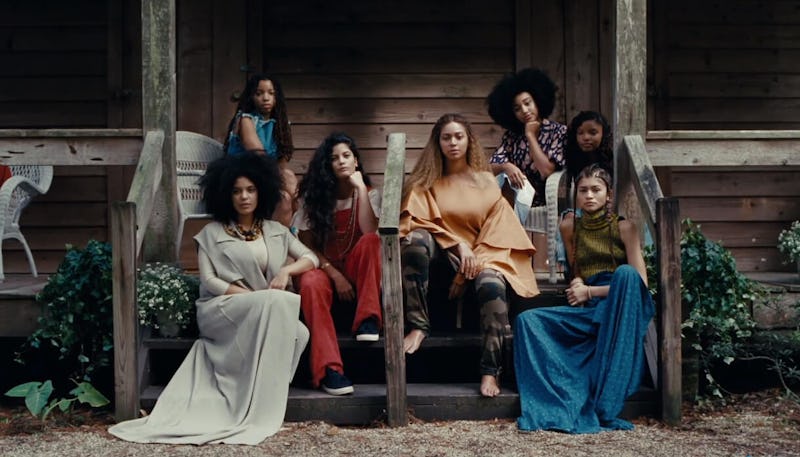 It's safe to say that Beyoncé's Lemonade is destined to be cultural iconography. In the days since its premiere, we have been inundated with memes, reviews, hot takes, and lists about why Lemonade is just so. damn. good. And frankly, it's because Beyoncé and company have crafted a film and visual album that intersects history with poetry, music, physicality, and imagery, and it all merges into a revelatory work. But perhaps one of the most important aspects of Lemonade is one that ties all of the others together: the presence — or lack thereof — of men.
In the hour-long film Lemonade, the stage is set for women to exist fully and openly; the men may participate, but they are there at the will of their female counterparts. Men are fragmented; different aspects of them are pulled away from their whole selves and reused to serve a different purpose. It's this kind of picking apart that women are subjected to on a regular basis.
The splintered presence of men begins and ends with Beyoncé's use of her own female gaze. In the opening moments, she is seen on a stage, head bent down as if invoking the muses to help tell her story. "Pray You Catch Me" starts playing.
In one of the next scenes, she confronts her own consciousness, which she's kept dormant. She repeats the words of poet Warsan Shire, trying to explain how she wanted to be better for and more attractive to her straying partner: "Closed my mouth more, tried to be softer, prettier, less awake."
Beginning the story here highlights the futility women regularly experience when they attempt to conform by keeping themselves quiet, making themselves more acceptable. In her water-logged bedroom, we come to understand that this sacred shared space is drowning her. What ensues will be a seismic transition and we will be witnessing it through her point of view, and her point of view alone.
Because Beyoncé has learned from this pointlessness: She breaks out of this bedroom/church and out into the streets. In the markedly uptempo "Hold Up," she reclaims her power, her voice. In scenes of gleeful mayhem, Beyoncé carries her baseball bat and begins smashing and twirling, cheered on by bystanders. Most powerfully, she pauses in front of a CCTV camera, letting she smile fade before smashing it with her bat.
There's no more playing nice for those who will be watching her through their private screens. The message is repeated when she smashes another camera toward the end of the song. She is confronting the lenses which are attempting to define how we view her. It's evident at this point that Lemonade is concerned with the ways in which women will observe, then find power.
The controlled presence of men is most blatant with her father Mathew Knowles and her husband Jay Z. In "Daddy Lessons" and "Sandcastles," both men are seen, but they are directly related to Beyoncé. They engage with her, but don't speak in their defense. She allows these men who are closest to her, two men whom the concept of the film and album paints as villains, to be exhibited here as loving and sympathetic people.
Her father is crystallized in the past and Jay Z is kept in the present. Silent, eyes closed or facing away from the camera, it appears that Jay Z is holding on to Beyoncé, comforted by her. She is bringing him back into their shared life.
In keeping Jay Z present but silent, Beyoncé makes it clear that the reconciliation is on her terms. He can exist next to her because she lets him. The character assassinations these men have been subjected to, the mix of truths and lies tacked onto them in her lyrics, stem from her reaction, her interpretation, and her emotion. She's telling the woman's story. She's curating their image. She is allowing a hidden story to become public through her lens, not theirs.
During "Forward," men who have become symbols for a necessary cause are rightfully memorialized. Showcased by their mothers, Mike Brown, Eric Garner, and Trayvon Martin join the ranks of the men who came before them who have become figureheads for social justice. In situ with their sons, we are reminded that these mothers must continue forward. Perhaps most powerfully, we see Lesley McSpadden, Michael Brown's mother, simply shaking her head and holding back tears.
It's not only about removing men from Lemonade in order to highlight the power of women, it's about showing the devastation that can be left when men are forcibly removed not by women but by greater forces. Once more, the women of Lemonade must continue to turn their losses into something hopeful, just as Beyoncé did in "Sorry," where she sings about the pain brought on by her cheater, but resolves, "me and my baby, we gon' be alright." Women are the ones left to remember history to prevent others from forgetting.
Furthermore, the male artists who contribute vocals on the album are relegated to Beyoncé's background. In "6 Inch," "Forward," and "Freedom," the respective voices of The Weeknd, James Blake, and Kendrick Lamar are heard, but not seen. There is no physical cameo made by these men. It's not about these men.
We're so used to absorbing media through the male perspective and through the attitudes of men, but in Lemonade, that's forcibly reversed. Women face the camera, allowed to stare back into the lens and penetrate the fourth wall. Women are allowed to move safely among themselves and congregate in spaces where men simply don't exist, let alone occupy the spotlight.
We watch women congregate in kitchens, on stages, or porches, and in concrete jungles and there is always a sense of security that permeates the imagery. These women are powerful in their numbers, unshakable with the support of one another.
The freedom that is given to women corporeally, visually, and thematically is so effortlessly done here that it's shocking to realize that women are rarely given this kind of power in other platforms. There is an ownership returned to the women of Lemonade that has been taken away from them. What results is a confident expression of power, and it reads on screen.
Images: Giphy (5); sashaisakov, murrdocks/Tumblr