Beyoncé Has A New Take On Marriage In 'Lemonade'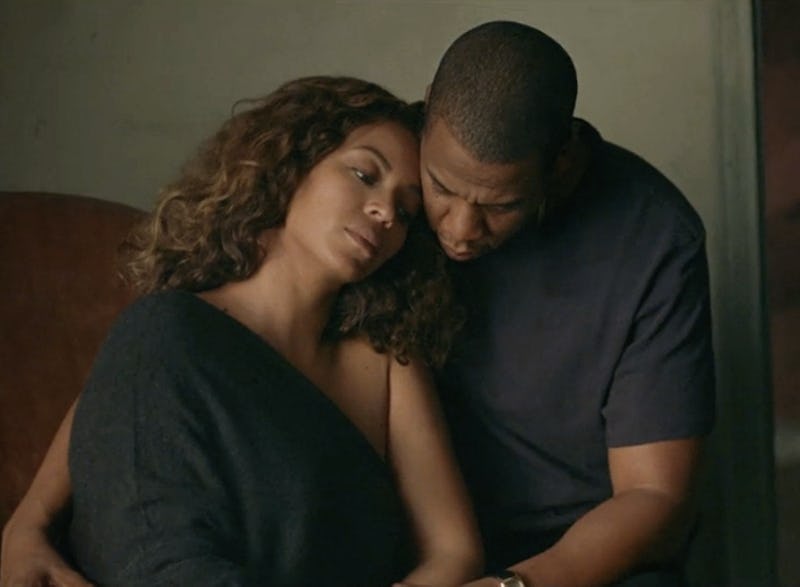 Did Jay Z cheat on Beyoncé? This is the question heard 'round the world ever since Beyoncé released Lemonade , a visual album that debuted on HBO in the form of an hour long special that studied black culture, black women, police brutality, and the deconstruction and reconstruction of a marriage in the wake of devastating betrayal. Fans of Beyonce's 2013 self-titled album might be left reeling by the the raw anger and pain with which Beyoncé approaches this new subject matter. If BEYONCÉ could be taken as an ode to the deep, passionate, and sexual love between the Queen and her husband, then can't Lemonade be taken as a way of setting that same relationship on fire? The pop star went from being "Drunk In Love" to being in a "Love Drought," and, despite the nearly three years between her two albums, fans are left with emotional whiplash. What could have caused such a drastically different outlook on love and marriage between the release of one album and the next? Of course, the one question that no one appears to be asking is, well, does it matter?
Beyoncé is one of the most notoriously private celebrities in the world, so to what nature her songs are autobiographical is impossible for any fan to guess. But having followed Beyoncé's career on and off since she was best known as the most talented member of Destiny's Child — and let that debate rage on — there is one thing that I know for sure: Beyoncé does nothing that has no meaning. As an artist, her music has evolved as she has evolved, and the Beyoncé of five years ago, of three years ago, of one year ago, is incomparable to the Beyoncé of today. So, too, would the message about love, marriage, and commitment that Beyoncé explores on one album incomparable to the message she explores on another. Whether or not Beyoncé has actually been handed some lemons between BEYONCÉ and Lemonade doesn't take away from the masterful artistry to which she outlines the painful evolution of a marriage in jeopardy.
As Beyoncé said during her verse on Nicki Minaj's "Feeling Myself," she "changed the changed the game with that digital drop" with the release of BEYONCÉ. No one knew that Beyoncé had an album coming out until it was already available on iTunes, and then the Beyhive proceeded to crash iTunes as fans all tried to download the album at the same time. And, once they did manage to get their hands on it, critics and fans alike described it as her "sexiest album yet" — for good reason. Many of those songs were raunchy, and seemingly autobiographical. If you, for some reason, didn't know that Jay Z and Beyoncé were having the sex, then Beyoncé was happy to tell you all about it in such songs as "Rocket," "Blow," and especially "Partition." Even "Haunted" went from musing about how unlikely it was that this album, with its lack of promo and fanfare, would ever do well, to declaring proudly, "You want me? I walk down the hallway. You're lucky. The bedroom's my runway. Slap me! I'm pinned to the doorway. Kiss, bite, foreplay."
Fast forward to April 23, 2016, on which Beyoncé dropped an album with a romantic narrative that suggested just the opposite. Suddenly, on "Pray You Catch Me," Beyoncé murmurs that, "You can taste the dishonesty. It's all over your breath as you pass it off so cavalier." Suddenly, on "Sorry," Beyoncé shouts, "Looking at my watch, he shoulda been home. Today, I regret the night I put that ring on." Suddenly, on "All Night," Beyoncé muses, "So many people that I know, they're just tryna touch ya... Give you some time to prove that I can trust you again." With Lemonade being described by TIDAL as "a conceptual project based on every woman's journey of self-knowledge and healing," fans everywhere scrambled to figure out if they were watching a symbolic look into the breakdown of Beyoncé's parents' marriage, an hour-long drag of Jay Z through the metaphorical streets, or simply concept art of Beyoncé reminding us all that y'all haters corny with that divorce rumor mess.
In the time between the release of BEYONCÉ and Lemonade, Jay Z and Beyoncé have been plagued with many, many, many divorce rumors. The gossip picked up speed during the On The Run Tour, when word on the street was that Jay Z and Beyoncé's marriage would only last as long as the tour did. They gained traction again during the infamous Solange and Jay Z elevator incident, in which Solange was caught on video physically assaulting Jay Z in an elevator while Beyoncé stood by without intervening. Throughout these events, Beyoncé's only response to the rumors was a well-worded statement and to flood her Instagram with pictures of herself and Jay Z — with occasional guest appearances from Blue Ivy — looking just as happy and in love as ever. The world was forced to find something else to talk about, because, if there was strife going on between the two members of the world's most famous couple, no loose lips were sinking that 'ship. (Bustle has reached out to Beyonce and Jay Z regarding the divorce and cheating allegations, but has yet to hear back.)
Then, when the rumors die down again, here comes Lemonade. But, to be fair, the album's message doesn't come completely out of left field. Beyoncé's denouncement of a cheating partner is hardly something new, even and especially on an album as sexually explicit as BEYONCÉ. On the same track list that held "Drunk In Love" and "Partition" was "Jealous" — in which Beyoncé states, "I hate you for your lies and your covers, and I hate us for making good love to each other" — and "Mine" — in which Beyoncé worries, "Been having conversations about break-ups and separations. I'm not feeling like myself since the baby. Are we gonna even make it?" Those aren't exactly songs indicative of a completely happy partnership, whether real or imagined, and those seem to be the songs upon which the narrative of Lemonade has expanded, building something that has the whole world kicking those cheating rumors back into high gear.
There were a lot of messages to parse out of the Lemonade concept film, and even more to sift through in the songs themselves. But when it comes to marriage and commitment, Lemonade seems to be declaring that fact of the matter is that they are hard and painful work. A relationship takes time and effort from both partners to truly last, as Beyoncé reinforces in "Love Drought" with lyrics like, "Ten times out of nine, I know you're lying, but nine times outta ten, I know you're trying. So I'm trying to be fair." But, in keeping with the concept of the album, Beyoncé adds another layer to that message: When faced with a betrayal as intense as cheating, the first thing that a person has to work on is his or herself. "What's worse," she asks on "Hold Up" with an almost wry tone. "Lookin' jealous or crazy? Or like being walked all over lately? I'd rather be crazy."
P.s. We talked Lemonade on the latest episode of Bustle's podcast The Chat Room, because duh. Listen here:
She goes on to muse that the vulnerability and the pain might seem overwhelming when it happens, but you can overcome because you are stronger than the bad things that happen to you. "I'ma wave through your shallow love," she shouts on "Freedom." "Tell the deep I'm new. I'm telling these tears, 'Go and fall away.' May the last one burn into flames." Then, once that anger fades, Beyoncé promises that you're not weaker for forgiving the one who hurt you. That forgiveness might be the hardest step on the road to healing, a message that is best shown in the song "All Night," with the lyrics, "They say true love's the greatest weapon to win the war caused by pain... True love breathes salvation back into me. With every tear came redemption, and my torturer became a remedy."
So did Jay Z cheat on Beyoncé? Are any of the songs on Lemonade about Beyoncé's real life? At this point, it doesn't matter. The truth within the gossip doesn't take away from the magnificence of what Beyoncé has accomplished with this album. The truth within the gossip doesn't make her any more or less qualified to give us an album about a happy marriage followed by an album about a fractured one. The truth within the gossip is the message that, no matter what we as women face — in life, in society, in relationships — Beyoncé encourages us to move forward. And, if we're lucky, we'll have her words and a bomb ass beat to guide us.
Image: HBO (3); Giphy