More Proof 'Ghostbusters' Will Be Amazing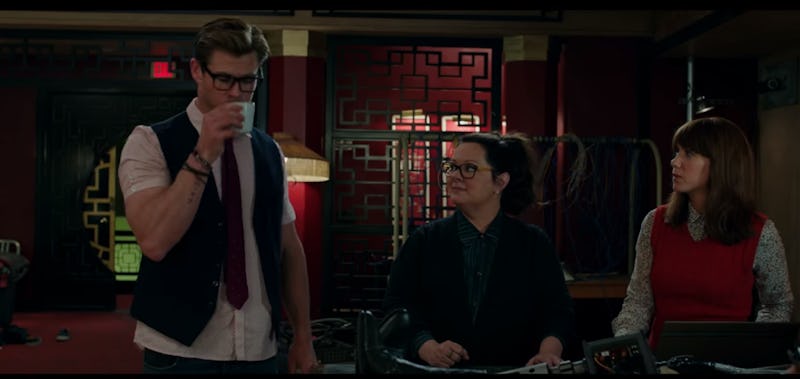 If you weren't already excited for this movie, well, good news: There's a new featurette for the upcoming Ghostbusters movie that focuses on Chris Hemsworth's character, Kevin, aka the stupid, sexy secretary to the team of all-female Ghostbusting team comprised of Kate McKinnon, Melissa McCarthy, Leslie Jones and Kristen Wiig — and trust me when I say it says loads about how amazing this movie sure to be. The featurette, released in honor of Administrative Professionals Day, really highlights just how ridiculous the trope of sexy secretary/cute gal Friday often seen in other films really is... and also how impossibly handsome Chris Hemsworth is.
Luckily for me and for everyone, Hemsworth is apparently a very gifted comedic actor and takes the role of Kevin to the next level to hot and incompetent. As McKinnon says of Kevin in the featurette: "It's like a Ken doll with the insides scooped out." The teaser also has a lot of new footage from the upcoming Ghostbusters reboot. Amongst the things it reveals: Kevin can wear the hell out of a vest and a pair of lens-less glasses in the new featurette, but he cannot answer the phone, wear glasses properly, make a cup of coffee, keep track of what the Ghostbusters business actually even is, or design a logo for the lady Busters without accidentally including enormous boobs. The ridiculousness is over-the-top/incredible, and it's even better hearing from the cast's interviews that Hemsworth was a riot on set. The director himself, Paul Feig, even revealed that Hemsworth was such a great improviser that Kevin's level of cluelessness was in large part due to the Australian actor's on-set goofin'.
In this new featurette, we also see that Kevin is going to try to join the team himself to bust those ghosts — but, judging from his intelligence level, it probably won't go over so well, so I wouldn't worry about his character somehow becoming a white knight. Bonus, though: He looks so simple and adorable in that jumpsuit. He's just doing his best.
Ghostbusters hits theaters July 15.
Images: CBR Trailers/YouTube