The 10 Most Instagrammable Places To Get Married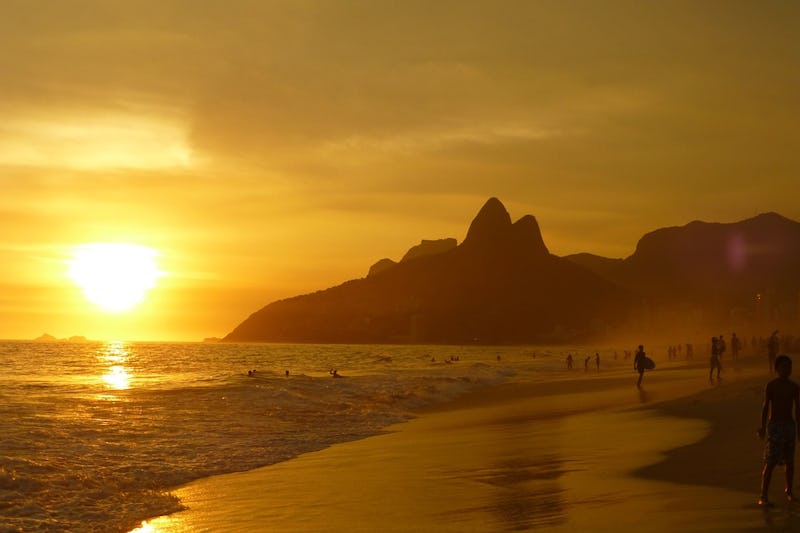 The wedding industry generates several billions of dollars a year, between venues, florists, fashion, entertainers, food and drink, and more. Picking a location is sometimes the hardest part, leaving many brides-to-be searching for the most instagrammable places to get married across the world. The sky is the limit, and you will undoubtedly have an endless menu of spots to choose from. Luckily, fine jewelry designer Ingle & Rhode is here to help.
Ingle & Rhode used the hashtag #justmarried to analyze over 150,000 Instagram photos. They then cross-referenced the geographical coordinates against the nearest cities, and thus determined the most popular places to get married. Some of these locations might mean quite a bit of traveling on your part; but more and more, families are going on these adventures together. Some reports state that destination weddings have shot up as much as 400 percent in recent years. One explanation is that couples are looking to economize and combine their wedding and honeymoon into one trip. Not a bad idea, in my opinion!
Whatever your reasons may be, if you're on the hunt for the perfect place to exchange vows, this is a good place to start. Check out the top 10 places below, and head over to Ingle & Rhode for the full list of 20.
1. Moscow, Russia
The capital of Russia is one of the most populated cities in the world, it houses the largest library in Europe, and it's home of the Big Stone Bridge, built in the 17th century. It's known for its variety of museums, theaters, and architecture, which explain why many claim this is the center of Russian culture.
2. New York, United States
If you're in a New York state of mind, this is definitely an excellent place to say "I do." With some of the most iconic buildings and tourist destinations in the country, New York is a place people flock to for a one-of-a-kind experience.
3. Las Vegas, United States
Take it from this Las Vegas local: There's more to Sin City than booze and gambling. We have mountains, we have palm trees, we have crystal clear blue skies. Forget Disney World. This is the happiest place on earth.
4. St. Petersburg, Russia
The former capital of Russia is considered by many to be one of the most beautiful cities in the world. With 93 rivers and canals, about 800 bridges (more than any other European city), over 200 museums, 100 theaters, 1,270 libraries, and 5,830 cultural landmarks, any wedding in St. Petersburg is guaranteed to be picture-worthy.
5. London, United Kingdom
London will provide you with a variety of photo ops, including the London Eye, the Tower of London, Buckingham Palace, and Big Ben. Stunning architecture and its fascinating history make it a desirable wedding destination.
6. Sao Paolo, Brazil
Forget what you've heard about Sao Paolo. Its restaurants, shops, hotel, and nightlife are tough to beat, and its coast is breathtaking. With stretches of beach that are nothing short of romantic, this is a location you should definitely consider for your nuptials.
7. Singapore, Singapore
These pictures don't do it justice. Google Singapore for yourself, and you'll end up speechless. Booking my ticket now!
8. San Diego, United States
San Diego has quickly become my favorite escape when I need a break from Las Vegas, and anyone who's visited will understand why. The climate is perfect, the views are beyond memorable, and the culture is warm and inviting.
9. Los Angeles, United States
Los Angeles has already made it on most people's must-see list, and it understandably provides an eye-catching backdrop for couples getting ready to swap their vows.
10. Rio de Janeiro, Brazil
Rio is known the world over as the most visited destination spot in Brazil. The sea is on one side, and mountains are on the other; and it has some of the most beautiful stretches of beach that the eye will see.
Images: eacuna/Pixabay; Thomas Depenbusch, Andrey, Francisco Barberis, Mike_fleming, Ninara, Michael Bold, Barney Moss, Rodrigo Soldon, Nicolas de Camaret, Bryan Nguyen, Kai Lehmann, michelle.hayes, Angel Schatz, jakerome, Jose Fernandes Jr., Mike Vondran/Flickr; courtesy of justafoodienyc, jlepka, isaiahandtaylorphotography/Instagram; Megan Grant/Bustle