'Girls' Season 6 Hints From The Cast & Crew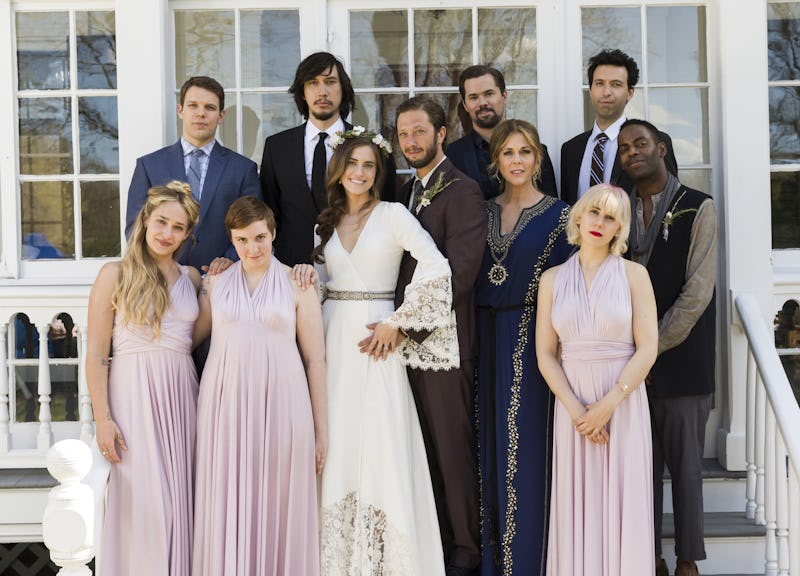 Following the Season 5 finale of Girls, the harsh realization that Girls will be ending after Season 6 fully hit me. To help recover from this, I dealt like only a fan could — by seeking out as many Girls Season 6 hints as I could find. Although Girls showrunner Jenni Konner told Bustle that she and Lena Dunham and have known how each character on Girls will die ever since the show premiered at South by Southwest, that's not actually how the series will end... even if that could be weirdly satisfying. Since Girls is so based in reality, it isn't the type of show where huge spoilers will ruin everything, but that doesn't mean that Dunham and Konner can't offer juicy tidbits in what will actually happen when the series ends.
While a nice and tidy series finale is nothing that I expect from Girls, I hope that some of the story lines will send Hannah, Marnie, Shoshanna, and Jessa into the realm of adulthood. Although Season 5 just ended on April 17 and we'll have to wait until 2017 to see what becomes of the Girls, Dunham, Konner, and even Ray actor Alex Karpovsky have offered some insights into what Season 6 will hold. So now, before I descend into darkness at the future loss of Girls, here are eight clues about Season 6 courtesy of the people who make the HBO series.
Jessa & Adam Will Still Be Together
In the "Inside the Episode" feature after the Season 5 finale of Girls, Dunham spoke about Jessa and Adam's relationship. During the episode "I Love You Baby," Jessa and Adam had a brutally verbal and physical fight — the first of their relationship, but not necessarily unexpected. While this could have been seen as an end to their relationship, Dunham said that's not the case. "That felt like the right place for us to end," Dunham said. "And it doesn't mean their relationship is over, it means that their relationship has reached a new kind of level of intensity and passion and as a result, it's terrifying." So expect to be seeing more of the good, the bad, and the ugly of Jessa and Adam's relationship in the final season.
Marnie & Desi Will Still Be On Tour
Marnie started off Season 5 with a very ill-advised wedding to Desi. After a chance encounter with her ex-boyfriend Charlie, she decided to end the marriage and quickly turned to Ray after having a dream about him. Marnie's music career is intertwined with Desi's though and Season 6 of Girls will pick up where they left off with them pursuing musical success while on tour, according to an interview Konner did with The Hollywood Reporter. "[Desi] continues to be a part of the tour," Konner told THR. "They continue to work together. Like the White Stripes."
I'm happy to hear that Ebon Moss-Bachrach will return as Desi to antagonize Ray and Marnie, but could this also mean the return of the stellar guest star Lisa Bonet as the infuriating Tandice Moncrief? I really hope so.
Ray & Shoshanna Might Not Be Completely Over
Season 5 ended with Marnie and Ray having a go at a real relationship, but with Marnie and Desi still on tour, the pair will have to continue struggling with the fallout from the Desi breakup. Besides that, there's the fact that Marnie hasn't been the most reliable character when it comes to relationships. As a person who would much prefer to see Ray be with Shoshanna, it came as a consolation that when asked about the Ray and Shoshanna romance, Karpovsky told TVLine,
They don't tell us about where they're headed with story arcs until we start cooking — and we don't start cooking on [Season 6] for another few weeks. Ray and Shoshanna have a lot in common, though. They're both oddballs in a way that often feels complementary. They've obviously had some good times together — and sometimes I think that might be fun.
Although Shoshanna doesn't need a man in her life, I'm happy to know there's still a bit of a chance that Ray and Shoshanna could reunite romantically.
Hannah Might Have A New Love Interest — But She Doesn't Need One
Speaking of characters not needing love interests, Konner said in her Hollywood Reporter interview about Hannah's newly single status that "I think there can always be someone new, but I do think that's a slightly less important part of her world now."
Season 6 could lead to some dating antics for Hannah, something we haven't seen in awhile, but I do like the idea of her being more comfortable in her own skin and not requiring a man — or woman, as she explored during the Season 5 "Spring Queening" retreat — to give her emotional security.
Shoshanna Becomes A New Yorker Again
Shoshanna adored her life in Japan, but by the end of Season 5 she was back where she belonged — in New York City. "I think she had an amazing time but she thought she had solved all of her problems geographically, and that didn't quite work for her," Konner told The Hollywood Reporter. "I think she's been a little flattened by her latest experiences, and it will be interesting to see her re-integrate into New York. I think she's happy to be back." So no worries, Shosh fans — this girl will be staying in New York City for Season 6.
Caroline Could Return
Adam's sister was not in Season 5 after having baby Sample with Hannah's neighbor Laird. Although it made complete sense for her character to leave, there were also scheduling conflicts since Caroline actress Gaby Hoffmann also films the series Transparent. The Hollywood Reporter asked Konner if Caroline will be back for Season 6 and though Konner couldn't give a definitive answer, her response made me a little bit hopeful.
"I would work with [Hoffmann] every day of our lives, but she's also in Transparent, and we shoot — although this year I heard it might be different. Last year, at least, we were shooting on the same schedule as Transparent," Konner said. If the shooting schedules can work out, then we may see Caroline again before Girls ends. If not, I'm equally hopeful that other reoccurring characters will show their faces in the final season.
The Girls Will Start To Become Women
Although it's hard to believe, Season 5 really did focus on the characters of Girls becoming more mature. Konner confirmed this to The Huffington Post when she said that Hannah performing at the Moth in the Season 5 finale was her evolving into becoming more of an adult.
"I think, for now, her deciding to write again is Hannah getting close to her truth and actually figuring out, 'Oh, I can do this.' It sort of symbolizes that Hannah is going to grow up and be a grown woman," Konner told HuffPost. This trend of the girls growing up will surely continue in the sixth and final season, although I hardly doubt that they will end up full-fledged adults by the series finale — the show is titled Girls after all.
There Will Be Dancing
Although Konner, Dunham, or Karpovsky didn't confirm this fact, what would a season of Girls be — especially the series finale — without Hannah and her outrageous and hilarious dancing? Not a season at all.
Images: Mark Schafer/HBO; Giphy (8)