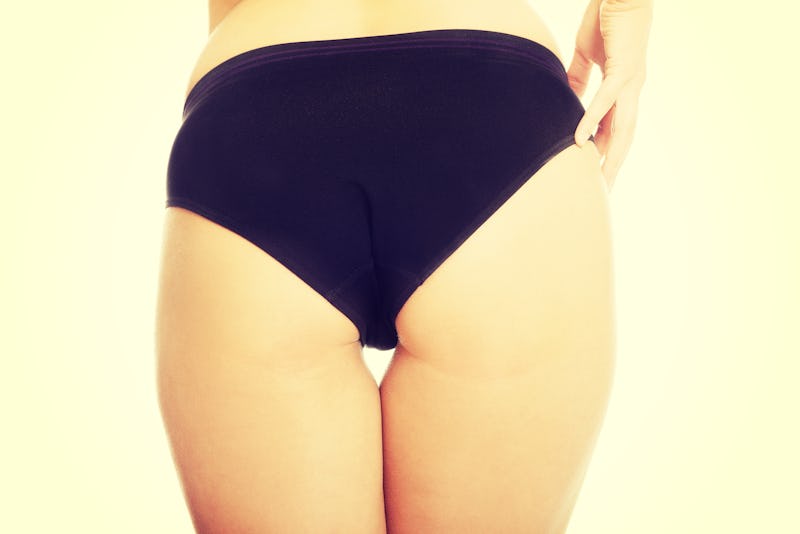 Over the course of her lifetime, the average woman will spend about 2,280 days menstruating. That's about 6.25 years of her life (which pretty much makes the average woman a superhero). Considering we spend more time menstruating than we do attending elementary school, it makes sense that we have access to a wide range of items to help us out when we get our period: tampons, painkillers, heating pads, television subscriptions, etc. But most of us haven't quite perfected things when it comes to our period underwear — we stain them and throw them out, only to buy new ones. In fact, it's estimated that a woman will spend about $2,280 in her lifetime solely on period-related replacement panties.
Recently, however, there's been a lot of forward movement in redefining how we think of periods and underwear. We now have access to period panties that absorb period blood, seal in odors, and keep you dry, allowing many of us to skip the menstrual cup altogether and free bleed safely into machine-washable, quick-dry panties. Bustle spoke with Joanna Griffiths, the founder of Knix Wear, a company that creates leak proof, multi-functional underwear for women. Griffiths says she started Knix Wear when she realized that our world has seen incredible advances in technology, "yet underwear has remained relatively the same." She (and other women, including Miki Agrawal, CEO of THINX) have since provided a diverse line of underwear that caters to women who want to prevent any kind of leakage they may encounter, period-related or not.
The menstrual landscape is completely changing, shaking up the relationship between your period and your panties. Here are eight period underwear hacks you should know to keep up.
1. Invest In Period-Friendly Panties
Let's start with the most basic hack: buying period panties. Brands like THINX and Knix Wear give you comfortable, environmentally-friendly underwear that seals in odor and absorbs your period blood, as well as any other kind of discharge. They're leak-resistant with moisture-wicking technology, and they're as comfortable as they are cute — we're talking hiphuggers, lacy boyshorts, sexy high-waisted pieces, and thongs. Griffiths tells Bustle that these companies "pay a lot of attention to this desire to merge functional performance with design," which has resulted in many women wearing Knix Wear or THINX even when they're not even menstruating. These fashionable undies can even double up as athletic wear or comfy staples around the house.
Depending on how heavy your flow is, you can use period underwear as a backup along with a tampon or a cup, or you can go free and let them soak up all your menstrual blood. Lunapads also makes period underwear called Lunapanties, and other brands include Dear Kate, Modibodi, and Anigan.
2. Build Your Own Set & Save
On their website, THINX tells you just how much blood each pair of undies will hold. For example, the hiphugger holds up to two tampons' worth, while the boyshort holds up to one tampon of blood. Use this information to build your own personal set of period underwear. You can buy three, five, or seven pairs at a time, and mix and match to suit your flow. As incentive, the bigger the box you buy, the more money you'll save.
3. Consider A Subscription Service
If you've tried period underwear and know it's something you no longer want to live without, a subscription service may be the next logical step. Because like any other pair of underwear, period panties will face some wear and tear over time, and you'll need to replace them eventually.
Knix Wear offers their users a pretty sweet year-long subscription plan that saves you up to 50 percent on their undergarments. You can either opt in for three pairs every three months, or four pairs every four months. It costs $60 every three months, you're billed quarterly, and you only have to commit to one year at a time. You can stick with one pair, or you can let them mix and match the best styles for you. For those ready to take the ultimate plunge of commitment, Knix Wear lets you save even more with their one-time payment of $222 for a year of receiving three pairs of undies every three months. Shipping is free with every subscription.
4. ...Or A Subscription Service For Regular Underwear
Maybe you don't use your period-specific underwear throughout your period, which is understandable, considering they're a bit pricier than your average panties and therefore not as easy to stock up on. So, you're bound to run into an accident at some point that leaves your everyday undies less than immaculate, and it pays to have some backups handy. With a subscription service like Skivvie Nix, you'll always have fresh thongs and briefs on hand to swap out with any pairs you need to toss.
With Skivvie Nix, you can pick your poison — thongs, cheekies, or one of each — and choose whether you want color, basic, or a mix, and then sign up to get two new pairs each month. Shipping is free, and you can cancel or skip a month whenever you want. There are all sorts of payment options; pay $19 once a month, six months upfront at $18 a month, or one down payment of 12 months for $17 a month. No matter which package you go with, you'll ensure you never be without some pristine panties.
5. Rinse Or Soak Your Underwear In Cold Water Before You Wash Them
Period-friendly underwear are made to be tossed in the delicate cycle of your washer (without fabric softener) and hung to dry. However, THINX recommends rinsing them under cold water before they get run in the machine. Soaking them for up to 20 minutes in cold water is even better. This also applies to regular underwear that's got some stubborn blood stains.
6. Reserve A Separate Toothbrush Just For Scrubbing Out Stains
Repurpose an old toothbrush to give you a helping hand when you're up against underwear with a particularly gnarly blood stain. After your cold rinse or soak, but before you toss them in the washing machine, take your panties to the sink and scrub any stains with the toothbrush.
Oh, and maybe label it when you're done so you don't get it mixed it up with your other toothbrush.
7. Use Household Items Like Salt & Advil To Get Tough Stains Out
When you're dealing with underwear you actually like, you might be hesitant to use chemical-packed laundry detergent or stain remover to scrub out the blood. No worries — you've likely got plenty of items in your cabinets that can be used on those lacy panties.
Grab some extra table salt, sprinkle it on the stain, add water, and rub with your old toothbrush. Salt loosens up the blood from the fabric, or you can even use a couple Advil for the same purpose. Crush them up in a bowl and add water to make a paste, and scrub that into the stain until it disappears. There is also the option of using hydrogen peroxide on your underwear, but be careful, since this only works on white or light colored garments.
8. Follow The Period Underwear Companies' Social Media Accounts To Get All The Updates
With the rising interest in and demand for these products, companies that create these underwear are constantly coming up with new and improved models. "We're consistently trying to innovate and push ourselves to push the bar with every new product," Griffiths tells Bustle. In fact, this summer, they're releasing the next version of their padded technology, which is three times more absorbent than what they currently have. To stay up-to-date with what's coming out next, plug into these companies' Facebook, Twitter, Instagram, and Snapchat accounts. You can be one of the first to get your hands on the newest panties — and you could score some exclusive sales.
All the evidence points to the fact that you've got everything you need to give period-friendly panties a shot. For those of you who still have doubts, Griffiths puts it simply: "I would encourage people to try it. It's not gross." There you have it. Enjoy your new panties.
Images: Knix Wear, THINX, BuzzFeedBlue/YouTube; knixwear (2), skivvie_nix, corawomen/Instagram; Giphy