Get The Urban Decay 'Alice' Lippies While You Can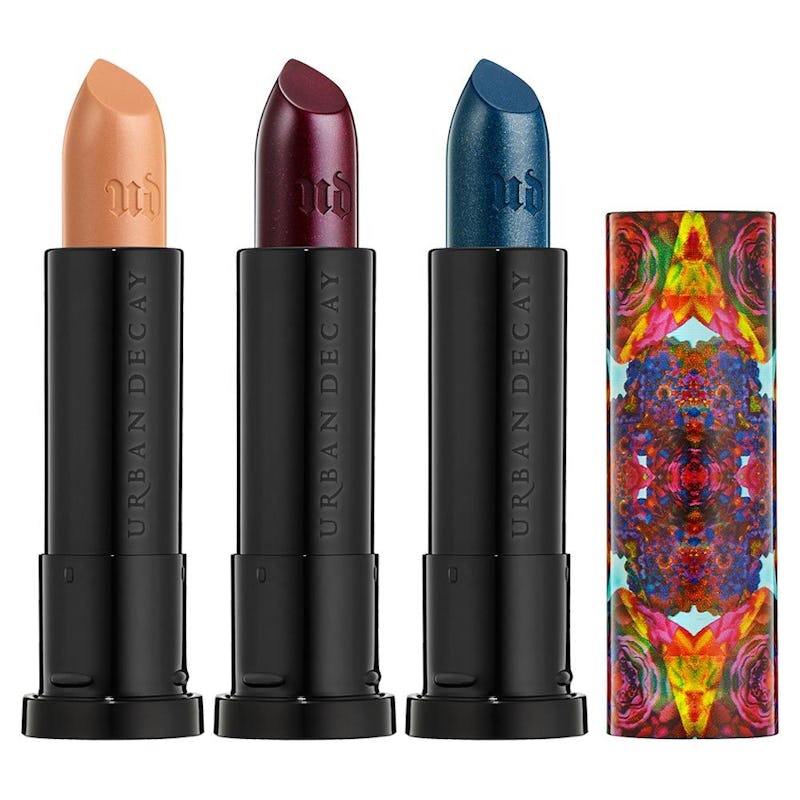 May 1 marks a day of celebration for all Disney and Lewis Carroll fans: Urban Decay's Alice Through The Looking Glass lipsticks are here. But are the five lippies, all created in collaboration with the Alice In Wonderland Disney sequel, sold out? Fortunately, they are not. Considering the release of this whole collection has been much anticipated, however, selling out is likely to happen within the next few days. If you ask me, the time is now or never — unless you want to fall victim to a hefty resale price on eBay. All five shades are currently available for $18 each on UrbanDecay.com, and will hit sephora.com, ulta.com, macys.com, and beauty.com come May 5.
You might be wondering what else there is to know about the Alice Through The Looking Glass Urban Decay collection. There's also an eyeshadow palette available in conjunction with the lipsticks, featuring 20 new and psychedellic hues. Similarly, there are the five new, limited edition shades of lipstick, all paying tribute to a different character in the upcoming May 27 Tim Burton film.
The characters chosen are a mixture of favorites from Tim Burton's 2010 Alice In Wonderland film and new characters from the sequel: Alice, of course, the Mad Hatter, Mirana, aka the White Queen, Iracebeth, aka the Red Queen, and Time, a character who is part clock, and part human. Aptly named, don't you think?
Choosing your favorite color over your favorite character is a must with this collection, especially if you want to get ahold of it before it sells out and never returns — as "limited edition" implies. If you're lucky enough, of course, your preferred shade will correspond with your preferred character.
The red hue is named for the Red Queen; the nude for innocent Alice; the out-there bright purple for the Mad Hatter; the darker purple is emblematic of the White Queen — I guess a white lipstick wouldn't likely sell as well — and a pretty metallic blue shade is for Time.
Urban Decay Lipstick in Mad Hatter, $18, urbandecay.com
Urban Decay Lipstick in Iracebeth, $18, urbandecay.com
I'm guessing that you're already racing away to the Urban Decay website to purchase these amazing Alice Through The Looking Glass lipsticks before they sell out. Because if I know Disney and Alice In Wonderland fanatics as well as I think I do, there's no doubt in my mind that this entire collection is going to go, and fast.
Urban Decay Lipstick in Alice, $18, urbandecay.com
Images: Urban Decay