Luanna & Bethenny Share A Sweet 'RHONY' Moment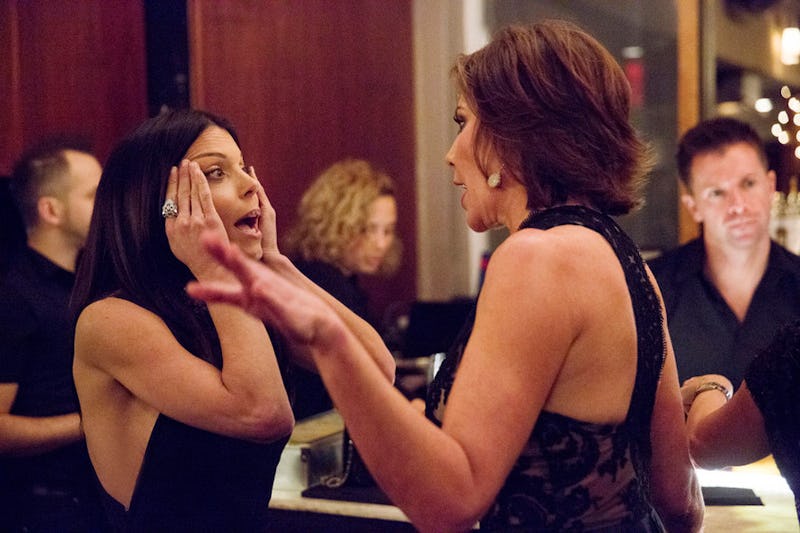 Luann de Lesseps is my second-favorite of the original Real Housewives Of New York (Bethenny Frankel is the first, because she and I are Scorpio soul mates), but watching Luann's transformation from Countess to divorcée to fiancée has been the most entertaining of them all. Luann's life has really changed over the course of the seven seasons of Real Housewives Of New York, and she hasn't always been so well behaved. Owning up to her recent bad behavior, Luann confessed to Bethenny that she's been kind of lonely without her kids around.
Let's backtrack a little here — why have people been mad at Luann recently? Well, Luann had some pretty mean things to say about Carole dating a younger man, and she also made some of the other housewives uncomfortable on a trip when a man she hooked up with ended up sleeping in the house with the women. Bethenny, who is mostly friends with Luann now, called her out for some other things, and Luann was first defensive and then really opened up to Bethenny. She admitted that there were a lot of changes going on in her life and that she was mostly living out of a suitcase and she felt bad about herself and acted out. Bethenny — who just went through a divorce herself — totally understood, and, instead of fighting, the two were really nice to each other. Is this a kinder, gentler version of the Housewives we're seeing?
In years past, a much smaller conversation would have started a big fight, but I think the Real Housewives Of New York cast has lived and learned over the past seven seasons. They've had children, they've been divorced, they've changed their lives so much — they know that nothing is perfect and perhaps judging someone harshly is not the way to go. Earlier versions of Luann and Bethenny would have had a blowout, but the fact that these two simply hugged and carried on shows ushers in a new era, and I like it.
Images: Heidi Gutman/Bravo; Giphy