Here's What's Next For Marvel After 'Civil War'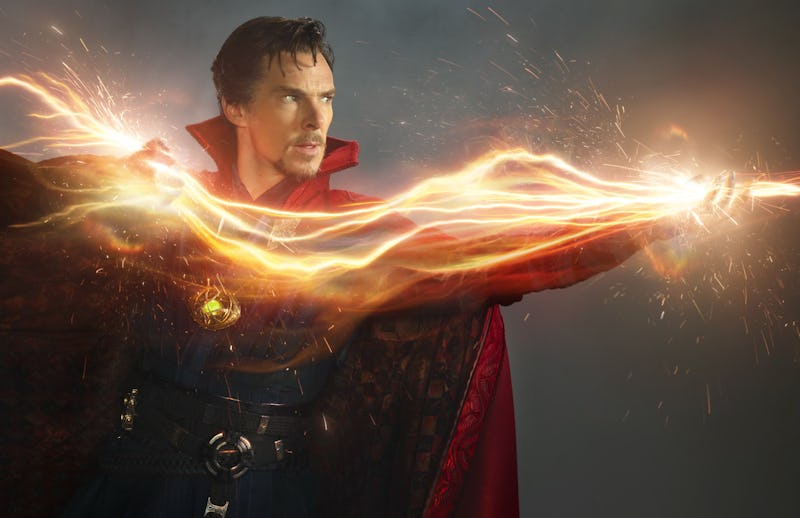 Contrary to my own feelings, the world will not end after Captain America: Civil War — and neither, of course, will the Marvel Cinematic Universe. The comic book movie machine keeps on trucking along, and the release calendar is populated through 2019. Civil War will be the last Marvel film for awhile that really spotlights one or more Avengers. From the looks of the trailers, Captain America, Iron Man, and the rest are going to need a nice, long break after this one anyway. So what's next up for the MCU? The next Marvel movie after Civil War has Internet boyfriend and Star Trek alum Benedict Cumberbatch leading Doctor Strange, which is scheduled for release on Nov. 4 of this year.
Doctor Strange is the first in what Marvel probably hopes it can make into a proven property. Perhaps a Doctor Strange sequel will take of the unassigned 2020 Marvel release slots that are up for grabs. It feels deliberate that the film to directly follow Civil War — a movie that collects a hodgepodge of Marvel characters and tosses them in the middle of an epic row — is one that will start fresh with new heroes, villains, and locales. What can you look forward to in the next Marvel release? Here's what to expect from Doctor Strange.
An Accomplished Cast
I can almost hear the sighs of his devoted fans in the distance. Cumberbatch plays the titular Stephen Strange, a world-class surgeon whose career is destroyed after his priceless hands are mangled in an accident. Fortunately for him, magic exists in the MCU. The ethereal Tilda Swinton plays The Ancient One, Strange's mystical mentor. Oscar nominee for 12 Years A Slave, Chiwetel Ejiofor, is another student of The Ancient One's, who could be friend, foe, or both; Hannibal star Mads Mikkelsen is a rival sorcerer with a bone to pick; and Rachel McAdams is an unnamed ally from Strange's old life. What a bunch of hacks, right?
A Distinct Tone
Doctor Strange veers out of well-worn superhero territory and into the occult. That shift in story will be expressed visually, according to Doctor Strange Director Of Photography Ben Davis. Screen Daily reported on a masterclass led by Davis last August, where he expressed that the film has more in common with Disney's Fantasia than any previous Marvel film. "It has a very psychedelic grounding, and it's not your typical Marvel action movie," Davis said.
Some Controversy
Active on Twitter? Then you've surely noticed the recent trends calling out Hollywood's tendency to "whitewash" Asian characters and co-opt Asian imagery. Some of that criticism has been directly leveled at Doctor Strange, especially for the casting of Swinton. (The Ancient One is depicted as an Asian man in the comics.) Marvel issued a statement to Mashable clarifying that the character is Celtic for the purposes of the film, but many fans are not appeased.
A Few Familiar References
So maybe Stephen Strange isn't that new to the MCU. If you were paying close attention during Captain America: The Winter Soldier, you'll have heard Strange's name uttered by HYDRA operative Agent Sitwell as a monitored "threat" to the evil organization's activities. So expect the usual Marvel Easter Eggs to pop up in Doctor Strange, even if the narrative feels light years away from Avengers headquarters.
Marvel fans, you only have a few months after Civil War to get your body ready for the weird world of Doctor Stephen Strange.
Images: Walt Disney Studios; Giphy (4)