You Should Watch These Weird Movies With Your Mom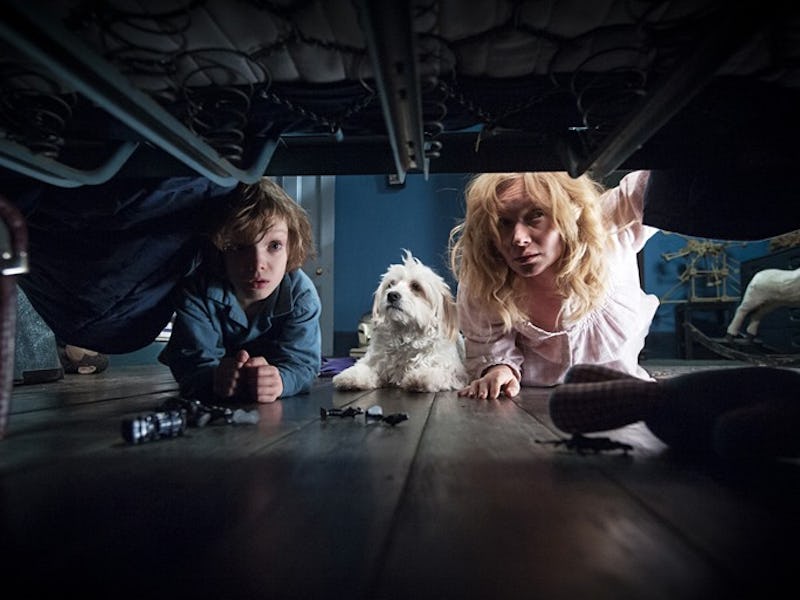 Mother's Day is upon us, and you know what that means: it's time to chill with your mom over mimosas. I mean, if you're anything like my mom, you love to watch a movie with a big glass of wine. So what are some unusual Mother's Day films that will give you guys something to talk about during the holiday? It's too easy and predictable to settle on a feel-good film or a fun romantic comedy — although there are some good ones to choose from.
Mother's Day is about showering your mother with cards, chocolate, and plenty of hugs and laughter. While most of our mothers will tell us that they are "just happy to spend time" with us, we all know that Mother's Day is the one day we should be treating her like the queen that she is. Whether it's taking her out on a fun excursion, treating her to a decadent brunch or just hanging out on the porch and reminiscing, making sure your mom is the center of attention is key. And maybe your mom is more of a horror buff, or she likes an action-packed flick. Movies have so much more to say about motherhood than you might think, and mothers pop up across all genres.
Here are some films that cross genre boundaries and give us some seriously cool matriarchs.
1. The Babadook
The Babadook blew us all away when it came out in 2015. Our protagonist, Amelia, is a pained mother going through a seriously transitional phase in her life and as a mother. As she tries to protect her son from the specter of the Babadook, this horror film becomes a sweeter, if not totally macabre, depiction of how to heal from deep emotional wounds. Essie Davis plays Amelia perfectly. You'll be cheering for her happy ending from the first frame.
2. Mommy
Xavier Dolan is the French-Canadian wunderkind director you need to know about. Ever since his debut film, I Killed My Mother, Dolan has delivered seriously great films. In Mommy, we watch Die, the mother of Steve, a violence-prone, hyperactive youth, force her to question whether she can still be a good parent to him. Die is hard-working, humorous and protective of Steve. She is the cool mom, who understands what kids are like, but isn't afraid to bring down the hammer. You'll love her.
3. Stella Dallas
The original! If you love classic movies and/or Barbara Stanwyck, but haven't yet seen Stella Dallas, get. on. it. now. Stanwyck as Stella is a the ultimate mother-who-sacrifices. Stella loves her only daughter, Laurel, so much that she wants to give her the life Stella never had. It's a sweet film to watch with mom, who may know a thing or two about making sacrifices.
4. Steel Magnolias
Don't turn this on unless you have a box of tissues handy. Steel Magnolias tops the charts when it comes to tearjerkers. While the whole cast is a knockout, it's the central relationship between mother M'Lynne and daughter Shelby that will make you want to hug you mother repeatedly while you watch. M'Lynne may be stubborn but she really is an incredible mom.
5. The Incredibles
In case you and your mama love Pixar (to be honest, who doesn't?), then please, please, please go watch The Incredibles. Helen Parr/Elastigirl is literally the mom who does it all. From her opening interview, establishing her as a badass superhero who doesn't need to settle down, to her battle prowess when she teams up with her family, Helen is the bomb dot com.
6. Carrie
Suddenly, being grounded all those years ago for sneaking out after curfew isn't so bad. Margaret White is a pretty twisted mom, and damn if it doesn't feel good to see Carrie exact her revenge on her. Margaret is the mom we loved to hate. Plus, she's the reason your mom never uttered the phrase "dirty pillows" when you were growing up.
7. Mad Max: Fury Road
The term "motherhood" takes on a different meaning in Fury Road. This action film changed the landscape of cinema for good in the summer of 2015. Furiosa is the unequivocal mother-figure here, attempting to gives safe passage to the "wives" of Immortan Joe. With a greased-up and furrowed brow, she cuts a ferocious figure. She is the modern action heroine that will have you and your mom spilling popcorn on the floor while you raucously root for her.
8. Kill Bill Vol. I & II
Revenge is a dish best served stone-cold in the case of Beatrix Kiddo aka The Bride. In both volumes of this epic martial arts series, we come to learn that Beatrix is bent on exacting revenge but she is also searching for her long-lost daughter. Your mom could probably relate to the impulse of fighting off a horde of martial arts assassins just to make sure you're safe; this is the film that makes it a reality.
9. Rosemary's Baby
Alright, so...perhaps the narrative circumstances of Rosemary's Baby are a bit grim. Yes, Rosemary becomes the focus of some decidedly Satanic behavior, but it's not her fault. This film is one of the best horror films around: the permanent sense of dread, the creepy cult neighbors, and the shocking ending will have you hugging your mom in fright.
Chances are I may end up watching Notting Hill with my mom for the umpteenth time, but don't be like me. Take a risk! Surprise your mom with an unconventional movie and let the good times roll.
Images: IFC Films; Giphy (9)