7 Rooftop Party Ideas Just In Time For Summer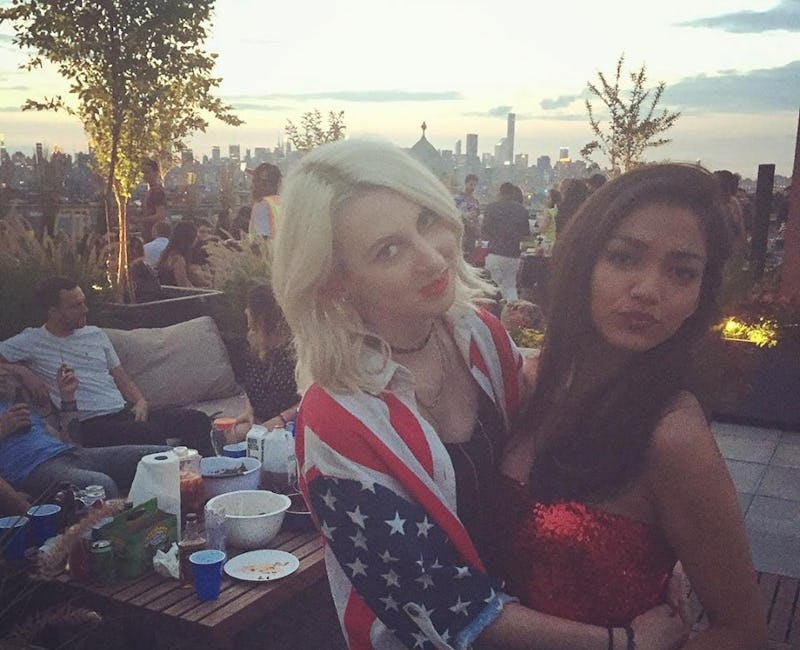 Memorial Day weekend marked the unofficial start of summer, and what better way to ring in the new season than with a party that makes the most of the rising temperature and balmy nights? Look no further than your very own building for an ideal outdoor refuge that's been waiting all winter to be the backdrop of the ultimate summer bash. So gather your crew, head upstairs, and throw the best hot-weather celebration with these rooftop party ideas, just in time for summer.
Rooftop parties are a summer staple, especially if you're a city dweller. Where else can you enjoy uninterrupted views and cool breezes to wind down from hot sticky days? If you're one of the lucky individuals who has access to a party-ready rooftop, do all your friends a favor and host a get-together to put all previous rooftop gatherings to shame.
Prepare the space with decor that pulls double duty, providing a splash of color with comfy throws and adding some glitz with clever lighting options. Serve up snacks and libations that are easy to consume standing, reclined, or on an improvised dance floor. The greatest thing about a rooftop party is the space does most of the work for you, all you need to provide is a few essential comforts. After that — with the views, the breeze, and the setting that screams summer — you and your guests are destined to make some magical summertime memories.
1. Add Some Shade
If your get-together begins in daylight hours, make sure you provide some shady options with large umbrellas. You don't want to experience the toll of direct sunlight on a scorching summer day.
2. Get Creative With Comfy Seating
Make sure you have plenty of comfortable seating options for your guests. If your roof doesn't already have chairs, consider bringing some up. You can also create cozy spaces using cushions and blankets. When arranging chairs and lounging areas, consider conversation and work in clusters, ensuring that those taking seats will be able to gather together. If you're lacking cushions and feeling really creative, try your hand at making your own pillows. Throw down some outdoor rugs if you have them before putting down anything made of fabric, and try to stick with washable blankets and throws so you don't ruin your best textiles.
3. Bring The Roof To Life With Plants
Skip store-bought decorations and keep things simple with strategically placed decor you already own. The addition of a few potted plants here and there instantly ups the wow-factor (and Instagram-worthiness) of the space while also making the venue look more homey and put together.
4. Keep Food Simple For You And Your Guests
Once your party is underway, the last thing you want is to be stressing about feeding everyone and rushing back and forth between the roof and your apartment to serve up new snacks. If you're planning on cooking for your guests, make things in large batches to save time and energy. Bake a large pizza and cut it up into bite-sized finger food. Or create an array of homemade dips that can hang out in bowls while guests snack throughout the party.
If you want to take things up a notch while still minimizing your serving duties, create a hands-on food bar. For example, set up a DIY avocado station where guests can top off their own avocado halves, providing a basket of avocados and some delectable toppings like salsa and Cotija cheese.
At a rooftop party it's also important to consider how guests will be walking around with their food. If you aren't presenting snacks and dips on tables, make sure they're on sturdy trays that can easily be passed around. Have plenty of plastic plates (of the disposable variety or cheap ones you don't mind possibly sacrificing), or really get the party going with this clever drinkware-dish combo.
5. Keep Cool With Drinks And Keep Drinks Cool
Even if you're asking guests to BYOB (which is highly recommended to make sure everyone stays satiated), make sure you do serve up some of your own drinks. Cold beer and chilled wine are no-brainers for a rooftop bash, but upgrade your drinking options with some fun cocktails to kick off summer. Similar to the DIY food bar, you can set up a station where guests can play mixologist and make their own cocktails. Look up a deliciously simple recipe and provide all the right ingredients with fun labels and a card for instructions they can follow if they choose. Make sure you have plenty of ice and enough coolers to accommodate your guests so your booze stays cold even as the temperature rises.
6. Have Lighting Double As Decoration
If your summer day gathering turns into a soirée, make sure you have lighting that takes you into the evening (not to mention the proper extension cords). Even the simplest string lights instantly bring magic to any roof, but if you really want to impress, choose lights that go beyond straightforward bulbs, or get crafty and make your own like these tissue paper flowers or painted stringlights. Lanterns can also do wonders for a dimly lit roof, so round up your hurricanes and mason jars and cluster them throughout the space.
7. Complete The Scene With Music
Add that final touch of summertime magic with the perfect party playlist. Keep things chill and mellow in the first hour or two that guests arrive, so the conversation can be the star of the show. As the evening marches on, don't be afraid to turn up the beat as guests are more inclined to bust a move. Before the party starts, see who of your friends has the bluetooth speaker with the best sound quality, and if any of them happen to be musicians with a repertoire beyond "Wonderwall," let them know they're welcome to bring their instrument for an acoustic jam session al fresco.
Images: Dacy Knight, Unsplash, Urban Outfitters (2), A Beautiful Mess (2),The Merrythought (2), Willowbird Baking, My Name Is Yeh