11 Marvel Comics To Read If You Loved 'Civil War'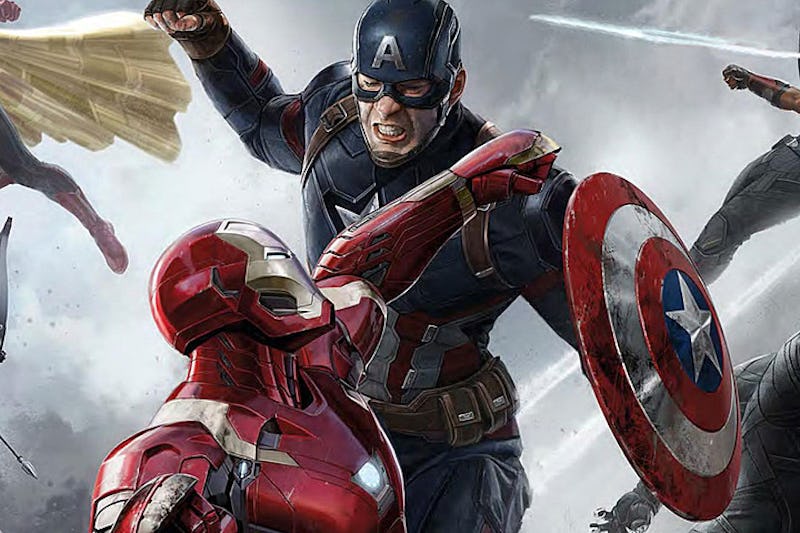 One of the main benefits of Marvel's unprecedented success at the movies over the past several years is that the films' popularity has renewed interest in what was once considered (and maybe still is) a dying medium: Comic books. All of the heroes that fans know and love from the movies first got their start on the hallowed panels of comic books; many over 50 years ago. That adds up to a lot of content, so newbies who are looking for a place to start may be wondering what Marvel comics to read after watching Civil War .
There is a lot to love about Captain America: Civil War. The film of course features the headlining matchup of Team Cap and Team Iron Man going toe-to-toe in a massive brawl, but there are other things going on, too. There's the wondrous debut of characters like Black Panther and Spider-Man, there's the weird flirtations between Vision and Scarlet Witch, there's the whole Stucky relationship renewed — you get the idea. There are thousands of Marvel Comics to read, which obviously is a daunting task. And if you don't want to spend a fortune buying hard copies of all of these books, you should consider signing up for Marvel Unlimited, which gives you unlimited digital access to a ton of Marvel Comics from across their vast library for about $10 a month (they also do frequent promotions where you can get a month free) — think Netflix for comics. But since it would take a lifetime to read everything, start by checking out the following 11 Marvel comics to read if you loved Civil War.
1. Civil War
The natural place to start is the comics' version of what you saw on screen. This version is quite a bit different, but if you keep your eyes peeled you'll notice a few bits that were slyly referenced in the film version.
Read: Civil War, issues 1-7, 2006-2007.
2. The Winter Soldier
Bucky Barnes is a unique story in comics. Death in comic books is usually pretty temporary, but Bucky didn't appear as a living character for about 60 years — seemingly making him an exception to the rule. That changed in 2005, when Bucky was revealed to have been living all this time as the brainwashed assassin known as the Winter Soldier.
Read: Captain America, Volume 5, issues 8-9, 11-14, 2005-2006.
3. Introducing The Sensational Black Panther!
Black Panther is awesome, right? Well, his comic book introduction was equally awesome, as it saw the Wakandan warrior take on and defeat the entire Fantastic Four one by one.
Read: Fantastic Four, Volume 1, issue 52, 1966.
4. If This Be My Destiny...!
You're obviously going to want to read a Spider-Man story, and since you know the origin ad nauseam, this storyline features Peter Parker enrolling in college, meeting Gwen Stacy and Harry Osborn, and facing iconic enemy Doctor Octopus, making this an excellent substitute.
Read: The Amazing Spider-Man, Volume 1, issues 31-33, 1965-1966.
5. Vision And The Scarlet Witch
If you were intrigued by the bizarre romantic connection these two seemed to share in Civil War, get ready to learn more about Marvel's weirdest romance, which is put on full display in this, their second limited series.
Read: Vision and the Scarlet Witch, Volume 2, issues 1-12, 1985-1986.
6. Secret Wars
Not to be confused with the unrelated event of the same name from last year, the original Secret Wars consisted of marquee teams of heroes and villains being transported to outer space to do battle by a mysterious being known as the Beyonder. So if you're into large-scale fights with lots of familiar characters, look no further.
Read: Marvel Super Heroes: Secret Wars, issues 1-12, 1984-1985.
7. The Infinity Gauntlet
lf you want a leg up on the next big challenge in the Marvel Cinematic Universe, Avengers: Infinity War is expected to draw heavily from this epic storyline that features just about every character you can think of.
Read: The Infinity Gauntlet, issues 1-6, 1991.
8. Demon In A Bottle
Probably the best-known Iron Man story, Tony Stark's struggle with alcohol addiction could serve as a preview of his cinematic life post-Civil War.
Read: The Invincible Iron Man, Volume 1, issues 120-128, 1979.
9. Web Of Intrigue
Black Widow probably gets even less respect in the comics than she does in the movies, but if you're a fan of Natasha Romanoff then you have to check out this thrilling solo spy adventure that puts her front and center.
Read: Marvel Fanfare, Volume 1, issues 10-13, 1983-1984.
10. Under Siege
The comic book version of Baron Zemo is very different from the one seen in Civil War, and this storyline features one of his most dastardly deeds as he pulls off a devastating attack on the Avengers.
Read: The Avengers, Volume 1, issues 273-277, 1986-1987.
11. The Galactus Trilogy
This is a Fantastic Four story, so it doesn't feature any of the characters from Civil War, but it's considered by many to be the definitive Marvel story in a lot of ways, so if you're going to be a fan, it's necessary reading.
Read: Fantastic Four, Volume 1, issues 48-50, 1966.
After reading all these comics, you'll basically be a Marvel expert. And when you think about it, isn't that exactly what you want to be?
Images: Walt Disney Pictures; Marvel Comics