12 Things That Made A Perfect Prom Outfit In 2005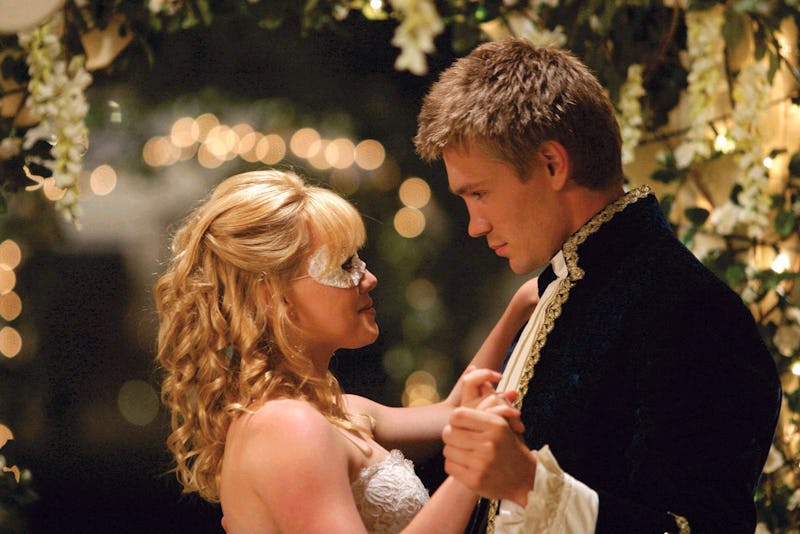 These days, there are very specific ingredients that will make a perfect prom outfit: On fleek brows, Stuart Weitzman-ish minimalist sandals, and maybe a choker, a la Taylor Swift. How about a decade ago, though? What kinds of things made for a perfect prom outfit circa 2005?
It's crazy how much things can change in a mere 11-odd years. Gone are the days of spaghetti straps, corset-style bodices, and super shiny materials — heck, if 2016's most popular prom dress — a blush tulle confection of a gown — is any indication, the collective teen taste has actually gotten pretty chic. In a lot of ways, beauty trends have gotten better too — 2005 saw a lot of young prom-goers taking traumatizing visits to overzealous brow aestheticians, whereas in the age of stars like Cara Delevingne and Emilia Clarke, a more natural look has become the go-to. Frosted MAC Lip Glasses have been swapped out for bolder pops of color, and boho braided beach waves have taken the place of the over-sprayed updos of the past... trends come and go, and we've certainly seen a lot over the last decade-plus.
So, with all that in mind, let's take a walk down memory lane, and look at 11 of the top prom outfit essentials of 2005.
1. A Meringue Skirt
Lots of things could make a prom dress sing, but none of them made you feel more like a millennial version of Belle from Beauty and the Beast more than a trendy meringue skirt.
2. Lots of Sequins And/Or Rhinestones
Taylor Swift was — as she is today — queen of all the dresses we wanted to wear.
3. A Matching Shawl
It may have been tough to find a shawl that perfectly matched your dress, but it was essential. My mom actually made me a shawl out of chiffon from Jo-Anns, because we couldn't find a shawl that went with my electric pink dress.
4. Body Glitter
Body glitter may be a famous late '90s/early 2000's mainstay, but in a lot of ways, it's sneaking its way back into style. After all, what are highlighters, if not the more subtle, more refined older sister of body glitter? Strobing is a gateway drug to full-on body glitter, and I mean that in the best way possible.
5. A Blinged-Out Cell Phone
Basically, anything sparkly was key — especially if it happened to be a Juicy Sidekick or a pink RAZR.
6. Lots of Mean Girls References
If you went to prom in 2005, chances are everyone made a ton of comments about how your outfit was "so fetch," and you know someone shouted "SHE DOESN'T EVEN GO HERE!" at some point during the proceedings.
7. Smokey Eyes
Ah, the dawn of the modern-age smokey eye.
8. Juicy Tubes
Lancôme Juicy Tube Ultra Shiny Lip Gloss, $19, shop.nordstrom.com
And what better to pair with your smokey eye than a sparkly pink lip? It's a look Kim Kardashian still rocks to this day.
Want more fashion and beauty tips? Check out the video below and subscribe to Bustle on YouTube!
9. A Crunchy, Curly Up (Or Half-Up) 'Do
Ringlets were something of a must-have, as were face-framing wispy tendrils.
10. Also, Hair Jewelry
Remember those tiny rhinestones, pearls, and stars you could buy at Claire's?
11. A Teeny-Tiny Purse
The 2000s were collectively obsessed with tiny purses, and they were totally in their element at prom.
12. Channing Tatum
Actually, he's still the perfect arm candy in 2016.
Images: A Cinderella Story/Warner Bros; 10 Things I Hate About You/Touchstone; Mean Girls/Paramount; She's The Man/Dreamworks; Giphy (2)