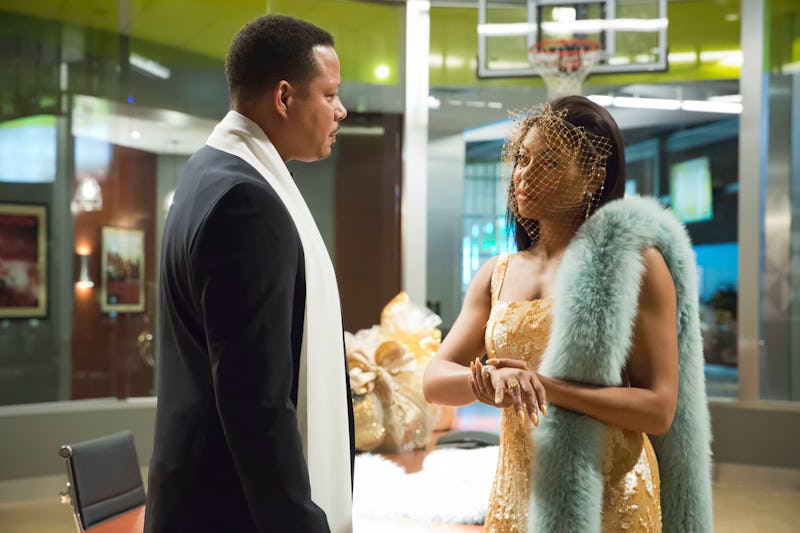 The promos warned us that a Lyon would fall on Empire and that's exactly what ended up happening during Wednesday night's episode "Rise by Sin," which saw Freda Gatz accidentally shoot Jamal right on the ASA red carpet. But, of course, he wasn't the Lyon she was aiming for — her target was actually Lucious, whom she just learned was responsible for her father's death. (Thanks, Carol!) However, just as she was about to pull the trigger, Jamal stepped into the line of fire and took the bullet instead, even after all the hateful things Lucious had said to him earlier that day. But will Jamal actually die on Empire ? His gunshot wound to the stomach won't make for an easy recovery.
Part of me really wants to believe that Jamal will be able to pull through this and heal from his injuries. The fact that he was awake and talking by the time they got to the hospital seemed like a good sign at least, but you never know how these types of things will play out. Empire loves to shock us and really put viewers through the emotional ringer, so the writers may decide that losing an actual family member could help set the scene for Season 3's story arc.
Then again, everyone looked way too OK in the promo for a death to have occurred. I have a hard time believing a wedding would be happening so soon after losing Jamal, which makes me think that he'll soon be on the mend. But that doesn't necessarily mean his injuries won't come with some consequences. This is Empire, after all, and no good deed goes unpunished.
Before the shooting, Jamal had decided to branch out from his family and develop his music career away from them. What if this injury somehow impacts his musical abilities and put his career in jeopardy? I know the stomach has nothing to do with the vocal chords, but you never know how severe injuries like this can end up impacting the body. So even though it was a heroic act, poor Jamal may end up facing more than just physical injury by the time this is over. Either way, though, I hope he's able to recover. The show just wouldn't be the same without him.
Image: Chuck Hodes/FOX