7 Movies That Shaped Me As a Black American Girl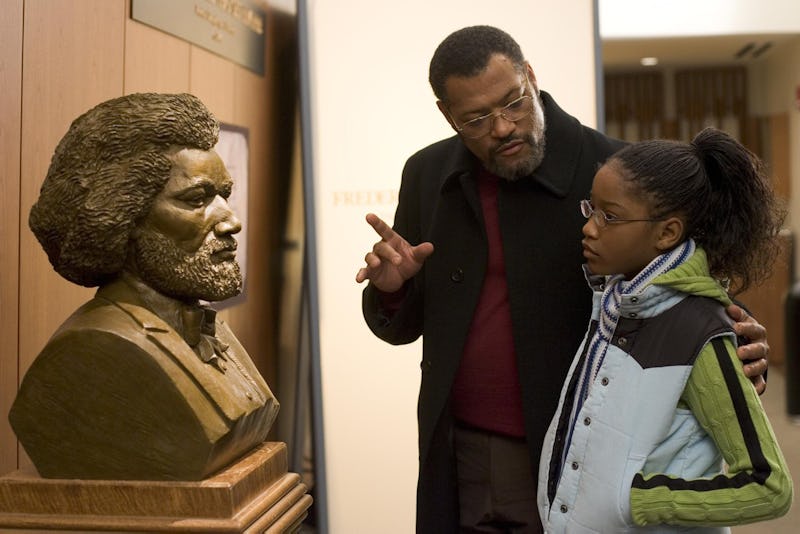 Too often these days, black girls and teens are often overlooked in pop culture. But times were different when I was a kid in the 1990s and 2000s. Black girls had a multitude of coming-of-age television series and films that spoke to our experiences. Sister Sister, Moesha, The Parent 'Hood, A Different World and The Cosby Show were all series I adored. Seeing black female protagonists depicted on these shows helped me navigate childhood and the complications of being a teenager.
It was also a golden age for depictions of young black women in movies. Let's take a look back at some of the most important coming-of-age films for black girls.
Sister Act 2: Back in the Habit
Transforming a mediocre choir into a national competitor is Whoopi Goldberg's task in Sister Act 2: Back in the Habit. Sister Act 2's powerful musical numbers, layered stories, and multiple triumphs keep reeling audiences in more than a decade after the movie was released. Rita Watson — played by the incredible Lauryn Hill — offers the most compelling story. She's an aspiring songstress with a jaded mother who wants her to be practical, instead of chasing of her passions. We see Rita struggling between obeying her mother's wishes and achieving her dreams. It's a tale many teens of color can relate to.
Stream Sister Act 2: Back in the Habit here.
Akeelah and the Bee
We've all met (or been) the awkward teenager that can't seem to find where she belongs. Akeelah and the Bee centers around that girl. Akeelah Anderson is a 11-year-old spelling whiz attending California's Crenshaw Middle School. Akeelah's teachers realize she has a special gift, and encourage her to locate a mentor. Thus begins an amazing adventure that draws a community closer, and gives Akeelah the confidence to be herself.
Stream Akeelah and the Bee here.
Our Song
Never heard of Our Song ? You're not alone. Our Song is one of the most underrated and overlooked coming-of-age films, though it features Scandal's Kerry Washington in one of her first movie roles. This remarkable film centers on three teenagers living-it-up in Crown Heights, Brooklyn. Lanisha, Maria, and Joycelyn are close friends who are trying to survive their final years of high school.
Eve's Bayou
This is a pretty adult film, but an important one nonetheless. Eve's Bayou thrusts us into 1960s Louisiana and the life of 10-year-old Eve Batiste. Eve's life spirals into the world of voodoo and other ancient rituals after she witnesses her beloved father cheating with a family friend. Eve's Bayou is a tale of a child attempting to repair injuries that are incapable of being healed.
Pariah
Representations of the black LGBT community are rare, and Pariah is likely to be on multiple "best of" coming-of-age lists in the future. Protagonist Alike is a 17-year-old teenager being raised in Fort Greene, Brooklyn. She's navigating the complex terrain of adolescence, while grappling with revealing her lesbian identity to her strict parents.
Crooklyn
Many black Americans know the line "sike your mind, make your booty shine" because of Crooklyn , a trailblazing Spike Lee joint. Crooklyn is one of the first films told primarily from the perspective of a black girl. We see the world through the lens of Troy, a young girl being raised in a crowded home in Bedford-Stuyvesant, Brooklyn. Fights with her siblings and neighborhood bullies, wicked dreams, and the struggles of her working-class parents offer many relatable moments for other black girls. Crooklyn is a classic film that captures what happens in average black families — especially after inexplicable tragedies.
Just Another Girl on the IRT
New Yorkers unite! Just Another Girl on the IRT is a gem about NYC teens experiencing the growing pains of love, romance, and sex. The film centers on 17-year-old Chantell Mitchell, a high school junior with attitude, ambition, and a dream to "not be seen as just the black girl on the subway." She plans to escape her working-class neighborhood and pursue a career as a doctor — but an unexpected pregnancy alters her path. Just Another Girl on the IRT was a favorite in my home, since my mother was a teenage parent. It is also one of the few realistic portrayals of being a poor teen who wants more than her current world can offer.
Stream Just Another Girl on the IRT here.
Images: Touchstone Pictures; Lions Gate Films; C-Hundred Film Corp; Trimark Pictures, 40 Acres and A Mule Filmworks/Universal Pictures; Miramax