The 'Neighbors 2' Soundtrack Is Pure Party Music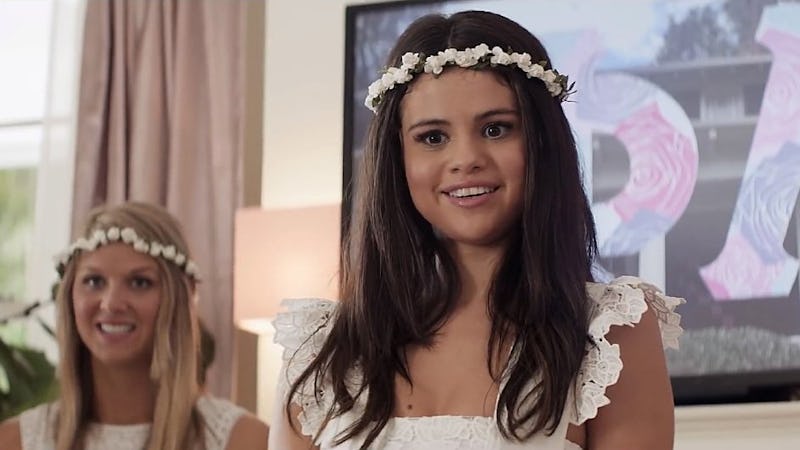 The Neighbors gang is back for another battle in Neighbors 2. This time, Seth Rogen's Mac and Rose Byrne's Kelly are trying to sell their house after purchasing a new home in the suburbs for their growing family. Unfortunately for them, a sorority moves into the house next door, led by Chloë Grace Moretz's Shelby, and stars causing problems. That's when they decide to enlist their old foe, Teddy (Zac Efron) to help get rid of the sorority. Lots of crazed partying and hijinks ensue, and you know the movie has some dope music to go along with the chaos. So what's on the Neighbors 2 soundtrack?
Surprisingly, no official soundtrack has yet been released. The official tracklist for Neighbors was released on April 29, 2014 — over a week before the film premiered. However, with Neighbors 2 set to bow on May 20 of this year, there still is no official soundtrack available, nor has one been announced. The only music release that coincides with the film is a two-sided single, released on May 6, that features a cover of Kanye West's "Black Skinhead" and an original track by Kill the Giant. Other than those two songs, there is some additional music featured in the film's trailers that would probably be included in any hypothetical soundtrack, but since it looks like there's not going to be a soundtrack available for purchase, here's all the music from Neighbors 2 that's been revealed so far.
"Black Skinhead" — Jacques Slade, THURZ & El Prez
Even though Kanye's original version plays in the movie's trailer, this new cover version was released as a promotional single for the film.
"Party In My Pants" — Kill The Giant
A song produced for the movie, the lyrics are predictably absurd judging by the title, but the sound is pure party anthem with a serious LMFAO vibe.
"Feel So Close" — Calvin Harris
Calvin Harris is one of the biggest acts in music right now, so of course you've heard this song before. In the film's trailer, it's shown during the "lame" sorority's presentation that sparks Shelby and her friends to form their own sorority where they're allowed to party.
"I Own It" — Nacey Ft. Angel Haze
This club jammer has some strongly feminist lyrics, and it's utilized in the trailer to show the Kappa Nu girls' independence as they form their own sorority with their own rules.
Hopefully after the film's release, more music from the movie will make its way online, but it doesn't look like an official soundtrack is forthcoming. Still, these four songs alone seem like enough to throw a pretty solid party — or act as background music for a battle against your neighbors. Your choice.
Images: Universal Pictures