The Britney Spears Mobile Game Is Finally Here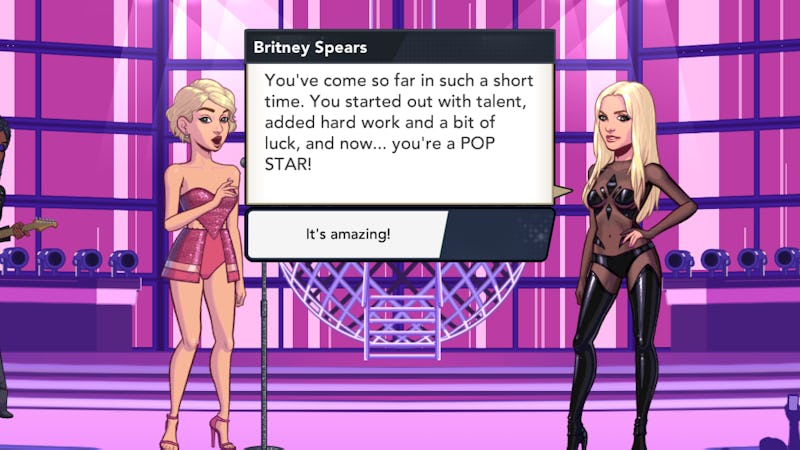 Oh baby, baby, the game the Britney Army has been waiting for is here: Wednesday, Britney Spears: American Dream hit app stores. Yes, the Glu Mobile, Inc. game that gives players the chance to be mentored by a cartoon rendering of the "Oops!... I Did It Again" legend has arrived, and I couldn't be happier about it. And yes, like other Glu games before it, the Britney Spears game is just about impossible to put down.
If you've dabbled in Glu downloadables Kim Kardashian: Hollywood or Kendall & Kylie , then the Britney Spears game will be like riding an lightning bolt-powered bike: In your quest for fame and fortune, you click on energy-hoarding manhole covers and squirrels, complete different tasks that will help further your career, make friends, make enemies, and spend game money on tank tops and hair dye and whatever else your heart/your avatar wants.
Oh, and you befriend Britney Jean Spears.
What does someone even wear when they're about to meet The Britney Spears? After I pick out a sensible sweater and a pair of jeans, I head to Las Vegas and take the Planet Hollywood stage alongside my queen. (You know, as one does.) Spears's 2007 hit "Piece Of Me" pumps through my phone's speaker, and I notice I'm not wearing the sweater and jean combo, but a sparkly onesie. The music icon praises my meteoric rise to fame, calls me a pop star, and asks if I remember the day we met. Forgive me, but I don't. Please refresh my memory, Godney.
The story begins at my avatar's place of work: Los Angeles record store Microbe Music West, the Amoeba Records of the Britney Spears: American Dream universe. As I pretended to restock records, my cell phone rang. It was my best friend Sara, and Sara wouldn't call me at work unless it was an emergency. I knew it was against company policy to take personal calls while on the clock, but I answered anyway. And I am glad I did.
Sara told me that I needed to head over to the Starbeans next door and sing something for the entire café because Britney Spears was there and maybe she would discover me. (You know, as one does.) When I hung up and got back to not straightening a CD display, the Microbe Music West manager did not fire me for answering my phone on the sales floor. Instead, he was totally chill about me ditching the rest of my shift so I could go to Starbeans and gawk at Britney Spears. And with that, my first day as a pop star-in-the-making commenced.
Now, how does one become a mobile game pop star-in-the-making, exactly? Here's the Britney Spears: American Dream guide to success.
Step 1: Bump Into Britney Spears At Starbeans
To meet Britney at Starbucks, er, Starbeans feels so poetic.
Step 2: Meet A Barista Who Actually Might Be A Martian
Braitley? Yep, that coffee slinger is definitely a martian.
Step 3: Sing A Song At A Starbeans In Front Of Britney Spears
No pressure.
Step 4: Dazzle Britney With Your Impromptu Starbeans Concert
Yeah, I realize impressing one of the toughest X Factor judges ever is easier said than done, but you've got this.
Step 5: Pick A Nomme De Pop Star
When you reach such a crossroads, go with Crossroads.
Step 6: Stop By Your Apartment & Feed Your Invisible Pet
Would you look at how cute it is.
Step 7: Look Into Adopting A Visible Pet
Ugh. A cat costs 20 B gems? And I only have 16 B gems? I guess I'll stick with the invisible cat for a bit longer.
Step 8: Sing A Song For Britney's Manager
Be sure to bring your own mic stand to the office.
Step 9: Pick A Meaningful Title For Your First Single
Go with something that commemorates the most important moment of your life.
Step 10: Choose The Perfect Genre For Your First Single
Electronic honky tonk just felt right, OK? Don't knock electronic honky tonk 'til you hear "Starbeans Lovers."
Step 11: Record Your First Single
Enlist the help of a guitarist you met, like, five seconds ago.
Step 12: Design A Cover For The Single That Really Captures The Essence Of The First Single
Forget pop stardom, I think album art design is my true calling.
Step 13: Meet A Camera Guy Named Cameron Guy
I wonder if Cameron Guy ever considered another career path.
Step 14: Make An Enemy
Because what is a wannabe celebrity without a nemesis?
Step 15: Sing Your New Single At The Starbeans Where You Met Britney
What a whirlwind of an afternoon.
Step 16: Hang Out With Britney
This might be the most overwhelming step of the day. Try not to pass out.
Step 17: Be Let Into A Circle of Darkness
My avatar's so lucky, she's a star.
Step 18: Shoot A Music Video
Rocket launchers are not optional.
Step 19: Take A Break Whenever You Want
It's been a busy day. Kick your feet up in the middle of a radio interview if need be. You earned it.
…And that was only day one. Wow. Can't wait to see what happens on day two.
Want Britney to take you under her wing, too? Britney Spears: American Dream is available for download now.
Images: Britney Spears: American Dream/Glu Mobile, Inc. (21)