This 'UnREAL' Character May Show Up In Season 2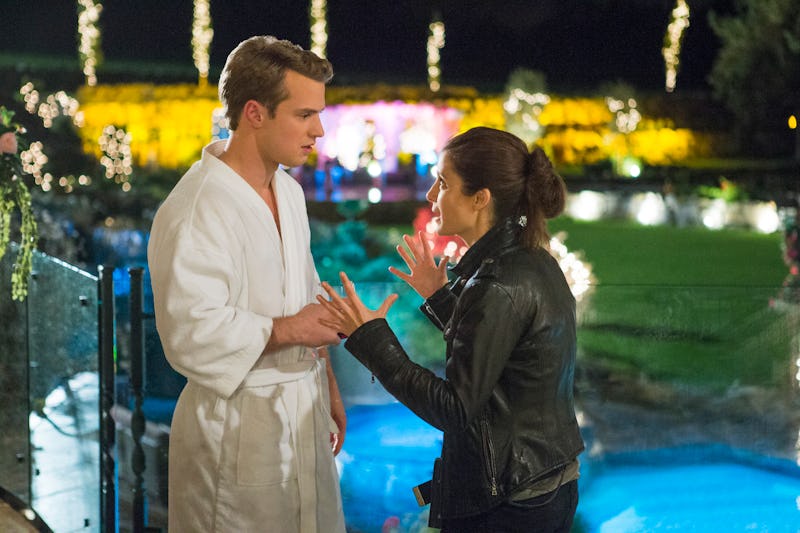 Last summer's addictive breakout hit, Lifetime's reality dating show parody UnREAL , isn't an anthology series — but it operates a lot like one. Since each season of UnREAL focuses on a new season of fictional reality show Everlasting, that means every year comes with a whole new cast of contestants… and also a brand new bachelor ready to woo them. That's good news for viewers eager to see the show tackle the first African-American bachelor in history. But it's bad news for fans of Adam Cromwell, the bachelor played by Harry Potter actor Freddie Stroma in the show's freshman season. Will Adam be back for UnREAL Season 2? Or have we seen the last of this British hunk?
The character's fate was left up in the air at the end of the Season 1 finale not just because of the format of the show itself, but also because of his nasty break-up with Everlasting producer Rachel Goldberg. Although the pair had planned to run off together, Quinn stalled their happily-ever-after by telling Adam (falsely) that Rachel had been hospitalized after a mental breakdown. Rachel responded by sabotaging the Everlasting finale, revealing to Adam's bride-to-be, Anna, that her fiancé had almost left her for Rachel. Adam was left without a wife, without a girlfriend, and without dignity — an ignoble end for a character viewers had come to love.
The question of Adam's return is one the cast and crew of UnREAL have been tight-lipped about since Season 1 wrapped last August. Although co-creator Sarah Gertrude Shapiro once hinted to TVLine that there was "still story left" to tell about the relationship between Adam and Rachel, that's a long way from confirming an actual onscreen appearance by Stroma. Speaking of Stroma, the actor himself seemed pessimistic when it came to his future on the show, telling TVLine frankly that, "It's unlikely that Adam will be back." Combine that with the news that Stroma had been cast on Game Of Thrones Season 6 as Sam's brother Dickon Tarly, and things didn't look too good for Adam Cromwell.
So imagine my surprise when Shapiro didn't even hesitate when I asked her about the character's future on the red carpet at Saturday's Peabody Awards, where UnREAL was recognized alongside the likes of HBO's The Leftovers and USA's Mr. Robot. "Yeah, there's a little scoop!" the co-creator exclaimed. (This was especially surprising considering Appleby's response to the same question was simply, "Not allowed to say.") So what's the scoop? "I just finished directing an episode and I will say that I saw Freddie Stroma in Vancouver [where the show films], so you can put two-and-two together," Shapiro tells Bustle. "We spent some time together on set."
Shapiro sounds just as excited to have Adam Cromwell back as I'm sure many fans will be. She didn't elaborate on how long his involvement in Season 2 would last — whether he would just be stopping by for one episode or hanging around for a bit — but she did confirm that we'll be seeing a lot of him… physically speaking, at least. "I feel so bad, Freddie showed up on set and I was like, 'Take off your clothes!' He was like, 'Wha-??" she recalls, laughing. "We just feel like [his and Rachel's] storyline is just not quite done."
And for the record, Shapiro is just as excited as the rest of us for Stroma's impending trip to Westeros. When I asked her if she planned on watching him on Game Of Thrones , she answers: "Um, like every frame! Every frame." Um, ditto.
UnREAL Season 2 will premiere on Monday, June 6. In the meantime, TV Guide reported that Stroma will make his GoT debut on next Sunday's episode, "Blood Of My Blood."
Images: James Dittiger/Lifetime (2)