Can 'Beauty & The Beast' Work As A Musical?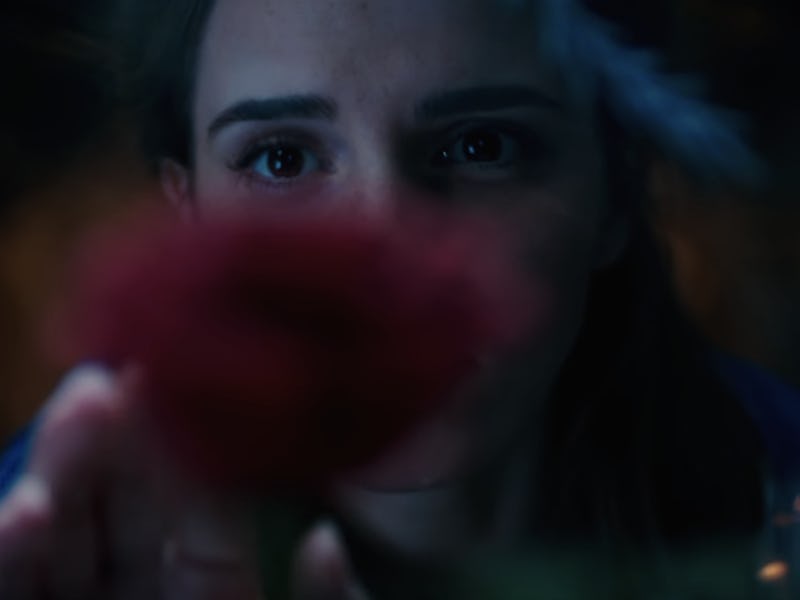 If you haven't watched the teaser for Beauty and the Beast at least 2 million times by now, stop reading and go catch up. Back? OK good, let's keep going then. What have we been able to gather so far from this teaser trailer — aside from the fact that it's gonna be utterly magical — is that this film is going to bring some very classic Disney touches to it. Just because this is a newer version doesn't necessarily mean it's getting a full, modern makeover. In fact, it looks like this film may stay firmly planted in its classically Baroque French origins. What's got all us Beauty and the Beast fans curious though is, if it is going to stay Disney-fied, will it still be a musical and if so, can it even work as a musical if it's live-action?
There's still no sign (aside from the original score in the teaser trailer) of any actual singing from the cast. Composer Alan Menken revealed last year that there would be three new songs and it seems that they will actually be sung by the characters in the film. Even the inclusion of some musically gifted cast members (we've got Audra McDonald, Ewan McGregor, who both have proven their salt as singers) shows promising signs that the others characters will be joining them in song. Goodness knows I'd love to hear Emma Watson and Dan Stevens come together in a musical embrace but I'll need some clips before I can emotionally invest in it. Don't you agree? Considering a majority of the cast are not explicitly known for their singing capabilities, we could have another Mamma Mia situation on our hands when the cast open their mouths.
Which leads me to wonder if it's worth it to even have this updated version be musically inclined? Seeing as the film is in the post-production phase, what I say won't make a lick of difference but consider this: the most recent Disney updates where original songs and music are notable aspects — The Jungle Book, Cinderella and Maleficent — either included brief musical jaunts (e.g. The Bare Necessities) or created a more rousing score in place of performed musical numbers. Both results have certainly contributed to these films respective successes, so would/should/could Beauty and the Beast take this route as well? If the cast is somewhat weak in the musical department, it could be a big risk to bank on any musical performances being added in and subsequently adding value.
We'll certainly find out what the real musical intentions are for Beauty and the Beast in early 2017 but until then, it's going to drive me nuts wondering what the deal is! Do you think we'll be hearing the sweet sounds of Watson and co. on the big screen? I'm gonna go replay the trailer a dozen more times and mull it over.
Image: Disney Movie Trailers/Youtube; Giphy