Could Toby And Yvonne Get Married?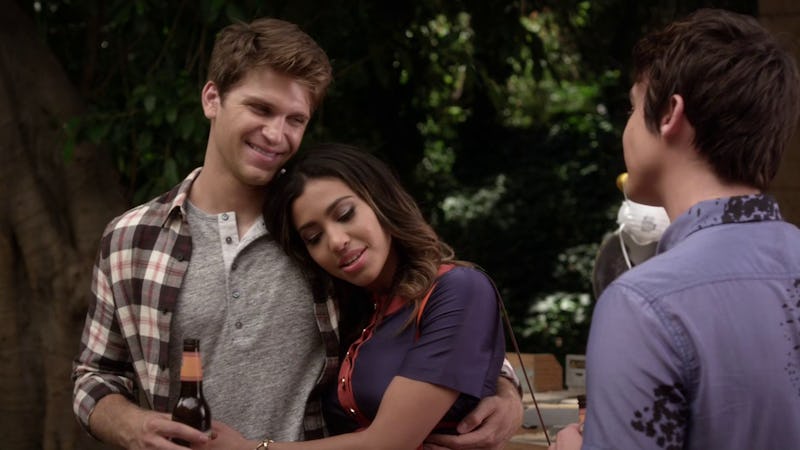 Thanks to the emergence of a brand-new A, the Liars' lives look a whole lot similar to how they did before Pretty Little Liars' five-year time jump. While there's still an anonymous villain stalking the girls, not everything has stayed exactly the same — especially when it comes to romance. Though Spencer and Toby were together when Spencer left for college, it was revealed after the time jump that their relationship didn't make it past graduation. Spencer and Toby broke up years ago, and now both of them have new love interests. Spencer is in a controversial relationship with Caleb, while Toby is dating Yvonne, a woman who he had planned on proposing to. Now, a new tweet from Pretty Little Liars showrunner I. Marlene King reveals that there will be a Pretty Little Liars wedding in Season 7, and there's reason to believe Toby and Yvonne could get married.
I'm a longtime Spoby shipper, so the news that Toby might be marrying someone who isn't Spencer is more than a little heartbreaking. Spencer and Toby totally had some moments in Season 6, so to find out that Toby is walking down the aisle with another woman is a bummer. Still, when you consider the process of elimination, it's quite possible that Toby is the character getting married in what King calls "the most romantic season ever."
Right now, there are only so many people who could possibly be getting hitched in the upcoming season. We know that Alison is already married, so unless she gets divorced and marries Emily, I think we can safely say that her wedding is probably out of the question. Spencer is currently dating Caleb, but considering that Caleb can't even say the L word (and that he kissed Hanna) I'm going to say that these two won't be getting hitched. As for Hanna, there's a possibility of her marrying Jordan, but after the events of the Season 6 finale, I'm not so sure if she would be ready to add "Mrs." to her title. Toby is one of the few logical people right now, and though the show can always surprise us, I think Toby could be the groom in King's wedding.
The biggest bummer about Toby being the one getting married is, obviously, that Spencer and Toby won't be getting back together. Of course, there is a third option: that Toby's wedding happens, but his marriage doesn't. Spencer could totally pull a "Speak Now"-esque stunt and admit her feelings for Toby before he says "I do," especially if Caleb and Hanna have gotten back together by this point. Yvonne seems sweet, but I'll be a little bummed in Spoby isn't endgame.
Of course, PLL is notorious for switching things up on us, which might mean that Toby really will marry Yvonne and him and Spencer will remain strictly platonic. Sigh. Here's hoping that, no matter who gets married, King is right about Season 7 being the most romantic one yet.
Images: Freeform; Giphy