'Wayward Pines' Season 2 Is Going Off-Script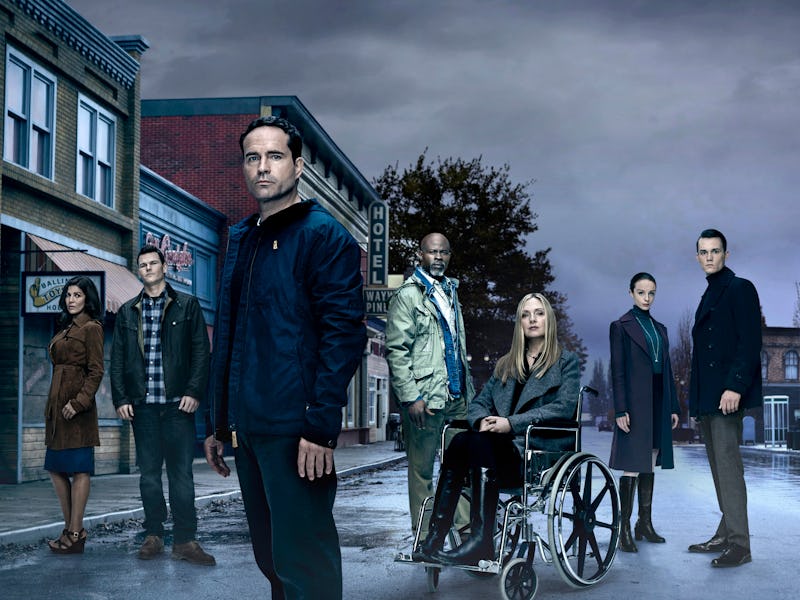 Last summer, FOX took us to a creepy town with a ton of secrets in its "event series" Wayward Pines , produced and directed by M. Night Shyamalan. But that ambiguous qualifier — "event series" — made it unclear whether the show was a finite miniseries, or whether it would return for a second season. Well regardless of the network's original intentions, the eerie series was a big enough ratings success that Wayward Pines was renewed for a second season, which will be premiering this Wednesday night. But is Wayward Pines Season 2 based on a book, like the first?
That's a good question. The freshman season of the "event series" was adapted from a trilogy of books published by Blake Crouch between 2012 and 2014 titled Pines, Wayward, and The Last Town, respectively. So Season 1 of Wayward Pines obviously covered the first book in Crouch's series, and there's two more books' worth of source material left, right? Wrong. Thanks to other TV adaptations like Game Of Thrones, the one-book-per-season rule is an easy assumption to make — but in this case, it couldn't be further from the truth. The 10-episode first season of Wayward Pines sped through the events of all three of Crouch's novels, which means Season 2 of the show will be entirely original.
In fact, adapting Crouch's entire series to the screen in one fell swoop was always the plan. The game-changing reveal that came in Episode 5 of the show's 10-episode freshman season is actually the ending of Crouch's first novel. "You do find out the big truth halfway through the season," Hodge told The Salt Lake Tribune in advance of the series premiere last May. "And then we continue our story after that with where Book 2 and Book 3 go." Shyamalan also revealed to the publication that he and Crouch were actually developing the show and the books in tandem, which led to "all kinds of cross-pollinating" between them.
Given the fact that the two projects were conceived of together, that Season 1 adapted all three novels, and that FOX originally billed Episode 10 as the "series finale" (see promo below), it's safe to say that Wayward Pines was originally supposed to be a one-and-done. However, the door was left open just enough to allow for the possibility of a continuation: "Bring it on, yeah. It would be great," Hodge told The Salt Lake Tribune last year about a hypothetical Season 2. So when the show proved to be a hit, earning the biggest ratings of Summer 2015, FOX pulled the trigger on more episodes.
(Ironically, although Shyamalan has stayed on as producer, Hodge has since departed the series, instead choosing to adapt another series of Crouch's novels into a drama series called Good Behavior , starring Downton Abbey's Michelle Dockery and premiering on TNT this fall.)
So what will Wayward Pines Season 2 be about if it's not based on a book? According to Deadline, the sophomore year will "pick up in the wake of Season 1, when a new arrival in Wayward Pines finds himself in the middle of a serious rebellion, as the residents battle over how to preserve the endangered human race." That new arrival will be played by Jason Patric (The Lost Boys), replacing Season 1's leading man Matt Dillon, whose Secret Service agent Ethan Burke sacrificed himself to save his family from the "abbies."
Will Wayward Pines Season 2 be a worthy successor to the first? Or will it go off the rails without source material to guide the way? It's the same question plagued Game Of Thrones fans ahead of the Season 6 premiere; but that show has been on fire this year — sometimes literally — thrilling and devastating its audience in equal measure. (Long live Khaleesi, RIP Hodor.) Hopefully Shyamalan and new showrunner Mark Friedman (Believe) have followed that show's lead and crafted a season that will live up to the standard set by Wayward Pines' effectively creepy first season.
Images: Patrick Hoelck/FOX; Giphy