Throw A 'Bachelorette' Party On Memorial Day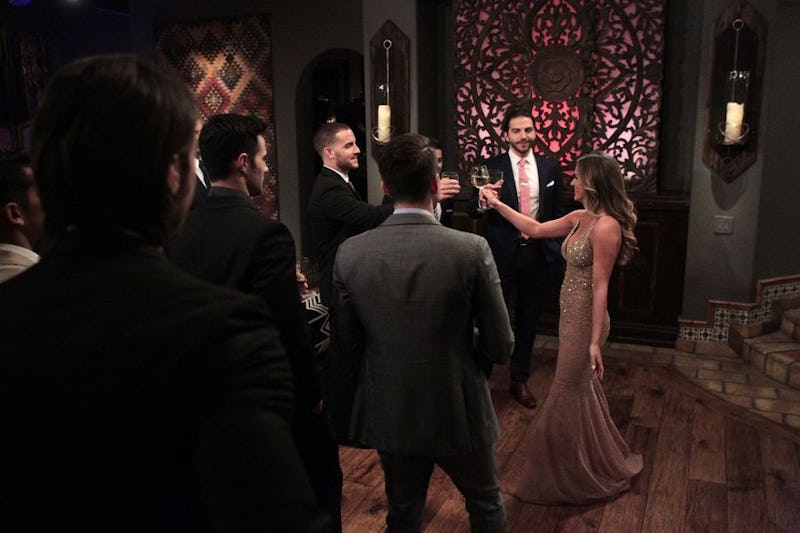 Just because Memorial Day is a national holiday doesn't mean that JoJo Fletcher gets a day off from being the bachelorette. Since JoJo's season of The Bachelorette just premiered on Monday, May 23, fans feared the dramatic new season wouldn't air on May 30 since it's Memorial Day. But lo and behold, the powers at ABC must love us because The Bachelorette will air a new episode on Memorial Day, like it did back in 2015 with Kaitlyn Bristowe.
While Memorial Day is a day meant for honoring those who died serving in the military, it's often commonly equated with its long weekend that typically leads to the start of warm weather, parties, barbecues, and regrettable Tuesdays at work. So to me, there's honestly no better way to spend this national holiday than by watching The Bachelorette, especially since two former military vets are competing for JoJo's heart. It's the best of all the worlds.
If you're like me and plan on spending the last hours of Memorial Day watching The Bachelorette, here are some tips for you to make the most of this day while watching America's greatest past time. Daniel the Canadian be damned! (Get it? Like, daaamn, Daniel!)
1. Get Your Grill On
Do something you rarely see them do on The Bachelorette or The Bachelor — eat! Memorial Day's nice weather is great for grilling, so make sure your fridge is stocked with plenty of hot dogs and hamburgers.
2. Have Some Alcohol On Hand
If you're hosting a Bachelorette viewing party, you'll need a glass or two to get through the two-hour episode, so stock up.
3. Sip Some Straight Out Of The Bottle
Channel JoJo's mom and skip the glass. It will make cleanup infinitely easier.
4. Dress Up
Memorial Day marks the first day it's acceptable to wear white pants, so get in some fancy summertime fashion before watching The Bachelorette. And like JoJo, rock the white and rock the sequins.
5. Use The Commercial Breaks To Get Down
There ain't no party like a Bachelorette party, 'cause a Bachelorette party don't stop.
6. Spend Some Time Outside
Another option during commercial breaks is to embrace the outdoors since Memorial Day is the unofficial beginning of summer.
7. Provide Dessert
Yum!
8. Get Your Workout In While You Watch
You've most likely been spending your extra day off partying, so if you're feeling guilty, JoJo showed you how to drink and still work on your fitness on The Bachelor.
9. And Help Your Friends Do Their Workouts Too
Being like JoJo as she keeps her balance with a drink in her hand is my ultimate goal.
10. Unwind After The Episode
After the tension of a rose ceremony, it's always beneficial to do a relaxing activity. If your friends are still over, the more the merrier!
11. Make Time To Sober Up
Don't party too, too hard. Just because Memorial Day is a holiday, it doesn't mean that Tuesday is. And JoJo will be here waiting for you next Monday.
Images: Rick Rowell/ABC; Giphy (9); truelovebeginswithalimo/Tumblr