How 'Alice' Became A 21st Century Tale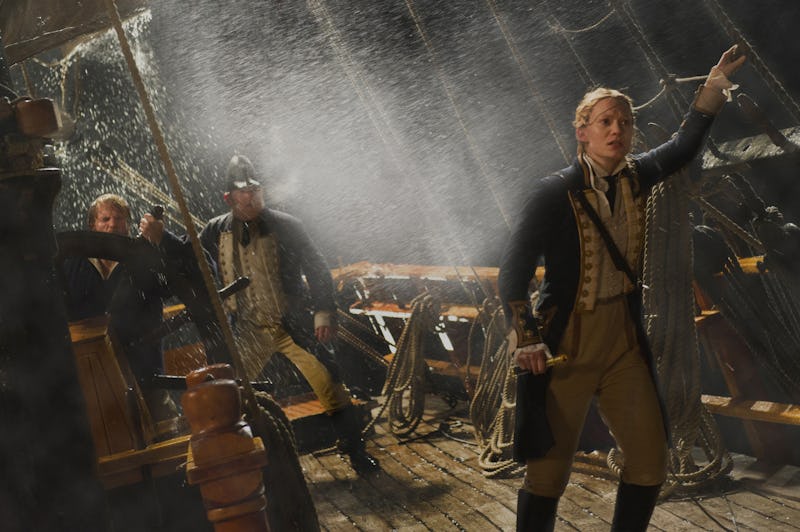 Though author Lewis Carroll wrote the much-beloved books Alice's Adventures in Wonderland and Alice Through the Looking Glass in the mid 19th century, it just wouldn't feel right for a modern-day Alice to adhere to the kind of societal norms expected of a girl in Victorian England. Indeed, the first live-action Disney film adaptation of the story, 2010's Alice in Wonderland , fully committed to having its young heroine stick out, and the sequel, May 27's Alice Through the Looking Glass , continues that theme. This 21st century Alice casts off the "traditional" role for a woman, rejecting a marriage proposal and setting out on adventures. This change is no accident; speaking about the film, Alice screenwriter Linda Woolverton tells Bustle that Alice would have been so altered by her experiences in Wonderland (or Underland, as it's called in these films) that "fitting in" with more traditional society would have been out of the question.
"It would have changed her so intrinsically, that she would never have been able to fit back into that world anyway," Woolverton says.
Finding the way to adapt such dream-like, non-linear books into a narrative film was a challenge, adds the screenwriter, who wrote both installments in the Alice series. "The first two books really involved a young child and her fall into another world, and how she just meets all these interesting characters," Woolverton says. "But it doesn't have a strong linear narrative drive, nor does it have the really clear visual structure, which is necessary to make a movie today."
Instead, much like Alice, Woolverton took her own path. "I had to kind of veer away from the book, especially because she is an adult now, and then sort of make up my own adventure for her that included the look of Lewis Carroll. I wanted to weave a story within Caroll's original fantastical world. So I kind of had to make up a lot and create a lot to create a screenplay and an adventure story."
The story within Alice Through the Looking Glass veers from Carroll's works and introduces the new character of Time, played by Sacha Baron Cohen. With the Mad Hatter (Johnny Depp) ill and the solution found only in the past, Alice steals a time traveling device and sorts through history in order to save her friend. Yet despite the use of time-travel peaking undoubtedly bound to peak viewers' interest, the more important element for Woolverton in writing the script was to show how much Alice had changed from the original film.
"For the first movie, I was really exploring the idea of what happened to this Victorian girl, who's an adult now, [when she] fell back into a world that she believed was just a fantasy and turned out to be true," says Woolverton. "And how going back and discovering things about herself that she sort of lost with the death of her father brings her back to herself in a rediscovery of who she is."
"So this second movie was about implementing that," she continues. "Taking that discovery and putting it into practical application in the world around her."
Looking Glass features an Alice who captains her own ships, takes charge of her family's legacy, and fights for the lives of Underlanders both good and wicked. She's so far removed from Victorian England that she has much more in common with the feminism of the 21st century than that of her time. And for Woolverton, that's the point. "Every movie that I write that is a fantasy movie, I feel it's important to have issues that are relevant or have some sort of relevance. Otherwise, it doesn't mean anything," she says. "I'm trying to imbue the things that I write with some sort of cultural significance."
But sometimes, she adds, still has to be a bit sneaky in going about it. "The way I know I can still kind of get away with it is because the world of Underland is not like a Victorian England," Woolverton says. "It isn't even in the same period as Victorian England — it's its own thing. So this girl having visited there would never be like a Victorian in any way after that experience."
Alice is different, because so are we.
Images: Disney