'Bloodline' Revealed Many Secrets In Season 1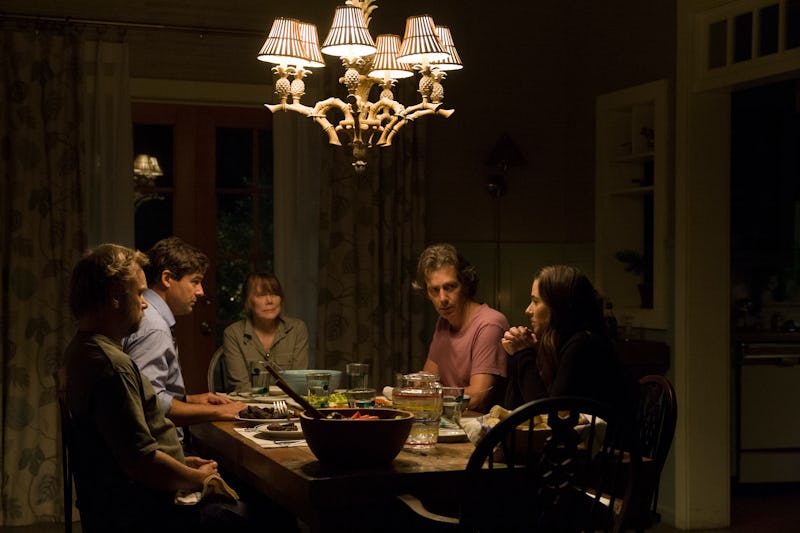 Every family has secrets — but not every family has as many secrets as the Rayburns. The clan at the center of Netflix's dark drama Bloodline , which returns this Friday for its sophomore season, is pretty much the reason the word "dysfunctional" exists. The lies, guilt, jealousy, regret, and resentment that stew between the six family members are as thick as the humid air of the Florida Keys they call home. But before we dive back into these murky waters, let's refresh our memories on what happened last year with a Bloodline Season 1 recap, shall we?
The freshman season of the Netflix original show revolved around a tour-de-force performance by Ben Mendelsohn as the black sheep of the family, Danny Rayburn. Mendelsohn earned nods from the Emmys, the Golden Globes, and the Critics Choice Awards for his consistently unsettling portrayal of a man who can't seem to decide whether he wants to be a part of his messed up family — or destroy it from within. (Of course, this being a dark drama, he eventually opts for the latter.) Danny may not be our protagonist, but given that all of the show's conflict stems from his actions, he's as good a place to start as any:
Danny (Ben Mendelsohn)
Things kicked off when Danny returned home after an extended absence, drawn back by the dedication of a pier in his parents' name. (Mom and Pop Rayburn have run a prosperous hotel on the keys for 45 years.) What looked at first to be the sort of unfortunate but commonplace estrangement that can happen in large families turned out to be rooted in something much darker — something involving a dead Rayburn sibling named Sarah.
Realizing that he'll never truly be a part of the family again, Danny fell in with a crew of drug smugglers. Tensions built and — after a particularly nasty scare involving Danny's niece and the discovery that Danny had been hiding drugs on the hotel property — his siblings finally turned completely against him, resulting in the murder that the entire season had been foreshadowing.
John (Kyle Chandler)
Although John is younger than Danny, he effectively became the eldest Rayburn child after his brother left home. As a son, brother, husband, and father — and a local sheriff's deputy — John has the responsibility of both his large family and his entire town resting on his shoulders. So when Danny threatened both, John tried to figure out a way to get his older brother out of the picture. Initially, that meant not taking action when Danny's girlfriend Chelsea came to tell him that the drug cartel was sending an assassin to kill John's brother.
Unfortunately, Danny got the drop on his would-be assassin — and it also turned out that he was the one who sent Chelsea to tell John about the hit in the first place, to see what his brother would do. (Answer: nothing.) Knowing that John didn't try to stop him from being killed, Danny essentially promised that he would never go away, never stop torturing the siblings who turned against him. So John murdered him, drowning him in the surf.
Meg (Linda Cardellini)
When John suffered an attack of hypertension after drowning his brother, it fell on his two hapless younger siblings to cover up the crime. Meg hid Danny's body in her trunk until John could dispose of it and helps John and brother Kevin cover up their involvement by staging it to look like a drug-related hit.
At the same time, Meg was struggling with her commitment to fiancé Marco, John's partner at the sheriff's office. She confessed to having an affair with Alec, a client from New York City, and broke things off with Marco. In the finale, we learned that she had accepted a job offer from Alec and moved to the Big Apple.
Kevin (Norbert Leo Butz)
Kevin is the lovable screw-up of the family; when he's not working at the local marina, he can usually be relied upon to be drinking and/or doing drugs. Although Kevin and his wife Belle broke up, they slept together on the night of his father's funeral — and Belle got pregnant. In the finale, we see them back together and apparently making a go of it again.
Sadly, Kevin's future happiness will likely be threatened by his involvement in Danny's murder. Not only did he help cover it up by hiding the body on his boat for a time and trashing Danny's apartment, but he gave John a gun when his older brother went to confront Danny. Of course, John didn't end up using the gun, but it's clear that Kevin is far from innocent — he wanted his brother dead.
Robert (Sam Shepard)
The Rayburn patriarch didn't stick around very long, but his presence loomed over the entire season. Although he died of a heart attack in the season's fifth episode, it was his physical abuse of Danny that had driven the eldest Rayburn away from home. Over the course of the season, we slowly learned why Robert specifically targeted him: Danny had been with his sister Sarah when she tragically drowned years ago and his dad held him directly responsible — and could never forgive him.
Sally (Sissy Spacek)
Although she remained a bystander for most of the season, we eventually learned a couple of shocking things about Sally: first, she had been planning on leaving Robert all those years ago before tragedy struck. In fact, it was Sally who told Danny to take Sarah out on the boat to get her daughter out of her hair while she packed her bags to leave. Secondly, she had known about Robert's abuse of Danny and helped cover it up, feeding her other children a lie about an accident to tell the cops when they came to investigate.
Throughout the season, Sally was incredibly defensive of Danny, obviously out of guilt for allowing him to be abused when he was a child. She was devastated when he turned up dead, and hired an old family friend and former detective to find out what really happened to him. In one of the final scenes of the season, he tells her he found something: "Your children are lying to you."
The season ended with a revelation that is sure to shake things up in Season 2: Danny had a son, and he's come to crash the Rayburn party. We'll find out what kind of havoc little Danny Jr. will wreak when the new batch of episodes drops on Netflix this Friday.
Images: Saeed Adyani/Netflix (7)