Sonja & LuAnn Need A Spinoff, Stat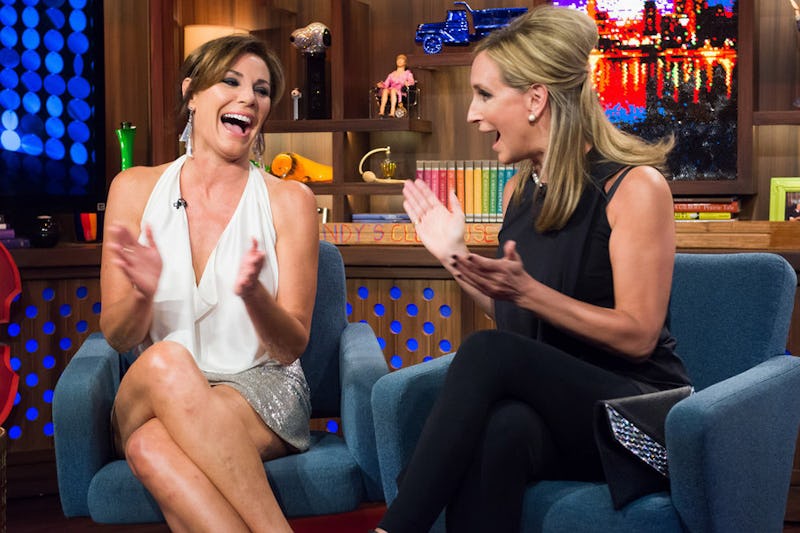 My fellow Bravo fans who have been watching Real Housewives of New York City know that Sonja Morgan and LuAnn de Lesseps are living together during Season 8. LuAnn didn't have an apartment in the city, so she decided it would be best to stay with her BFF Sonja, and it has turned out to be the best part of the season, especially for anyone who wants an escape from the drama between pretty much every other Housewife. So I'm sure everyone will agree with me when I say that Sonja and LuAnn need a RHONY spinoff.
I have a feeling Bravo feels the same way. If you tune into Watch What Happens Live, you know that there is already a segment based on Grey Gardens that is centered around LuAnn and Sonja. That's just asking for a spinoff, right? Here's hoping Bravo is at least thinking about it, because the way RHONY is currently going, they're kind of like the outcasts of the group anyway. So far, Sonja and LuAnn have been in their own little world, doing their own thing. Wouldn't that be even more enjoyable as its own show?
I don't know about you, but I need more Sonja and LuAnn, not less. With that, let's discuss why they need their own show, stat.
1. It'd Be Beyond Entertaining
From hula hooping to their shenanigans as besties to Sonja teaching LuAnn about cooking in a toaster oven, the entertainment would be endless.
2. They Are So Easygoing
Sometimes the drama on RHONY (and every other Housewives franchise) can become a bit much. Thank goodness Sonja and LuAnn are there to ease the tension. Can you imagine how carefree their spinoff would be? It'd be fantastic.
3. Even More Focus On Their Love Lives
Not only would fans be able to watch the ins and outs of Sonja's dating life, but they would also get a glimpse into LuAnn's life as a soon-to-be married woman.
4. Their Outings & Travels Would Be Remarkable
They both love to travel and as proven repeatedly on RHONY, these two make the trips hilarious. Now, picture them on a vacation with each other. That would be television gold.
5. It'd Be Great Publicity
Sonja's international fashion lifestyle brand would skyrocket and LuAnn's endeavors would expand, as well. Anyone else think LuAnn should totally record their spinoff theme song?
6. The Show Title In Itself Would Be Amazing
Title options are endless, but if LuAnn can come up with memorable one-liners, I'm sure she'd also be able to think of a spinoff title. Here are a couple of my own suggestions: Sonja & LuAnn Take New York, The Real Sonja & LuAnn of New York City, or Sonja & LuAnn: The Cool Housewives. You know, whatever works.
7. You'd Get To Know Them Even Better
With each new season of Housewives, fans continue to get to know Sonja and LuAnn. But, if a show focused solely on them, then viewers would have a chance to learn even more about the two. Who doesn't want that?
8. It's A Great Way To Meet Their Families
RHONY viewers know a little bit about LuAnna's children and have only heard Sonja mention her daughter. With a spinoff, it's possible that their families would become even more of a focus.
9. Because Of Moments Like This
I mean, who doesn't want more of that?
10. And This
I bet LuAnn would even make scrambled eggs à la Français in Sonja's toaster oven for her.
11. And Because It's The Greatest Idea Ever
This is pretty much a given.
Bravo, let's make this happen.
Image: Charles Sykes/Bravo; realitytvgifs (3)/Tumblr; Giphy (8)