Ladies From 'OITNB' Are Scared Of These Inmates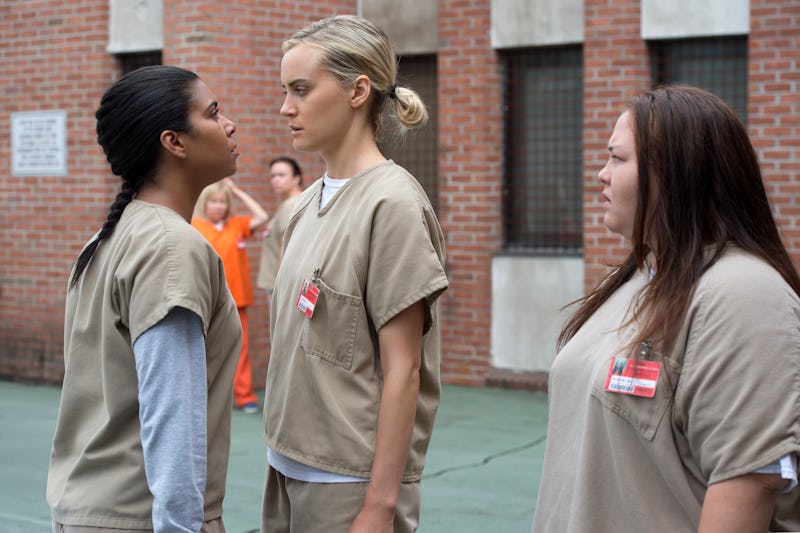 If there's one thing I know about the upcoming fourth season of Orange Is the New Black , it's that s--t is about to go down. And I'm not underestimating the show — crazy stuff has been going down since the pilot dropped in July 2013. But this season seems different. As if things inside the Litchfield walls weren't crazy enough, Season 4 promises fresh prison meat who will seriously shake things up, plus new beefs (the fighting words between Maria and Piper in the trailer cut my soul) that have even caused rumors to swirl about Piper's death. Yep, when the show returns June 13, it's going dark.
On the bright side, those fightin' words are nothing new for the Litchfield ladies, who've seen some pretty gnarly brawls in their day. Especially Piper, who I have absolutely loved watching evolve into a total badass. Apparently, there's more where that came from in this coming season. At The Paley Center for Media's event to celebrate the show in LA on Thursday evening, Taylor Schilling says Piper's badass-ness is here to stay. "[Piper]'s becoming a little bit of a kingpin and has this swagger," she tells the crowd during the panel.
Still, something about Piper putting on her big girl pants to take down the bad guys just doesn't seem all that comfortable or natural for her, which is why it's so incredible to watch. "The feeling I always have about Piper Chapman is that she tries on everything like a piece of clothing — she doesn't quite fit the jacket, but she tries it on," says Schilling. "I love that about her. [Piper] just keeps trying on different clothes — they don't all fit."
Schilling can definitely relate. Bustle caught the star and additional OITNB cast members before the panel to see which inmates they fear would totally kick their ass if they came face-to-face in real life. Their answers are totally understandable, as I'm certain any of them could take me down. Easily.
Taylor Schilling
If Schilling could avoid a smackdown with any Litchfield inmate, it'd be Gloria, played by Selenis Leyva. "She can hit. I've seen her!" says Schilling. "She's strong! She's a strong lady." I know Gloria can cut with her words, so knowing she's just as physically strong pretty much makes me terrified.
Selenis Leyva
As for Levya? Her choice is one I probably wouldn't even have thought of: the hilarious Black Cindy. "I wouldn't want any beef with Black Cindy," says Leyva. "Because she's funny, but she could be scary. I love Cindy. And I love Adrienne [C. Moore]. But Black Cindy would probably be a little scary. Don't let the funny fool you. She will bring you down." Noted.
Taryn Manning
Although we witnessed more of Pennsatucky's soft side in Season 3, Manning doesn't fail to recognize her own character is past the point of cray. "Man. There's a few [inmates] that I would not want to mess with in real life and a few that seem like they're cool. But we can keep some of that left unsaid," she says laughing. "So, me." I mean, she did stab Piper with a mini wooden crucifix, so, yeah. Enough said.
We have just a few weeks to mentally prepare for what's about to go down on June 13 when OITNB returns. You've been warned.
Images: Netflix (5)