Wait, Is Noel Kahn Returning To 'PLL'?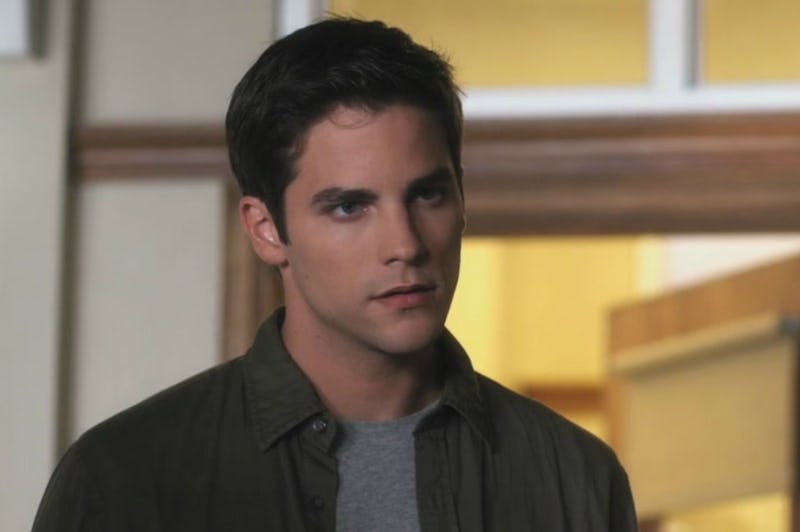 Brace yourself, Pretty Little Liars fans: there's a very real chance that Season 7 of Pretty Little Liars could be its last, or at the very least, the last time we're hanging out with the Rosewood crew we've come to know. That's pretty tragic news, but there is a consolation prize. Season 7 is bringing back some familiar faces to Rosewood, most likely to stir up trouble once again for the Liars. We already know that Jenna Marshall will return to Pretty Little Liars when the series picks up again, likely to wreak havoc on the girls' lives — or at least make snarky remarks from behind her sunglasses. Now, a new photo from PLL showunner I. Marlene King's Twitter suggests that we'll be seeing yet another Rosewood High alum when the series returns. Noel Kahn could return to Season 7 of Pretty Little Liars , and it's been entirely too long since we've seen this hot-but-shady dude rear his head.
So how do we know that Noel will be making a triumphant return to Rosewood? Technically, we don't know for sure — but King's new photo does have one huge clue that he'll be back. On Thursday, King posted a photo from what appears to be a Season 7 table read. If you look to the bottom left of the photo (and your eyes are fairly sharp!) you'll see that there is a name plate bearing the name Noel Kahn.
So now that we know that Noel will likely return to the series, how will he fit into this whole Uber A mess? Though some fans speculated that Noel could be Big A prior to the Charlotte reveal, it's still possible that he's involved in the ultimate A game in a way separate from him being the long lost DiLaurentis sibling. The one thing that remains mysterious about Noel is his connection to Alison — after all, he chose to help Alison "stay gone" when she left Rosewood following her bout of being buried alive, and he did that that he did because, according to Ali, also had secrets. Could these secrets involve the DiLaurentis family, and, quite possibly, Mary Drake?
There's also the possibility that Noel is back in town for a practical reason: his relationship with Jenna. Noel and Jenna dated when they were in high school, and though it seemed like a ploy to get intel for Alison, there's a possibility their relationship was genuine. Could Jenna return to Rosewood with Noel on her arm? Anything is possible at this point — it's just nice to see the show tying up the arcs of characters we've been suspicious of for way too long.
Images: Freeform; Giphy