Someone Wears Only a Sock On 'Vanderpump'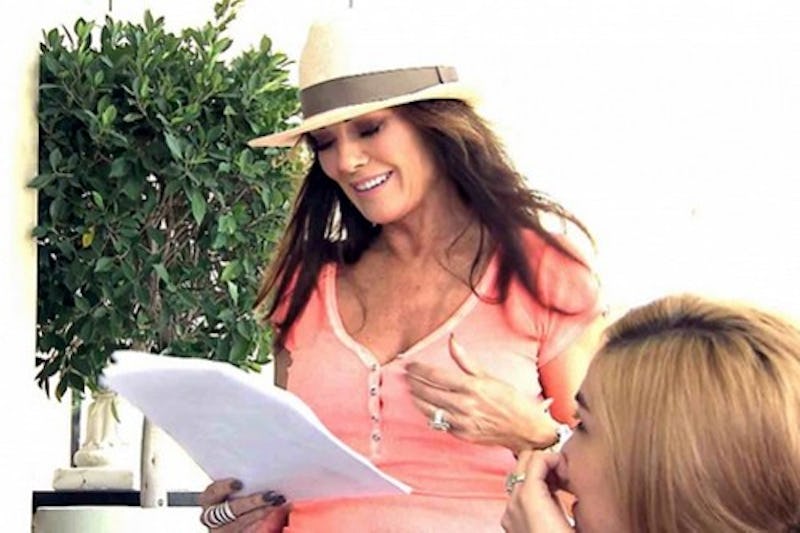 The final installment of the three-part Vanderpump Rules reunion special aired Monday night. Unlike the first two reunion eps, Vanderpump Rules: Secrets Revealed didn't rehash moments from the show. Instead, the cast discussed unaired footage from Season 2 AND we watched unaired footage from Season 2. Please and thank you!
"If it didn't make the Season 2 cut," you might wonder. "How good could any of the unaired footage actually be?" Oh, you doubt Secrets Revealed? You doubt Andy Cohen? What's your damage? You don't want to watch, for example, Lisa Vanderpump help Giggy pick out an outfit? Oh, that's right. You totally want to watch that.
What might've been the best part about Secrets Revealed? That it was an hour's worth of new scenes of the now not-friends hanging out back when they were friends. I get a lump in my throat just thinking about it. Of course I want to watch Stassi Schroeder and Kristen Doute pick out ensembles for their passport photos. Of course I want to watch Jax Taylor lovingly draw wieners all over Tom Sandoval's passed out face. OF COURSE.
Here are my favorite segments from the special (other than Lisa and Giggy arguing over clothing, of course):
The Cast's Grooming Habits
We watched a montage of the cast doing their hair, whitening their teeth, freezing their bodies to speed up their metabolisms, and tanning. Wait, hold up. FREEZING THEIR BODIES TO SPEED UP THEIR METABOLISMS?! This show teaches me so much.
"L.A. is the capital of bullshit health and beauty trends." —Stassi.
"I can't really pull off his look. He's more of an emu—wait—emo kind of guy"—Jax re: Tom Sandoval.
Remember when Stassi took Katie Maloney to get waxed? And she stopped the process? Well, Katie told Andy that she "only had half the cookie waxed."
We watched footage of Tom Schwartz inspecting Katie's fresh wax job. "It looks like a peeled egg," he said. XHNPHGJWMFNXNJZJ
Jax's Workout App
We watched Peter Madrigal direct Jax's workout app video. Jax was in board shorts. The board shorts were pulled down VERY low. So much pelvic bone.
A trainer called out the moves Jax was supposed to do for the camera, but Jax couldn't get any of it right. He also kept messing up the actual lines. Like, I don't know if he was just playing it up for the Bravo cameras or if he had his mind on something else, but if he's actually that bad at memorizing lines, I don't want to know how long it took to shoot the video. (I take it back. I want to know exactly how long it took to shoot the video.)
Passport Photos
Before the cast went to Mexico, they decided to get fresh passport photos.
"It's really important to look subtle, but to look sexy"—Tom Sandoval re: passport photos.
Tom and Tom went tanning before their passport photos. Sandoval asked Schwartz for a sock. For his wiener. You know, to minimize tan lines. Because who wants boxer brief tan lines, amirite?
"I thought it'd be kind of funny to use one of Schwartz's socks to cover up my dong."—Tom Sandoval. He wasn't wrong. It was funny.
"I think I'm prettier than I thought."—Stassi upon seeing her fresh passport photo.
Vodka Freezer Scream Sesh
Scheana Marie and Ariana Madix visited Nic's VodBox (a walk-in vodka freezer) and sampled the alcohol. When they learned the room was soundproof, they yelled the following:
"Kristen's a whore!"
"Stassi thinks she's better than she really is!"
"Katie's a drunk!"
The VodBox attendant gave them a look that said, "I'm actually surprised this doesn't go down on a regular basis. Note to self: Never tell customers the room is soundproof."
Nikolai Knows Best
We were treated to more footage of the Lake Arrowhead trip. Specifically, we were treated to more footage of Stassi's little brother giving Jax advice. When he was done telling Jax how to live his life, he had some words of wisdom for Stassi: "You cannot yell at Jax every day, and don't be dramatic," Nikolai said. "And especially, don't go to secret pools and take your clothes off."
DON'T GO TO SECRET POOLS AND TAKE YOUR CLOTHES OFF. REMEMBER THAT ALWAYS.
Stassi's Demon Eyeball
During a shift at SUR, Scheana gave Stassi eyedrops. (Why? I think she had an issue with her contact or something.) Stassi put the drops in one eye and went about her business. That was until Kristina noticed her pupil looked bonkers. It was comically dilated. She looked possessed in one eye. It was fairly worrisome. Scheana didn't know why Stassi's eye reacted that way, but they joked about poison and magic? I LOVE THIS SHOW.
And with that, the season is officially over. No more reunions, no more secrets to reveal. NOOOOO! I have nothing, nothing, NOTHIIIIIIIIIIING, if I don't have youuuu, Vanderpump Rules.
How did the cast celebrate Secrets Revealed? They went to The Parlor in WeHo and watched the ep together:
Tom Sandoval, Ariana, Jax, Scheana, Mike Shay, Kristen, and James Kennedy were there (as was 100 Days of Summer's Pascale Wellin). Adorabs. WAIT. Jax's SUR baseball cap. Where'd he get that? Do they sell hats at the restaurant? Or did he have that made? I know they sell candles and t-shirts on the SUR website (shh, don't judge me), but I didn't see hats. I know some guys who could use a SUR hat in their lives.
Images: Bravo; @russellstuart;