JoJo's Brothers Are Supportive Of 'Bachelorette'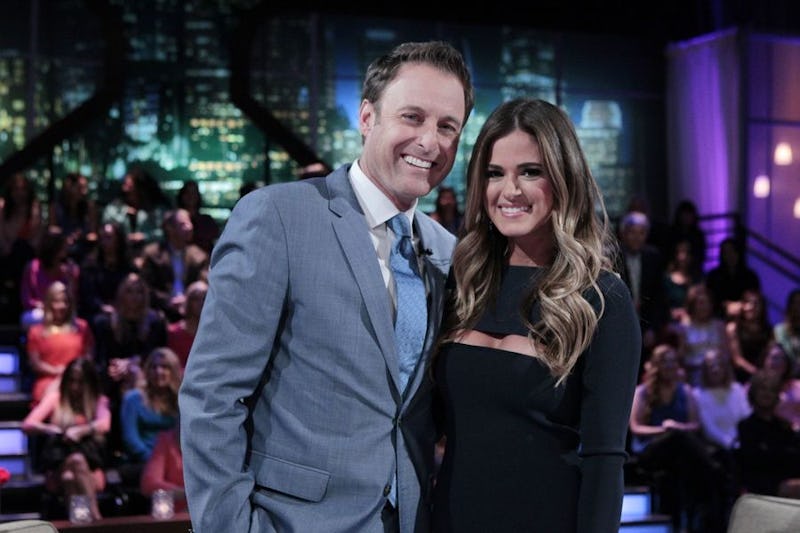 Going on a show like The Bachelor or The Bachelorette has to be a big undertaking — you have to take off from your job, you have to tell your friends, and you have to prepare for one of the craziest times of your life both on the show and afterwards when you become a mini celeb. Fortunately, having family support can really help with that. JoJo Fletcher, the latest Bachelorette, went through all of this on Ben Higgins' season of The Bachelor. She made it to the final two, and Ben got to meet her family. Let's just say it did not go well — JoJo's brothers, Ben and Martin Patton, were not that welcoming to Higgins. Now that JoJo is running the show, have JoJo's brothers said anything The Bachelorette ? They have said a few things since her initial disastrous hometown date.
JoJo's family date on The Bachelor started out nicely enough — JoJo, Higgins, and her family had dinner, and it was all well and good… until Ben and Martin called Higgins out for supposedly tricking their sister into falling in love with him. They wanted to know how many other girls was he kissing? Was he going to break her heart? I can't blame JoJo's bros for being overprotective, but damn. They really put Ben through the ringer. It's hard to say whether they disagree with the whole reality television show process (considering that Ben was on Eva Longoria's short-lived dating show) or they were just watching out for JoJo. The brothers haven't said a thing about The Bachelorette proceedings with Chad, Jordan, etc. Ben, though, has tweeted and Instagrammed his support for his sister.
So, how will they react to the men they'll meet later on in JoJo's season? I've taken a look at who I think JoJo's top three men will be, and how I imagine the family date would go down — Let's just say, I hope they have helmets.
Jordan
Texas is football country, but I don't think that Ben and Martin will be charmed by the fact that Jordan was a football player and that his brother is Aaron Rodgers. Ben and Martin would probably underline the fact that Jordan could be a player (he was a professional athlete). Plus, they might be worried about what his plans for the future are now that his football career is over. Ben and Martin will sack Jordan faster than any defensive player he faced playing football.
Robby
Robby's cute and he has perfect teeth, but does he have long-term potential for JoJo? There are rumors that Robby has a girlfriend at home (as we've seen in previews for the season of The Bachelorette, although he denied it in those previews), and I'm sure that Ben and Martin will not play that. They want their sister's love to be forever, not as an aside on a reality show. Robby may be able to fend off JoJo's line of questioning, but he will not be able to bypass her brothers.
Chad
Whoo, boy. Ben and Martin would have a field day with Chad. Chad's behavior has been simultaneously hilarious (telling the guys that they can't be in love with JoJo because they just met her) and horrifying (he got angry and punched a door), and Ben and Martin don't suffer fools gladly. Chad can outwit and outsmart the others in The Bachelorette mansion, but he doesn't stand a chance against two protective older brothers. They'll have him shaking in his weight belt in no time. Also, I hope they make fun of him for eating a sweet potato like an apple.
One thing is for sure — Ben and Martin are going to make sure that JoJo gets the love she deserves, whether it's on The Bachelorette or not. And, hopefully whoever JoJo brings home passes the test, is there for the #RightReasons, and gets the brotherly stamp of approval.
Images: Rick Rowell/ABC (4)