This '90s Beauty Accessory Is Everything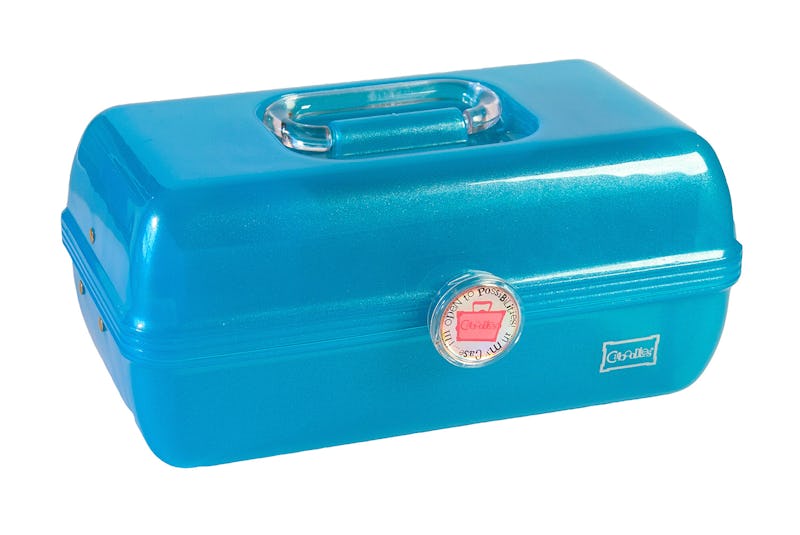 What's not to love about '90s beauty? Barely-there brows, electric blue shadow, brick brown lipstick, and Country Apple scents ruled the decade and our tweendom. But the past doesn't just stay in the past — it turns out, we just can't quit them, even if you've forgotten about them somehow. Here's the one '90s beauty accessory you totally forgot you loved. Prepare to want one immediately after I remind you what it is.
Sure, you had hair crimpers and Dr. Pepper flavored lip balm, roll-on body glitter and butterfly clips, but you had to store it all somewhere. Enter: the caboodle. Women (and men) have been storing their beauty products and makeup in boudoirs for decades, but it wasn't until 1986 when People mag "ran a picture of Vanna White using a Plano Molding Company plastic tackle box to house her makeup... [that the] idea to create a cosmetic case line was born," according to Caboodle. Plano Molding Company launched Caboodles in 1987, pioneering the "cosmetic organization" category, a now multi-million dollar industry. (Also known as the year they made all our OCD makeup dreams come true.)
All you have to do is watch a YouTube makeup tutorial to see how important cosmetic organization is. There are organizers for everything — every lipstick size, every false lash type, Z-palettes galore, and entire dressers designed and dedicated to makeup. Still, nothing beats a Caboodle.
Why, you ask? Let me count the ways. Caboodles are great for traveling, because the hard organized case will protect your makeup. Not to mention, the fold out organizer allows you to actually see what you have in your makeup collection, sparking some creativity! And it comes with a mirror!? My heart be still. You'll be able to do your makeup from anywhere!
Caboodle On The Go Girl, $13, Walmart
Caboodle On The Go Girl, $13, Walmart
The original Caboodles are totally affordable (still!) and available at Target, Ulta, Walgreens, Harmon, and Mejer. And if you think you'll be the only one carrying one in 2016, think again. They're back, baby.
Now go on and get yours! Throw some glittery, geometric stickers on there and it's like your childhood all over again, but better.