'Orphan Black' Resurrected A Popular Character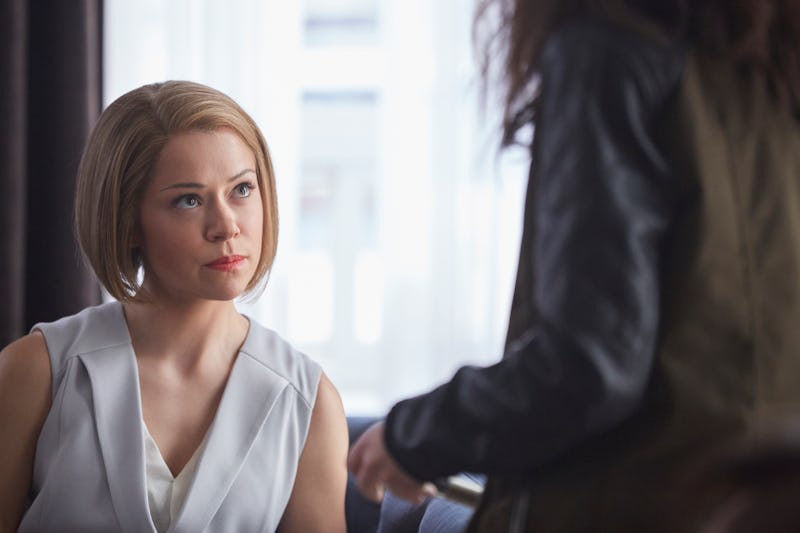 Just a few weeks ago, I wrote an article with the headline "Delphine Is Dead." After prolonging the mystery of what happened to the French scientist after her gunshot wound in the Orphan Black Season 3 finale, the show finally seemed to answer that question when Evie Cho informed Cosima that her former lover had died. Now, the penultimate episode of Season 4 has reversed that verdict, teasing audiences with a glimpse of Delphine Cormier — very much alive — just as the hour reached its end. But where exactly is she, what has she been up to this whole time, and what does this revelation mean for the show?
Delphine's fate was revealed to the audience but not to any of the characters just yet. The episode gave us our best look yet at the visions Rachel was receiving through her artificial eye; in addition to the swan and the old man who seemed aware of Rachel's presence, we also saw what looked like a camp filled with men (soldiers?) going about some mysterious business. Rachel told Ira it felt like someone was trying to show her something. At the end of the episode, we got a look inside one of those tents (not through Rachel's visions) and saw a certain blonde woman sitting at a table with her back to us. As someone approached her from behind and put their hand on her shoulder, she turned around: Delphine!
So what exactly has she been up to all this time — aside from recovering from a gunshot wound, of course? Is she working with the people who are trying to contact Rachel, or is she behind held captive by them? (The look she gave when she turned around didn't exactly make it seem like she was thrilled to see whoever was standing behind her.) One lingering mystery may have finally been answered — the question of Delphine's fate — but the answer itself has raised so many more questions.
But what does her survival mean for Orphan Black? Three weeks ago, I was impressed with the show for sticking with its guns when it came to Delphine's apparent death. There has been a recent trend of shows killing off beloved characters — and earning buzzy headlines in the process — only to bring those characters back alive and unharmed once that buzz had been sufficiently capitalized upon. (The Walking Dead's Glenn Rhee, Game Of Thrones' Jon Snow, and The Blacklist's Elizabeth Keen, among others.) So it was refreshing to see Orphan Black answer months of speculation with the surprising revelation that, nope, Delphine really was dead this whole time.
Except now she's not. It will be interesting to see how the writers explain her survival and prolonged absence from the show. Right now, it's too early to say whether Delphine's resurrection is a compelling creative choice or a disappointing bait-and-switch. Next week's finale will determine the answer to that question one way or another.
Images: Ken Woroner/BBC America (3)