This Is Jaclyn Hill's BECCA Eye Palette Shade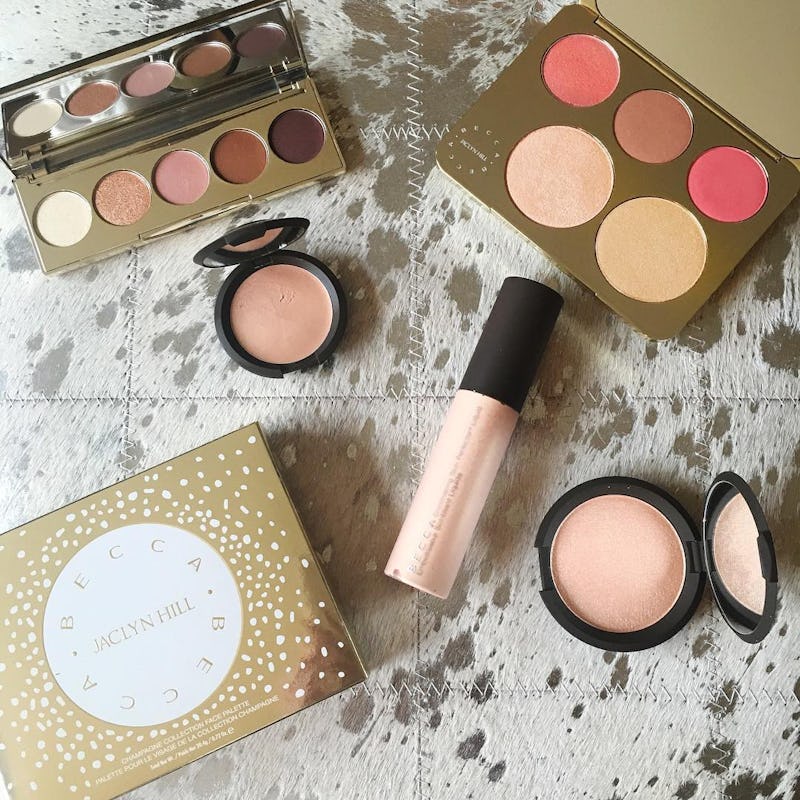 As of lately, the beauty world is suffering through its own version of World War III, glitter and all. When news broke out that the BECCA x Jaclyn Hill Champagne Glow eye shadow palettes would no longer be released on June 16, social media exploded with reactions. The decision to pull the coveted palettes came after customer complaints on the palette's quality began to surface. Via Snapchat, Hill said she only had a hand in creating one shade for the Champagne Collection eye palette and had no role in testing the formula. So, which shade was it? Hint: the answer is all in the name.
Could it be Chardonnay, the dreamy sheer gold with hints of pink? Or perhaps Hill whipped her magic to devise Bordeaux, the vampy wine hue with chocolate undertones? The answer: Champagne Toast is the Jaclyn Hill-concocted shade, which BECCA described as a "reflective peach with a dash of cinnamon." Yum.
Unfortunately, your dreams of a Champagne Toast smokey eye have been dashed as of now. With BECCA axing future sales of the palette, it will be tricky to nab it altogether unless the brand ever decides to re-release the palette with a different formula. For reference, Champagne Toast is the second shade on the left in the picture below.
Hill certainly has good taste when it comes to crafting the ultimate eye shadow. If you still want to mimic the Hill-approved shade, here are seven alternatives to the BECCA x Jaclyn Hill eye palette to shop. The end is not here!
BECCA released the following statement about the decision to pull the eye shadow palette to Bustle via email:
At BECCA Cosmetics, we embrace genuine and open conversations with our consumers. While we heard many were loving the Limited Edition Eye Palette, others expressed disappointment. We hold ourselves and our products to the very highest standards of excellence. Our consumers are our guiding light and if we are not confident our BECCA Beauties will fall in love with a new launch, we believe the best path is not to launch it in stores. Our core brand value is, as always, to please our BECCA Beauties, and we're so thankful to them for their continued support.
Images: Jaclyn Hill/Instagram