11 Updated Ways To Wear Your Fave '90s Sandals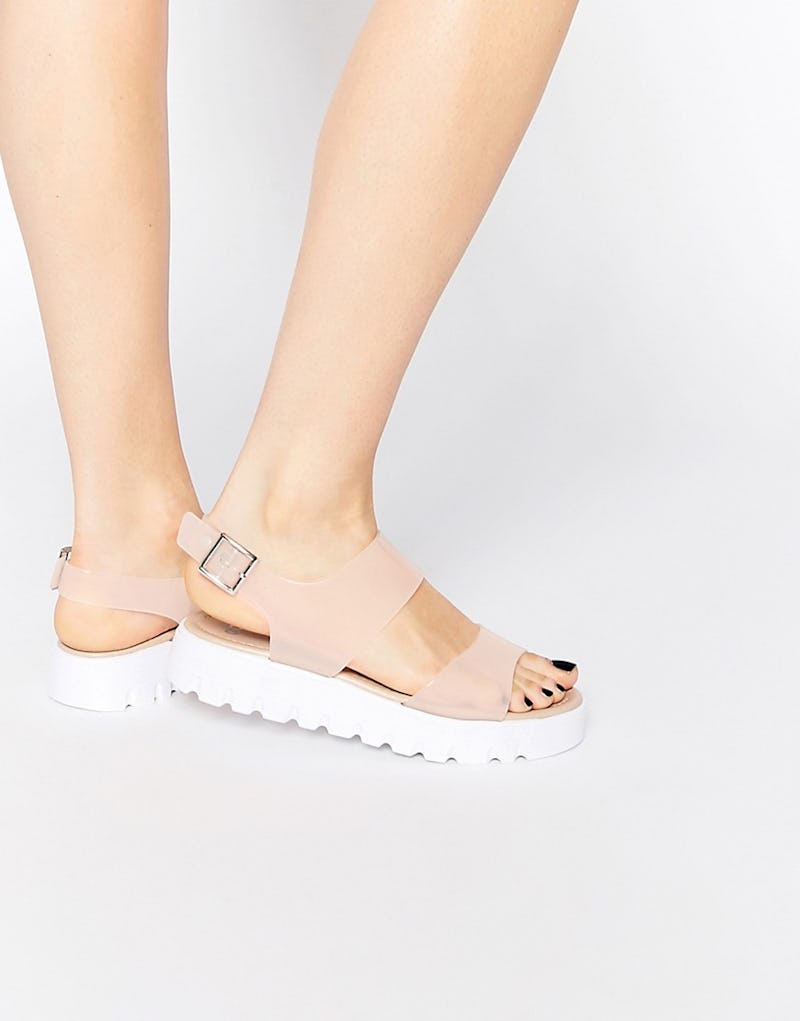 At this point,'90s fashion and the word "comeback" are forever coupled together. Much like how you can't peruse a headline without seeing both Mary-Kate and Ashley Olsen mentioned, '90s styles and the great sartorial resurgence are abundant in the media realm. Case in point: millennials love to pay respects to their beloved decade, bucket hats and all. If you sometimes catch yourself wondering about the fate of your favorite pair of platform flip-flops from 1994, you aren't alone: '90s shoes are now experiencing a modern revival. 1990s, meet the year 2016.
Nostalgia is a constant every time a '90s vestige emerges in the present day. However, this spawns a new dynamic — while some prefer to rock their Birkenstocks and clogs straight from the '90s, others like to have the best of both worlds. What am I referring to here? Well, the fusion of '90s nostalgia and contemporary styles to be exact. This is a special hybrid — an updated take on a classic shoe of the time.
Whether you were team Skechers or pro-jelly sandals, you'll be surprised at how easy it is to incorporate these reinvented shoes into your everyday wardrobe; all it takes is a little bending of the rules. Plus, if the '90s trend does meet its demise in the future, you won't be completely out of luck.
Get shopping and make your '90s self proud.
1. Jelly Sandals
ASOS Flynn Jelly Sandals, $19, asos
Originally a relic of the 1980s, jelly shoes continued its reign in '90s fashion like no other — and even today, jellies are making rounds in the sartorial world. If you were sporting a pair of these glitter-infused babies back then, consider yourself the OG tastemaker.
2. Birkenstocks
Yara Birkenstock, $120, Zappos
And the revival of '90s footwear strikes again — nowadays, Birkenstocks proudly have their own modern bandwagon. Exhibit A: they remain an integral part of the off-duty model uniform and exhibit B: the Olsen twins happen to swear by them (and with socks, of course). Hard to believe that decades ago, Birkenstocks weren't considered super stylish, given that everyone and their neighborhood barista probably owns a pair now.
3. Slide Sandals
Everlane The Slide Sandal, $69, E verlane
Ah, the slide sandal. Athleisure is all the rage at the moment, but if you're anything like me and want to tread lightly on the sporty chic aesthetic, consider sleek leather slides as an alternative — understated, versatile, and just as blissfully comfortable.
4. Platform Flip Flops
Sam Edelman Bentlee Platform Sandal, $110, Urban Outfitters
Because no platform flip flop was complete without a mood toe ring or anklet. Summer in the '90s meant miniskirts and exposed midriffs, topped off with a foamy serving of the platform flip flop. For an updated twist, opt for wooden platform sandals — you'll still nab the extra height without sacrificing style.
5. Fluevogs
Fluevog Grand City Heel, $170, Free People
I'm going to be honest with you: I had no idea Fluevogs existed until today. Apparently, vintage Fluevogs can fetch for a decent price nowadays, so if you happen to have a forgotten pair somewhere in the dark depths of your closet, perhaps it is about time you give them a dusting.
6. Clogs
Free People Roscoe Heel, $238, Free People
With a touch of Sweden, clogs were a common mainstay of '90s ensembles. Clunky, yes, but don't be so quick to rule them out of your present-day wardrobe just yet. There are countless contemporary versions of the beloved clog — take these Coachella-worthy beauties from Free People for example. I'm all about those accents.
7. Mary Janes
Miss KG Audrina Silver Patent Mary Jane Shoes, $81, Asos
Let Cher Horowitz be your guiding light in footwear inspo this season. While the Beverly Hills queen bee went for crisp white Mary Jane heels in Clueless, you can mimic the look with a more 2016-friendly edition: metallic patent Mary Janes — futuristic with a nod to '90s cinematic style.
8. Holographic Shoes
Little Mistress Mollie T-Bar Pointed Heeled Shoes, $39, Asos
Take any pair of shoes, slather in holographic goodness, and bam — you would have just sparked another contagious '90s craze. Whether in jelly, Dr. Marten, or platform variety, these iridescent designs were eye-catching and a must-have for any grunge get-up.
9. Leopard Print Shoes
Ancient Greek Sandals Antigone Lace-Up Sandal in Leopard, $310, My Theresa
Personally, I'm a firm believer in the color of leopard print — give me a dose of safari chic anytime. Luckily, the '90s seemed to agree with me, for leopard print shoes were aplenty (think Birkenstocks and creepers). Add an element of the animal kingdom to your outfit with a pair of lace-up leopard sandals — these are striking and seductive all at once.
10. Anything Skechers
SKECHERS Jitter Bug in Slate Gray, $55, Skechers
Were you really a child or teen of the '90s if Skechers didn't make at least one starring appearance in your closet? I'm still not sure why my mom chose to run up the bill by with countless light-up Skechers kicks as a kid, but I'm not going to lie, my heart still aches for those sentimental days of the past. You can still pay homage with a pair of faux leather sandals, reinvented for the modern Skechers sneaker girl.
11. And Those Steve Madden Slip-Ons...
Stuart Weitzman Muletrain Platform Slide Sandals, $237, Bloomingdales
I didn't realize these were a true '90s classic until now, and it is safe to say, the Steve Madden stretchy sandals were the shoes of moment. With stretchy fabric, skyscraper wedge, and open-toe design, these sandals were the pinnacle of the cool girl persona — especially important if you were a teen desperately trying to break free of the juvenile name and delve into the world of what the mature, sophisticated girls wore.
Images: Courtesy Brands