Can You Still Shop The Light Grey Yeezy Boost 750?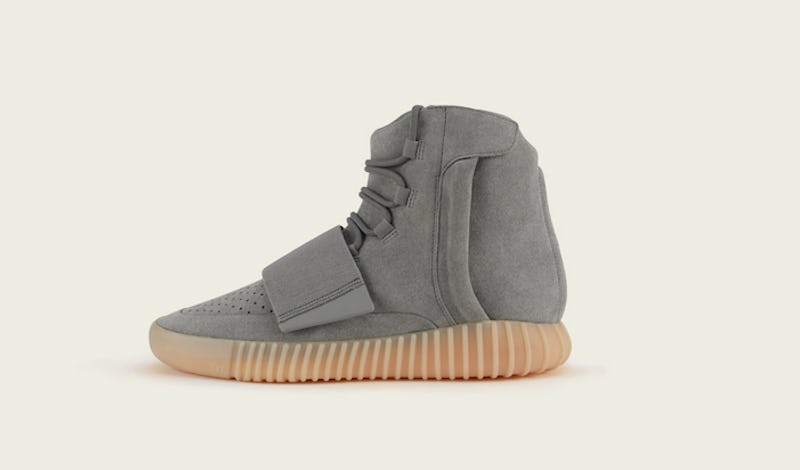 The big day when you're able to shop the latest Yeezy Boots has come, but thanks to the option to reserve a pair via the Adidas Confirmed app ahead of the launch date, it's not looking so good for late shoppers. Are the light grey Yeezy Boost 750s sold out? Well, that all depends on where you're looking to buy. UPDATE: The Yeezy Boost 750s are now sold out on the Adidas website.
If you were lucky to snag a pair via the app, then you can sit back, relax and wait for your shoes to arrive. But, if you head over to the Adidas website to try and purchase a pair today, you'll be greeted with a message on a landing page that reads, "You are waiting for the Yeezy Boost 750. There are still pairs available. Please wait and do not refresh the page." So, it seems that the shoes aren't sold out yet on the brand's official site as of one p.m. Saturday, June 11! You'll just have to have some patience.
Kanye West tweeted that the shoes were available via Yeezy Supply, but they are sold out there. So, are there other places you can still turn if you haven't snagged a pair of these sneakers yet? According to Racked, there will be pairs available in select stores in the L.A. area, so if you live nearby, you may be in luck.
The option to reserve early made these difficult to grab shoes easier to buy if you were savvy enough act quickly, however adidas is trying to control the flow of shoppers through this online queue of sorts. Kudos to the brand for trying to even the playing field and make snagging these highly coveted kicks a bit simpler.
If you're dying for a pair (and let's face it, you know you are) don't lose hope!
However, you won't find them on the Yeezy Supply website any longer.
You want to know the real last resort? Tweet to Kim Kardashian! She could be feeling a little extra generous today. I'd surely be willing to take a chance, you know?
Image: Courtesy Adidas (1)