ONE Book Every Pretty Little Liars Fan Should Read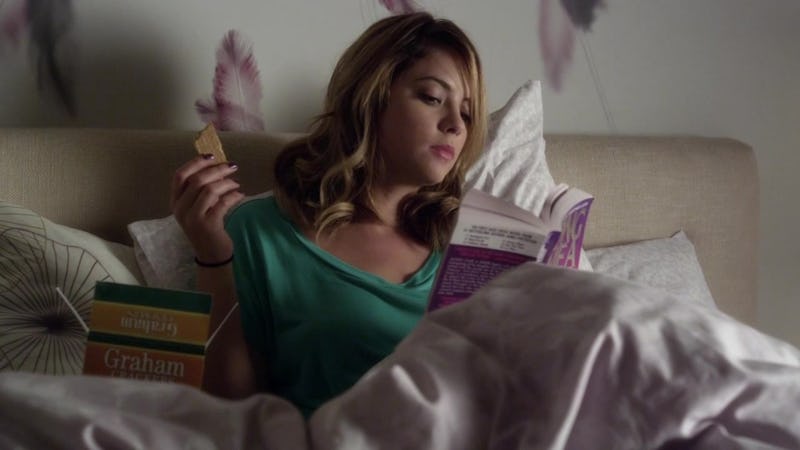 There are some book series that just pull you in and won't let go, and Pretty Little Liars is one of them. The creepy story of four friends, and the girl whose life — and mysterious death — changed them forever, is the perfect read for a hot summer's night. Or maybe day, if you're skittish like I am.
After you read the series, you can also watch the TV show, which is one of the many book-to-TV adaptations I've loved watching. And since the TV show doesn't exactly follow the plot of the book (and still has a LOT of unanswered questions), you can enjoy both separately and still be surprised.
But what do you do once you've finished reading all the books and you're all caught up on the TV show? The struggle of a book hangover is real, people. And though you can try reading other books by the same author, and you can even read series that are very reminiscent of Pretty Little Liars, it can be hard to fill the PLL-sized hole in your heart.
Luckily, there's a remedy for that, and its name is Rebecca by Daphne du Maurier. This modern Gothic classic is iconic in more ways than one, and it paved the way for series like Pretty Little Liars. So if you're a PLL fan searching for a new book to read… pick up Rebecca.
Why will you love it? Because it contains the following:
1. A Mysterious Death
Pretty Little Liars centers around the death of Alison DiLaurentis, the manipulative queen bee of the liars' friend group. Throughout the series, her death is shrouded in mystery — which is just the case in du Maurier's Rebecca . The protagonist knows that her husband's previous wife passed away, but the cause of death is unknown. It's a mystery which will keep you turning the pages of this novel just like you turned the pages of PLL.
2. The Feeling That Someone Is Watching Your Every Move
While reading Pretty Little Liars, I couldn't shake the feeling that Alison was still watching the Liars. After all, they kept receiving notes about their secrets, signed, "A." In Rebecca , the protagonist feels that Rebecca is always watching her. After all, the novel is named after her! The workers at the de Winter estate, where the protagonist lives, loved their former mistress. There's an imposing portrait of her on the estate. Though the woman is gone, her legacy lives on... just like in Pretty Little Liars.
3. A Protagonist To Tries To Live Up To Her Predecessor's Legacy
Speaking of a legacy, Alison definitely left one in PLL. She was manipulative, but she was the undisputed queen bee, and her influence was felt long after she was gone. Similarly, Rebecca made a huge influence on everyone in Rebecca . Her servants adored her, and the protagonist feels she can't live up to the high standards Rebecca set. Sound familiar?
4. A Modern Gothic Setting
Pretty Little Liars may be set in modern times, but Rosewood has an undisputedly Gothic feel. Secrets, lies, and clandestine relationships? Very Gothic. Rebecca is also a modern Gothic: it was published in 1938, but the protagonist spends most of her time on an old-fashioned estate that is reminiscent of another era.
5. A Relatable Heroine
The Liars in Pretty Little Liars all have secrets, but that's probably what makes them so relatable. Spencer, Hanna, Aria, and Emily are just normal teen girls, but "A" makes their lives far from average. The unnamed protagonist in Rebecca is also relatable: she falls in love and is swept up in the romance, not knowing what mysteries await her at Manderley.
Speaking of love, there's romance in both PLL and in Rebecca . It's not the focal point of the plot in either book, but it adds a touch of a love story which adds to the Gothic tone of the settings.
7. Complicated Female Friendships
The female friendships in Pretty Little Liars are complicated and get pretty twisted. The same is true in Rebecca . Though the protagonist tries to find allies at Manderley, she instead forms a complex relationship with Mrs. Danvers, a worker who idolized the late Rebecca.
8. Shocking Twists
If you adore PLL because of the gasp-worthy moments, you'll love Rebecca . The first time I read Rebecca, I sat poolside and finished it in one sitting. I'm pretty sure I startled everyone around me because I kept audibly gasping. The twists! The turns! Just like Pretty Little Liars, Rebecca will keep you guessing until the very end, and it will stick with you long after you've closed the book.
Images: Giphy (8), Warner Bros. Television (1)