O.J. Simpson Really Wanted To Be In This Movie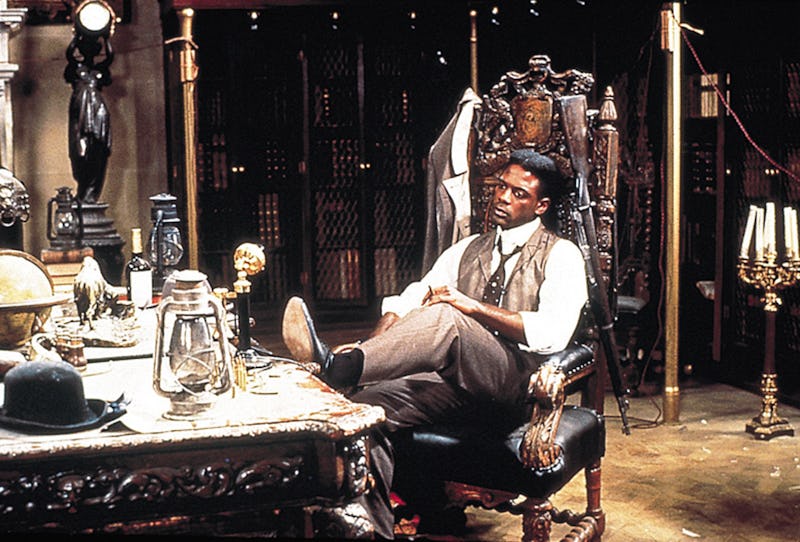 Although two series about O.J. Simpson airing almost back-to-back on primetime television might seem like too much, FX's The People v. O.J. Simpson and ESPN's O.J.: Made In America are different enough to not feel repetitive. While Ryan Murphy's dramatization focused almost exclusively on the trial itself, the sports network's docuseries examines the man himself and the culture in Los Angeles leading up to the murders of Nicole Brown Simpson and Ronald Goldman, of which Simpson was found not guilty. Part of ESPN's examination into the footballer's psyche involves his acting career — including the revelation that he had greatly desired a role in a 1981 film. But what is Ragtime , and why did O.J. Simpson want to be in it so badly?
The movie was helmed by Miloš Forman, the two-time Academy Award-winning director behind Best Picture winners One Flew Over The Cuckoo's Nest and Amadeus. (In an ironic twist, he was also nominated for directing 1996's The People vs. Larry Flynt, written by Scott Alexander and Larry Karaszewski, the two men who created The People v. O.J. Simpson.) Adapted from the acclaimed 1975 novel by E.L. Doctorow, Ragtime told the story of America at the turn of the century, blending historical figures like Harry Houdini and Henry Ford with fictional characters like Tateh and Coalhouse Walker, Jr.
It was this latter role that Simpson so desperately craved. Coalhouse is a ragtime musician-turned-freedom fighter, driven to violence after the tragic death of his lover, Sarah, who is beaten to death at a political rally. He's a complex character, fighting for justice and equality while also committing violent acts of his own: he and his followers murder firemen and threaten to blow up a library should their demands not be met. After being talked down by real-life civil rights activist Booker T. Washington, Coalhouse surrenders — and is promptly shot and killed upon exiting the library.
Doctorow's book was also adapted into a Broadway musical in 1998, in which the role of Coalhouse was played by Brian Stokes Mitchell. The lavish production earned an impressive 13 Tony nominations, although it lost the top prize to The Lion King. The musical earned Broadway legend Audra McDonald the third of her record-breaking six Tony Awards, and also featured a 12-year-old Lea Michele in a supporting role, 11 years before Glee would launch her to fame. (In another ironic twist of fate, that production's Coalhouse would go on to play Michele's father Leroy Berry on Glee.)
It's easy to see why Simpson was attracted to the role of Coalhouse. In its review of Made In America , Entertainment Weekly quotes an interview Simpson once gave on this very subject:
I just could identify with this guy so much. It was a black man at a time when you were supposed to know you were black, you were supposed to know you had a place. I was raised in the sports world, where you're only judged by your abilities and what you have to give. … I could understand exactly what he felt. When he walked in a room, he gave no credence to the fact that he was black and that he wasn't supposed to say things or treated any differently, and that's the way I tried to look at my life. I felt I was the right person for the role. I felt I was today's Coalhouse Walker.
The review goes on to note that the role of Coalhouse was "beyond Simpson's skill as an actor." But regardless, landing the part became something of an "obsession" of Simpson's, according to Inverse's review of O.J. Made in America Parts 1 and 2 — and failing to do so was "one of the biggest disappointments of his professional career."
Ultimately, Howard E. Rollins, Jr. was cast as Coalhouse Walker, Jr.; a relative unknown whose biggest credit at the time was Roots: The Next Generations, the 1979 sequel to the 1977 miniseries that (ironically enough) featured Simpson. Rollins, Jr. would go on to land an Academy Award nomination for his portrayal of Coalhouse — one of eight Oscar nods the film would receive.
Ragtime wasn't Simpson's only acting ambition to never come to fruition. He also notoriously starred in a pilot for NBC titled Frogmen , in which he played a Navy SEAL. But production on the pilot wrapped a mere five weeks before the murders of Brown Simpson and Goldman, and the show never saw the light of day. You can learn more about Simpson's acting career and everything else he was doing in the years leading up to the trial of the century when O.J.: Made in America Part 2 premieres on ESPN Tuesday night at 9 p.m.
Image: Paramount Pictures