Tess Holliday's New Baby Is Perfect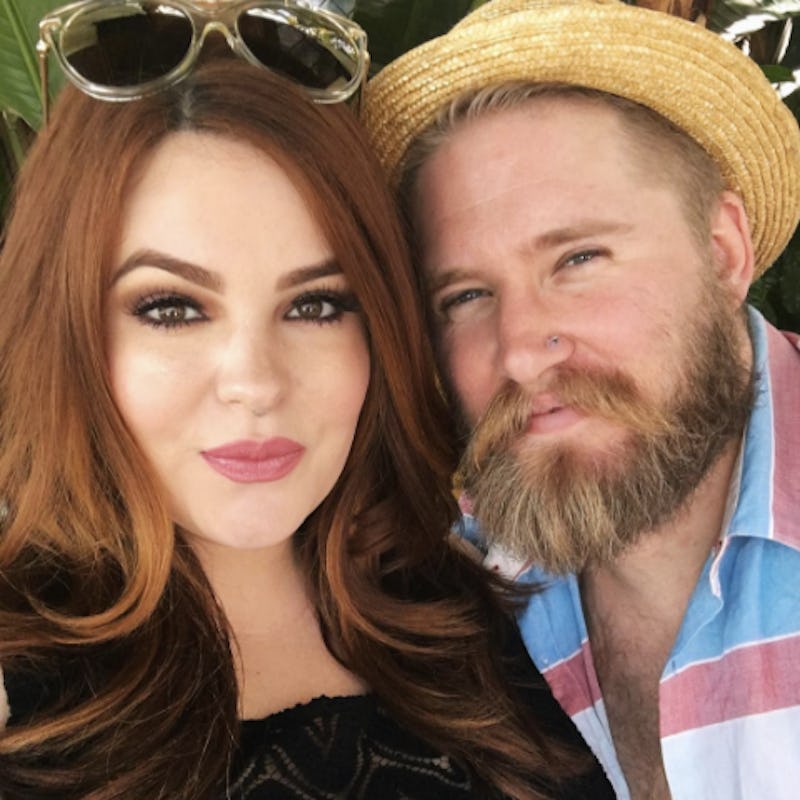 It's a boy! Plus size model and proponent of body positivity Tess Holliday gave birth to a baby boy on June 6. That's right: The highly-anticipated first child of she and husband Nick Holliday is finally here, and the first image of Bowie Juniper Holliday is now available for the entire internet to obsess and join in a collective "aww" over. Baby Bowie (who quite possibly has the raddest name to ever exist) is the cutest little bundle, rocking a star-covered onesie in a People Exclusive photo alongside his mom. He was born at 8 lbs. 10 oz. and measured to be 22 in. long, according to the People exclusive.
From the photo, you can already tell that Holliday's newborn is preciousness incarnate, what with his teensy little hands tucked up against his face and his wildly moving legs. And just look at those little toes! Too cute. I seriously can't.
Of course, we've technically seen snapshots of this baby before, thanks to Holliday's detailed documentation of her pregnancy with Baby Bowie. A nude selfie Holliday posted onto her Instagram as she was well into her last trimester was one of our first introductions to her infant, as she embraced the gorgeous vessel he had been living in for nine months. Honestly, who has a cooler mother?
In the same way that Holliday lovingly embraced her baby before he was born with selfie after selfie, her love for Baby Bowie is incredibly palpable in the first picture shared in which both mommy and baby are visible. Holliday's facial expression alone tells us everything we need to know. She really loves her son.
Though she's already a mother to 10-year-old son Rylee from a previous relationship, Holliday feels as though everything is brand new. She told People, "It's been 10 years since I had a kid, so there are so many things that are new. My friends that have babies are posting all of these new swings and breastfeeding techniques and new bottles, and it's really overwhelming because I thought, 'I've already done all this,' but it feels like I haven't. I'm having to relearn a lot!"
Based on Holliday's mesmerized gaze and her sweet baby boy's adorable onesie and teensy toes, it's easy to tell that Holliday is already getting back into the swing of things.
Image: TessHolliday/Instagram