You Can Get The KyMajesty Metal Matte At This Time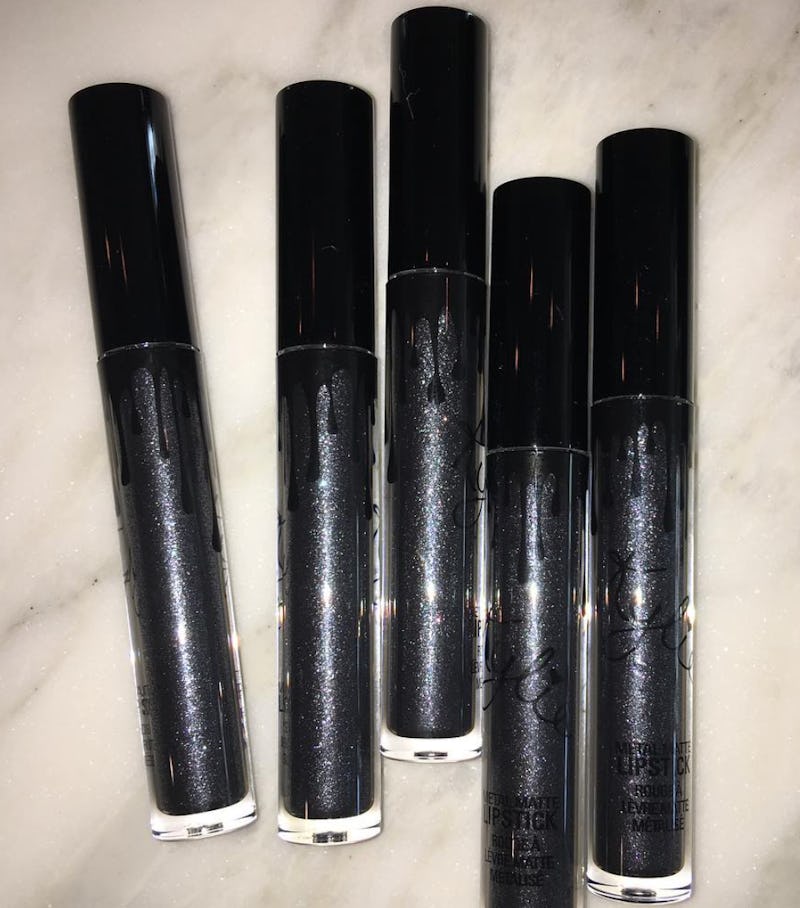 The dramatic, matte black Dead of Knight Lip Kit made its grand debut last week. What about Kylie Jenner's KyMajesty Metal Matte, which is black with blue and silver undertones and a crazy, sexy sheen? Jenner announced KyMajesty before she announced Dead of Knight, yet the latter on went on sale (and sold out) first. She made us wait for the latest addition to her Metal Matte family, all the while continuing to tease it via social media because duh. Jenner and Kylie Cosmetics have confirmed that KyMajesty will go on sale for the first time on Thursday, June 16. What exact time will the KyMajesty Metal Matte be available to buy? When should you be online, credit card in hand and ready to shop?
The KyMajesty Metal Matte goes on sale at 2 p.m. ET and 11 a.m PT, per the brand's official Instagram post. The team confirmed the on-sale time while sharing a flat lay shot of six tubes of KyMajesty in all of its shimmering, blackened glory! KyMajesty is way different than Dead of Knight but I expect it to be met with the same sort of online shopping frenzy tomorrow!
Observe the newest Metal Matte and the confirmation of the shopping time and date.
Basically, KyMajesty is like a starry night or a starry sky. While this Insta post only stated 11 a.m. and did not indicate the time zone, Kylie Cosmetics operates in the Pacific time zone. Plus, a post on Jenner's app, which is the official information hub for all Lip Kit restocks, confirmed the time zone.
Those screen grabs are below.
Oh, hi Ky! It's got such a midnight, moon-shimmying-off-the-ocean vibe, doesn't it?
Here is the caption. So you can rest easy knowing the exact time to shop.
Here's the usual packaging!
Now that's a swatch.
The Knight Kit is much more matte. Knight and Ky are sisters, but not twins. Like Mary-Kate and Elizabeth Olsen, not Mary-Kate and Ashley.
KyMajesty, which was initially announced as "Majesty," doesn't skimp on sheen.
Blue x black x silver? That is a formula for awesome.
If you plan to shop KyMajesty tomorrow, brush up on Kylie Lip Kit and Kylie Cosmetics shopping tips so you can successfully purchase products and eventually brush them across your lips!
Images: Kylie Cosmetics/Instagram (6)