Are Rihanna Grey Puma Trainers Still Available?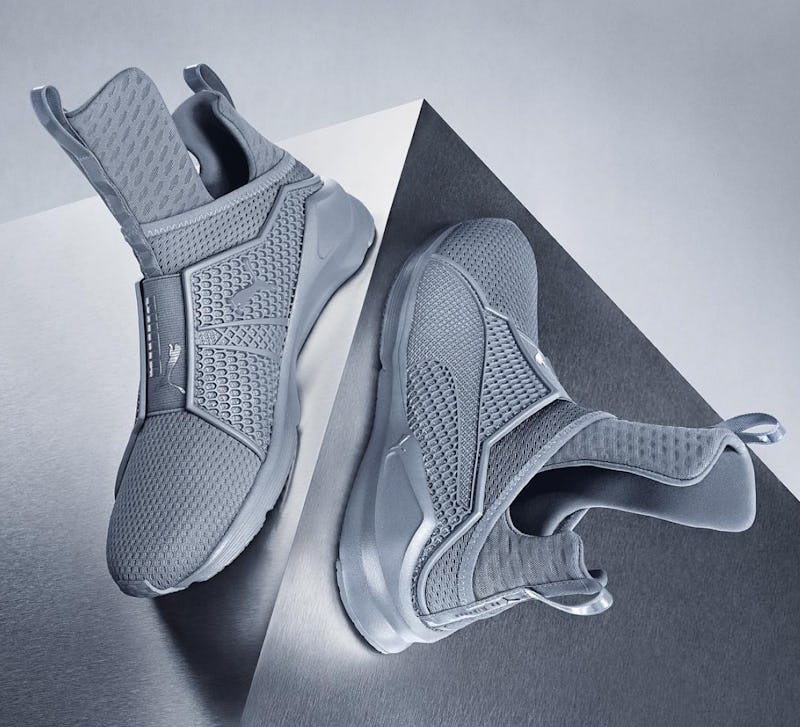 If you hit the Puma official online store, you'll see that the grey Rihanna Puma Trainers are totally sold out after dropping on June 15. Puma PR reps told Bustle via email that this was the only planned drop of these futuristic-looking, bootie-like kicks. But don't be bummed. Don't let that cold, hard fashion fact ruin your day. Because I have some good news. You can actually find the grey sneakers with the high tongue at other authorized online retailers and no, I am not talking about a third party site with a jacked up selling price. So, where are the Rihanna grey Puma Trainers still available to buy?
Madison, an L.A.-based retailer with two locations and which offers online shopping and shipping, still has precious pairs left in a few sizes. Most, but not all, sizes are sold out. However, if you are a 7.5 or an 8.5, don't delay in scooping up a pair, as those are the only sizes left as of press time. It's like finding a needle in a haystack, isn't it?
Puma PR reps confirmed to Bustle a few weeks ago when the Rihanna x Puma Creepers dropped that Madison is indeed an authorized Puma retailer. So this seller is indeed legit.
These are the kicks in grey or "quarry," as they have been described.
Here is the Puma site main page screen grab, confirming that the shoes are sold out.
Just in case you needed more proof that the quarry Puma Trainers stock has been depleted.
Let's turn that frown upside down, shall we? This is a screen grab from the Madison site, which shows two sizes still on sale. If either size is yours and you have been coveting these kicks, then what are you waiting for? Stop reading and start shopping.
We promise to keep you posted about the status of these kicks and if Puma plans on bringing back this shoe for a second run. We will also let you know if the athleisure brand will be dropping any new or "classic" colorways of this Trainer or of the best-selling, highly sought-after Creepers or the sold-out fur slides.
Images: Puma/Instagram (1); Courtesy Puma (2)