You Need To Shop The Next Kylie Lip Kit Restock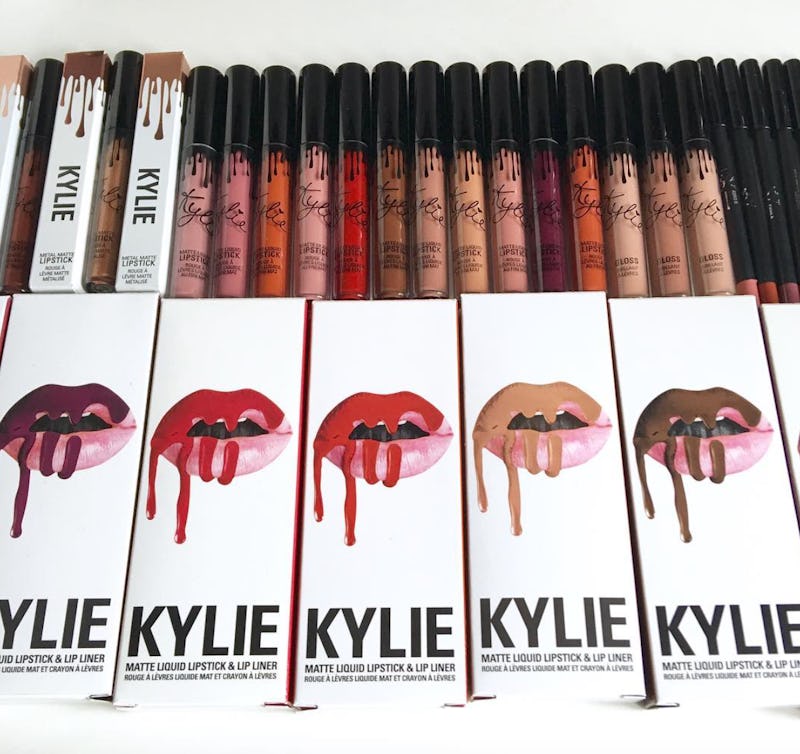 It's usually a party when the gang is all here. All of the Kylie Lip Kits, Kylie Glosses, and Metal Mattes are being restocked during a major Kylie Cosmetics replenishment. When can you grab any and all of the mega matte KLKs or the super wet-look and maaaaj shine glosses, as well as the shimmering mattes? Kylie Jenner tweeted confirmation of the on-sale date and time of her entire repertoire of lip products. This is when you need to be online, credit card in hand, so you can shop the full spectrum of shades.
All of Jenner's lippies are returning Tuesday, June 21 at 2 p.m. ET/11 a.m. PT. If you've been eyeing the black velvet Dead of Knight Lip Kit or the blue x silver x black sheen of the KyMajesty Metal Matte, then you need to shop this particular restock because it's your last chance to nab either or both of these "exclusive" hues for the foreseeable future.
The Kylie Cosmetics team posted on the brand's official Instagram, confirming that the two black lippies are going away for "a while" and won't be restocked anytime soon. I advised fans and Kylie Cosmetics devotees not to panic, since the DoK and KyMajesty production hiatus sounds temporary and I predict both will be back for the autumnal months.
Below is Jenner's tweet confirming the restock deets.
There is the word, straight from the boss! She was responding to a fan who inquired if she was restocking everything or just KyMaj.
The Kylie Cosmetics lip empire is so expansive. The makeup mogul said she would drop two new Lip Kit colors this week and she made good on her word.
Two blue shades — Skylie and Freedom— are limited edition and will land on Friday, June 24. That means there are two Kylie Lip Kit restocks this week and two new shades making their debut. Let's break for a "Huzzah!"
KyMajesty is going into hibernation.
So is Dead of Knight. They are being referred to as "exclusive" shades. Perhaps they are limited edition and/or seasonal and will recur randomly? We will have to wait and see, since Jenner always keeps us guessing.
The process for successfully buying a Kylie Lip Kit has changed a bit, but follow those outlined tips and you should be able to get whatever kolor(s) you desire. Be online five minutes early, have your credit card out, shut down all other distracting browsers, and focus on the tax at hand. Good luck!
Images: Kylie Cosmetics/Instagram (5)