And The Wait For More 'GoT' Begins Again…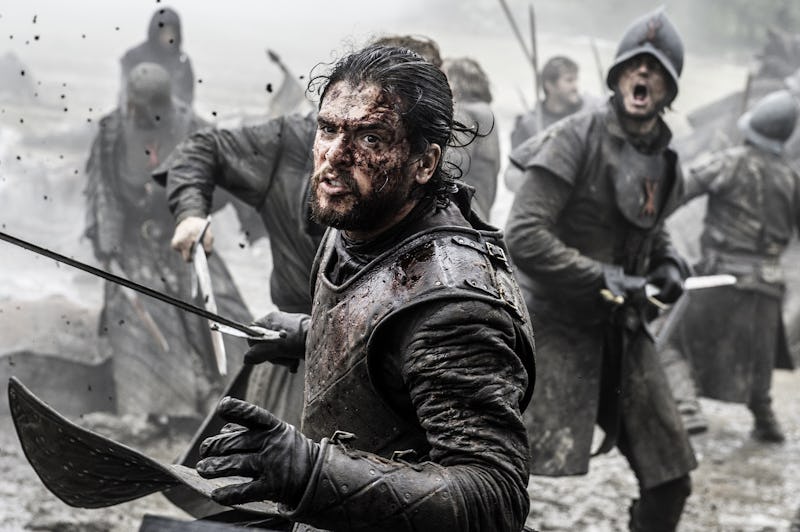 This Sunday night, "The Winds Of Winter" will finally arrive in Westeros during the Game Of Thrones Season 6 finale. Then, like any sensible creature when the cold snap comes, HBO's epic fantasy series will bunker down for a nice long hibernation. The eager anticipation for this week's climactic episode is a double-edged sword: as soon as the action-packed episode is over, fans will once again have to wait for what feels like an eternity for more. But how long, exactly? When will Game Of Thrones Season 7 premiere? [UPDATE: According to Entertainment Weekly, HBO has confirmed that Season 7 will be seven episode and will premiere in summer 2017.]
Showrunners David Benioff and D. B. Weiss revealed the season will air later than usual during a UFC Podcast. There's still no official premiere date, but they are shooting the show later in the year which will result in a delayed air date. "We're starting a bit later because at the end of this season, 'Winter is here' — and that means that sunny weather doesn't really serve our purposes anymore," Benioff said. "So we kind of pushed everything down the line so we could get some grim gray weather, even in the sunnier places that we shoot."
Unfortunately, aside from that, there's a lot we don't know about the next season of GoT. We don't know exactly when it will premiere, we don't know how many episodes it will contain, and we don't have the slightest inkling what will happen, given that the show has zoomed past George R.R. Martin's source material this year. However, we do know at least one thing about the seventh season: it's definitely happening! Game Of Thrones was renewed for Season 7 officially (and unsurprisingly) by HBO a few days before Season 6 even premiered. So if there was for any reason any doubt in your mind that we would be returning to Westeros next year, you can now rest easy.
But just because HBO has yet to announce an official premiere date doesn't mean we can't make an educated guess. GoT has always premiered during March or April, so it's a safe bet that we'll see Season 7 within the first four months of 2017 as well. However, the premiere date has been getting progressively later and later every season for the past several years (moving from late March to early April to mid-April to late April in Season 6). Could Season 7 come later than ever?
Perhaps, depending on how rigorous the filming process is and how much time the effects team needs to work in post-production. The cast and crew have stated that last week's episode, "Battle Of The Bastards," was the biggest episode of GoT to date, involving 600 crew members, 500 extras, four separate camera crews, 25 days of filming, and untold millions of dollars to execute. If showrunners David Benioff & D.B. Weiss try to top themselves again in Season 7, who knows how long it will take for them to pull it off.
However, if rumors that Season 7 will only consist of seven episodes are true, then perhaps Benioff & Weiss can bring their most epic season of television yet to the screen within the same timeline as the rest of their 10-episode seasons. (Although the showrunners have stated they only have 13 episodes of story left to tell — seven for next year and six for the eighth and final season — HBO has yet to confirm or deny exact episode counts.)
"Why don't they just get all 13 episodes out of the way in one final, epic, super-sized season?" you may ask. Well, apart from the fact that HBO will undoubtedly want to milk their biggest cash cow for as long as humanly possible, there's the small detail that the GoT team cannot physically produce more than 10 episodes in one calendar year, given the lengthy and arduous writing, filming, post-production, and promotion schedule.
So if they had decided to make Season 7 the final 13-episode season of the show, we would be waiting even longer for it than usual. But since they decided to give us the remaining episodes in smaller chunks, we should be getting them within the same timeframe GoT fans are used to. It may be hard right now to imagine waiting 10 months to find out what happens next, but look on the bright side: maybe George R.R. Martin will finally get The Winds Of Winter published before Game Of Thrones Season 7 premieres next year! (Hey, a guy can dream, right?)
Images: Helen Sloan (2), Macall B. Polay (2)/HBO