ColourPop's Ultra Metallic Lip Is Hit On Twitter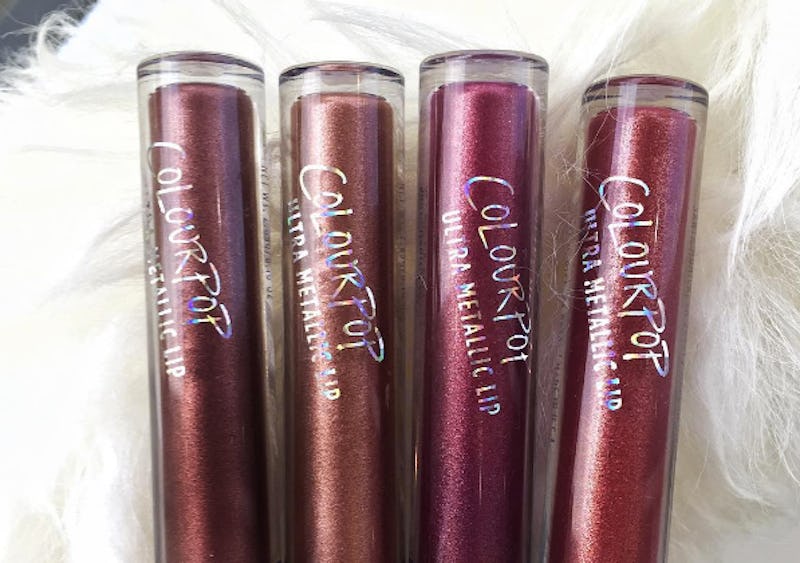 If you haven't already seen on social media, ColourPop Cosmetics is launching an Ultra Metallic Lip formula that's just as trendy as it is affordable. With any new launch comes some excitement, but this particular news is pretty much taking over Twitter. Why are people so excited about the four metallic shades, you ask? Let me break it down for you.
First off, people know that when the trendy online makeup company creates a new product, it's going to be super affordable. The four rosey shades — Zebra, Man Eater, Kween, and 3-Way — are all $6 a piece on the ColourPop site. That means as of June 24 you can get all of them for under $25. That's less than one Kylie Lip Kit!
Not only are they affordable, but every lip color, face, and brow product is totally versatile. ColourPop does a great job of offering a wide range of colors and making each one totally wearable — no matter what your shade is. It doesn't matter how pale or dark you are, because the new Ultra Metallic Lips are going to look great on everyone.
While the company might only have four colors out in the Ultra Metallic Lip for now, ColourPop announced on their Snapchat that this is only the beginning of shades. They don't mess around when it comes to color range, so expect a lot more than just four in the future.
One look at these gorgeous lipsticks, and it's clear to see why people are excited. Between the price, surprise launch date, and the shiny shades, it's a lot to look forward to.
Unfortunately, there will be limited quantities of the first round of Ultra Metallic Lips. That means you'll want to act fast if you want them in time for summer. They'll be back, but it's not clear exactly when. Here's what people have to say about all the exciting news.
No messing around with this launch!
People are even canceling their Lip Kit orders.
Yes, caps lock is necessary.
Just have all our money, ColourPop. You deserve it.
Tears of joy have officially been shed.
It's not a want. It's a need.
YAS.
Don't die before the launch!
I'm just going to put this right here for you.
This is one launch to mark your calendars for!
Images: ColourPopCosmetics/Instagram (1)