When Can You Go To The Beach After Getting Inked?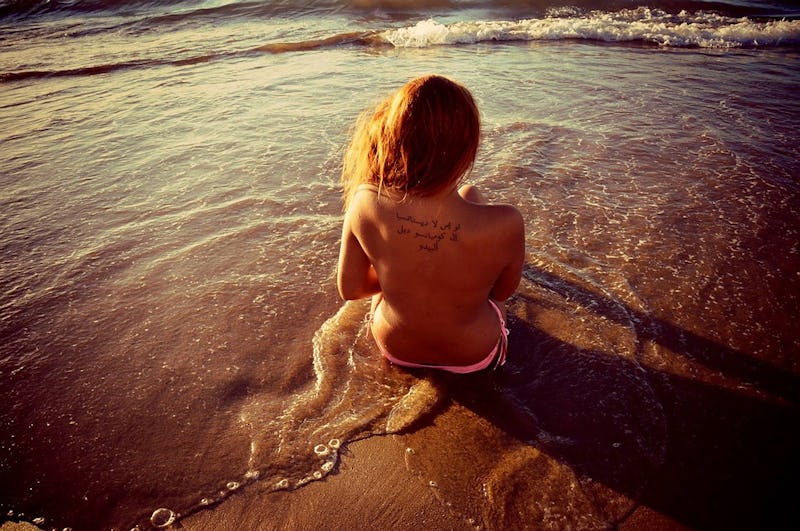 Getting inked in the summer may seem like the perfect plan, especially if you've organized to get tattooed over your vacation, so you have time off to properly care for your new ink. However, you may be wondering how long to wait before going to the beach after a tattoo. With this in mind, your dreams of lazy days lounging on the sand or paddling in the sea, may or may not become a reality.
As well as the bacteria-ridden water, there are a myriad of reasons why beaches aren't the best spots to take your new tatt on a day trip. There could be a risk of contracting a Vibrio infection, coming into contact with raw sewage in ocean water, or burning your tattoo – all of which are not mementos you'd want from a fun day at the beach. But, when it's hot outside and all your friends are heading to the beach, the temptation to join them with your new tattoo could be very hard to resist. You're only human after all.
So what do the experts recommend? I spoke with tattoo artists Adal Ray of Majestic Tattoo NYC and Josh Egnew of Electric Anvil Tattoo to get a better picture of this dilemma.
Egnew says, "We recommend waiting at least two weeks, or until the tattoo is fully healed." Therefore, it may be wise to either postpone your beach trip or reschedule your tattoo appointment to give your tatt time to heal. "Soaking the tattoo and exposing it to sunlight should be avoided during the healing process." Egnew tells me, which means swimming with a new tattoo and sunbathing with fresh ink are definitely out of the question if you want your tattoo to be in with the best chance of healing healthily.
On the other hand, Ray recommends longer, "Generally we advise to wait a solid month before direct prolonged sun exposure." Which could mean your summer beach plans are out of the window, unless you keep covered up. If you're contemplating a new tattoo, but you're a beach babe wanting to fully enjoy summer, you might want to delay your plans for new ink until fall or winter. This way you'll get the best of both worlds and you can fully enjoy your beach break without being paranoid that your fresh tattoo is going to get wet, infected, or burnt.
If you've gone to all the painstaking trouble of designing your own tatt, getting inked, and paying good money for your creation, don't fall at the last hurdle. Avoid the beach for a month or until your tattoo is healed and avoid sun exposure and swimming during the healing process.
Images: leandrodecarvalhophoto, shazlynnsimerherbalife, Hans/Pixabay