Where Will 'OITNB' Take Alex & Piper Next?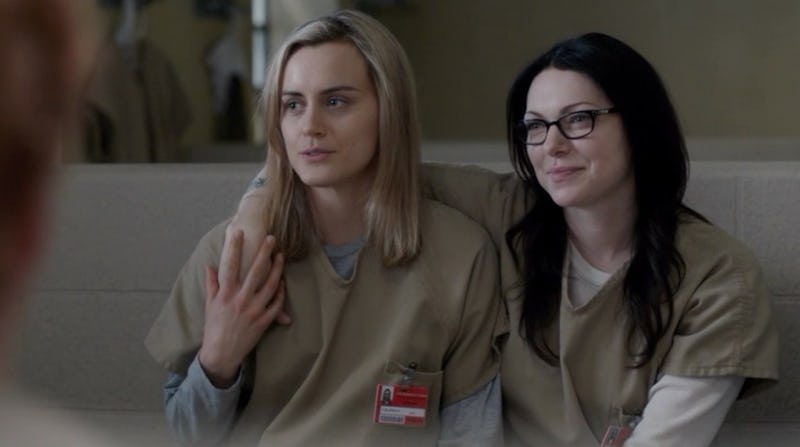 Season 4 of Orange is the New Black — a daring chapter in what's already a boundary-pushing premise — ended on a devastating note. Though it seems (major spoilers ahead) that most of the final episodes surrounded Poussey's devastating, heartbreaking death, there's one storyline that still lingers in the back: The ongoing relationship between Piper Chapman and Alex Vause. For some reason, it's a topic that both OITNB and it's viewers just can't quit. (I wonder who we learned that from?) And, with Season 5 coming up next, it's worth wondering: What will happen to Piper and Alex?
On Friday, the cast participated in the "TimesTalks" series, held by New York Times culture reporter David Itzkoff, in which they discussed everything from how real life experiences shaped their roles, the most intimidating cast member, where they were before the show, and of course, the Piper and Alex relationship. According to Laura Prepon (who plays Alex Vausse) it will be a long time before we see any sort of stability between the two. Prepon told Itzkoff, "There will never be any settling down for Alex and Piper, which is why it's such a fun relationship to watch." That, and also, a tortuous one.
In Season 3, Piper left Alex for a new inmate (Stella, played by Ruby Rose) and was high on the success of her panty business. And then there was Alex, paranoid as ever, struggling to keep her head above water. In the season finale, her anxieties were finally vindicated (yes, Kubra was out to kill her), but that didn't change the fact that through Piper's eyes, Alex had lost her mind. (Arguably through Alex's eyes, Piper had also lost her mind.)
When Season 4 opened up, Alex escaped that near-death experience, only to exchange it for more paranoia — i.e. the fear of being caught for killing and then subsequently chopping Aydin's body into pieces, only to bury them in Litchfield's garden. Like Season 3, Season 4 Alex lets fear get the best of her, but what makes her exceedingly vulnerable is the fact that she's never committed an act so heinous before. She needs Piper to make her feel normal again — human even. Meanwhile, Piper experiences a different type of downfall that destabilizes her short lived panty reign over the prison. If there was ever a time that the two needed each other, it would be now, yet nothing concrete never happens. The flame burns in the background, but its a slow, agonized one. Painful to watch.
Prepon continued to describe the dynamic, "It's just one of those things where you really can't control where your heart goes. They love each other and they hate each other, and they manipulate each other and they help each other when they need it, but the thing that's so great is that it's always grounded in the reality that they do ultimately love each other. You're always kind of rooting for them because of that genuine love." There's no doubt that the two inmates and exes share something. Whether or not that's "love" at this point remains to be seen as it's hard to tell from their primarily self-motivated actions. But, if this season couldn't bring the two together, what could? Do they both have to be in happy places for their relationship to work? Will there ever be "normal" relationship between them that doesn't including lying or backstabbing? File all these questions and more under "things about Piper and Alex that keep me up at night."
At its strongest, OITNB remains driven by its characters. As a show that's practically bursting at the seems with them, this is crucial. While the commentary on prison politics — and more broadly systemic problems within our culture — are what makes OITNB fundamentally irreplaceable, it's the characters and their interpersonal relationships that form the glue. And unfortunately — or fortunately, depending on where you stand with them — that means as long as Litchfield continues to live on, so will the Alex and Piper saga.
Images: Netflix; Giphy (3)