Recap 'OITNB' Season 3 By Character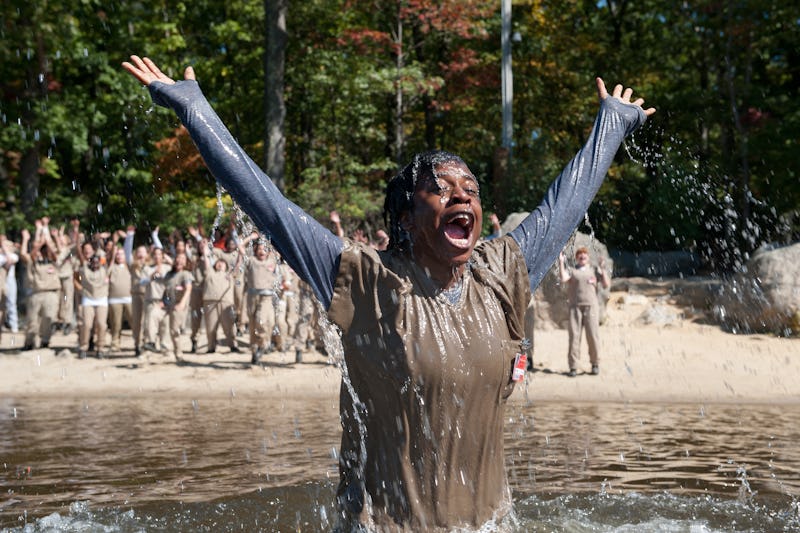 Considering that Orange Is the New Black has one of the largest ensembles of all the TV shows out there, the series does a great job balancing its many story lines. That's also why the best way to recap Season 3 of Orange Is the New Black is not to look at all the plots, but to focus on the individual arcs of the characters. With plenty of new insights on the characters provided by flashbacks and how they are handling life in prison, what makes Orange Is the New Black so compelling is the characters — even if you can't understand why they continually make bad decisions most of the time.
Litchfield saw some serious changes in Season 3 with the federal prison being bought by the private company Management and Correction Corporation (MCC). As the inmates and correctional officers dealt with the cost-saving changes of the evil cooperation, the series still managed to have a lighter air in its third season. You know how the Emmys struggled with whether or not Orange Is the New Black is a comedy or drama? Well, Season 3 definitely felt like it fell more into the comedy category. Of course, that doesn't mean there weren't physical and emotional troubling moments for the women of Litchfield, but with the joyous celebration at the lake in the Season 3 finale, you gotta admit Season 3 of Orange Is the New Black was its most uplifting season yet.
When Season 4 of Orange Is the New Black premieres in its entirety on Netflix June 17, prepare for a more intense season by reviewing what went down in Season 3 by major character.
Piper
Piper successfully accomplished her transition to Walter White-level status in Season 3. After confessing to Alex that she put her in prison, the pair had a slightly functional girlfriend relationship for a brief time. Once she got the coveted job of working for the lingerie company Whispers, Piper embraced her bad side and started her used prison inmate panty business with her brother and Alex. As Alex became distant due to paranoia, Piper turned to new character and fellow Whispers worker Stella (welcome Ruby Rose!) for some loving. Although the title badass usually doesn't suit her, Piper was hilarious in her panty speech, and she ended up taking down Stella by planting contraband in her bunk when she found out she stole from the business. "Trust no b*tch," indeed.
Daya (& Aleida)
Daya finally had her baby at the end of Season 3, but she faced a lot of emotional turmoil before then. When Pornstache's mom, Delia Powell (Mary Steenburgen), visited the prison and offered to adopt her baby, her mom Aleida was into the plan for the money. Bennett ended up proposing to Daya with a gum wrapper ring, but after seeing the living situation of Cesar, he fled Daya and his job and wasn't seen again. Daya, in her depression of losing Bennett, promised George's mother the baby — then confessed it wasn't George's — but Delia wanted to have custody of Daya's child all the same. When Daya went to the hospital to give birth, Aleida called Delia and told her the baby had died so that Daya could maintain custody. This move led to some serious mother-daughter bonding between Daya and Aleida, but the end of Season 3 showed Cesar being busted for drugs and Daya's daughter being taken by authorities, so don't expect the pair to be getting along in Season 4.
Norma
Norma's backstory was revealed in Season 3 and it was utterly fascinating. After dabbling in Mendoza's Santeria in Season 2, Norma gained a following of people seeking answers and positive energy from her. Mendoza forbade her from continuing with Santeria, so she established her own cult-like religion. Considering that her backstory was that she had been in a cult for the majority of her life with the polygamous Guru Mac (whom she killed and it landed her in prison), her desire to be worshipped was understandable, if severely unhealthy. Once Leanne claimed that she saw Norma's likeness in a piece of toast and her followers believed it, she finally put an end to the craziness (thanks to some strong words from Poussey), but still appeared to have some magical powers as she was the first person to spot that part of the fence was missing in the Season 3 finale. Her backstory also explained why Norma chooses not to speak — she has a severe stutter.
Leanne
Leanne was Norma's number one follower, which also was explained by her flashback. Leanne was raised Amish and thus had a very strict religious upbringing. While she was busy doing Vee's heroin that Nicky had hidden in the beginning of Season 3, by the end she had made herself the unofficial voice of Norma's cult by bullying the members and specifically torturing Soso. After Norma disbanded the cult, Leanne showed how desperately she needed it in her life by sobbing to her former "spiritual" leader. No one better make fun of Witness to her for awhile.
Black Cindy
Black Cindy started eating the Kosher meals in the cafeteria after new inmate Lolly introduced her to the joys of the prepackaged meals and what started as a hilarious plot turned into a truly touching moment. When MCC realized that too many Kosher meals were being eaten, Cindy tried to convince the rabbi investigating the matter that she was Jewish by quoting Woody Allen's Annie Hall. In her desperate pursuit to continue eating Kosher, she befriended two Jewish inmates and discovered that she actually was pursuing becoming Jewish because the religion spoke to her. After emotionally expressing what Judaism meant to her, the rabbi allowed her to convert and she was able to perform her mikvah in the lake behind the prison. Now, that's some divine intervention.
Crazy Eyes
After Suzanne's Season 2 plot with Vee, she got a more lighthearted storyline in Season 3 with her becoming an sensation in Litchfield due to her writing The Time Hump Chronicles. One of the fans of her science-fiction erotica was Maureen, who tried to have a sexual relationship with Crazy Eyes. Despite Crazy Eyes' obsession with Piper in Season 1 and how she had created the character Admiral Rodcocker, she confessed to Morello that she is actually a virgin. Yet, the final moments of Season 3 in the lake with a bizarre game of catch with a turtle set up that Maureen and Suzanne could be a couple in Season 4.
Poussey
Speaking of potential couples, Poussey finally may have found the love she's been looking for in prison. After giving into her alcoholism, she found comfort in The Time Hump Chronicles and in Norma's new religion. But, once she saw how Leanne was manipulating the positive energy Norma was supposed to provide, she became an ally for Soso, who had been alienated by Leanne. Poussey discovered Soso unconscious from an overdose and ended up saving her so she wouldn't be sent to psych. While at the lake, Soso and Poussey held hands, and the Season 4 trailer definitely hints at them being a couple.
Soso
Soso had a rough Season 3 with her being cast out from Norma's religion by Leanne. Although she found some solace with counselor Berdie Rodgers, Berdie was forced to go on leave for knowing about The Time Hump Chronicles, so Soso only had Healy to turn to. After Leanne cut Soso's hair while she was sleeping, Healy recommended antidepressants for her for a second time. She stole Benadryl and purposefully overdosed on them as a suicide attempt. Thankfully, Poussey was there to save the day and provided Soso with a support group.
Healy
While Soso told him he was horrible at his job, which he is since he ruined Berdie's career out of jealously, he somehow ended Season 3 in not a bad spot. After Red complimented Healy in front of his wife Katya, Red used his crush toward her to try to get her job back in the kitchen. Healy was hurt that Red was using him, but by the end of the season, he had let his feelings get the best of him by giving Red produce to make her happy. He also gave Katya her freedom by offering her an apartment, which actually led to Katya appreciating Healy for the first time ever. Although he genuinely cared for Red, he wasn't too upset when Red said their paths crossed too late in life since Katya stopped by the prison to give him Olive Garden leftovers. It's the little things, Healy.
Red
Red manipulating Healy's emotions ended up working for her since he put a good word in for her to Caputo and she did get back in the kitchen. Unfortunately, MCC had changed the food in the cafeteria, which didn't allow her to use her skills. She ended up using the vegetables in the garden to make small meals and host dinner parties for some of the inmates. This was some consolation after she found out her husband and sons had failed with their family business. This also led to her divorcing her husband and berating Piper for not being the nice person she thinks she is. Although it initially seemed like Red was only playing Healy, she did also care for him by the end of the season, but she's better off without that mess of a man.
Caputo
Caputo's struggle as the good guy continued in Season 3 with his backstory revealing how he ended up working at Litchfield when his girlfriend got pregnant with his bandmate's baby, but he decided to stick by her anyway. Of course, that didn't work out for him, leaving Caputo free and clear to have an affair with Fig in Season 3. He saved the prison from closing down by having the private corporation MCC take over, but that meant having to answer to "director of human activities" (aka the new warden) Danny Pearson. Danny was a good guy, too, after all and the pair partnered up to try to improve Litchfield. Caputo even saved the day when Angie got accidentally released from jail due to MCC not training new correctional officers well enough. But, when the original COs wanted to unionize and Caputo decided to take a promotion, the trained COs walked out on him, leaving Caputo with no capable officers in the prison. Clearly, you should never listen to Fig's career advice.
Sophia
Danny ended up quitting MCC (giving Caputo the promotion) because of how Sophia was treated in Season 3. After making an arrangement to have her wife drive Mendoza's son to the prison to visit, Mendoza and Sophia had an epic battle about whose son was a bad influence on whom. After Sophia accidentally hurt Mendoza, Mendoza encouraged hateful things to be said about Sophia, and Sophia ended up being jumped by three prisoners in her salon. When she threatened legal recourse to Caputo, MCC punished her by sending her to the SHU.
Mendoza
Mendoza discovered her son was misbehaving and not only did it lead to the deterioration of her relationship with Sophia, it also led her to quit the kitchen since her responsibilities as head chef were distracting her from her family. (Red was more than happy to take over.) She did show remorse for not standing up for Sophia after she was sent to SHU and though she may not have improved her relationship with her son, she offered Flaca emotional support in a motherly way.
Flaca
The reason Flaca is in jail is pretty messed up since she sold fake drugs to her high school classmates. When one student jumped off the school roof while he was "tripping" on the pretend drugs, she got sent to prison. She was one of the few inmates to get a job at Whispers and Piper recruited her for her panty business. When Flaca got inspired by the COs to unionize, Piper conceded to the demands, but fired Flaca. Flaca then revealed her mom was sick with cancer and begged Piper to get her panty-wearing job back. When Chapman accused her of stealing the business' money (uh, it was so obviously Stella) and lying about her mom, Mendoza showed Chapman that she's not the real badass by reaming her out in defense of Flaca. Although Flaca's mother is really sick, Mendoza embraced her at the lake as a way to comfort her at the end of Season 3.
Alex
Piper's allies were very numbered by the end of Season 3 with Alex rightfully distancing herself from their toxic relationship. While Alex and Piper enjoyed hate sex in early episodes, after Alex found out Piper had put her back in prison, the two reconciled thanks to drama class with counselor Berdie. Convinced Kubra was going to kill her in prison, she started to suspect Lolly. After a violent encounter in the bathroom, it turned out Lolly was delusional and believed Alex was from the NSA. Piper started sleeping with Stella at this point, so Alex ended up bonding with Lolly. Turns out though that her paranoia was legitimate since at the end of Season 3, Kubra's henchman Aydin had become a CO at Litchfield and menacingly approached an alone Alex in the greenhouse.
Nicky
Another one of Piper's buddies who had a bad season was Nicky. After coming up with a plan to sell Vee's heroin with Boo through CO Luschek, she let her addiction get the best of her and hid the heroin in the laundry room. When Leanne and Angie found the heroin and used it, Nicky confessed to Luschek and he intervened. Unfortunately, Litchfield's favorite meth heads told any CO who would listen to check the electrical shop for heroin. When the heroin was discovered, Luschek threw Nicky under the bus (I mean, this all was completely her fault) and she was sent to Max in episode three and wasn't seen again for the rest of the season.
Morello
After Nicky got sent to Max, Lorna Morello sought comfort in a slew of men who write to female prisoners. (Plus, they put money in her commissary.) After accidentally confusing the interests of her one suitor Vince, the two actually bonded. In case you thought she became more sane because of this relationship, she proved she wasn't when she lied to Vince and said that she had a particularly pervy pen pal that she wanted him to beat up — Christopher — and he fulfilled her request. When Vince tried to end the relationship, Morello proposed to him and the pair got married. Although conjugal visits aren't a thing in federal prison (who knew?), CO Bell was so moved by the wedding that she allowed the pair to follow Foreigner's advice of knowing what love is and get it on.
Pennsatucky
Although I didn't think it was possible, Season 3 made me feel real empathy for Pennsatucky. When she befriended new CO and donut purveyor Charlie Coates during van duty, he took advantage of the relationship and raped her. Her backstory showed a history of rape and when Boo found out about the sexual abuse, the pair became allies to seek revenge. After drugging Coates and planning to violate him, Pennsatucky couldn't go through with it since she was more sad than mad. They didn't complete The Girl with the Dragon Tattoo-inspired plan and instead Pennsatucky faked a seizure while driving the van so that she'd no longer have to be on van duty with her abuser.
Boo
Before helping out Pennsatucky with Coates, Boo was inspired by the fact that Doggett got commissary funds from the evangelists who support her. With the help of Sophia and Morello, she changed her appearance to meet with an evangelist for money, which tied into her backstory of fighting with her mother who did not accept her as a butch lesbian. Her makeover ended up being for nothing since when the evangelist insulted homosexuals, Boo proved she would not align with bigots — even for money. Boo was invaluable to Pennsatucky since she helped her realize she should not blame herself for being raped, but Boo saw that her plan to help her friend may have backfired since the petite and pretty Maritza was assigned van duty with Coates in Pennsatucky's place.
Taystee
Taystee was finally free of Vee's poisonous influence in Season 3 and it led to her taking on a leadership role in her crew. From helping Poussey fight her alcoholism, to encouraging Crazy Eyes in her writing, to smoothing over relations with Red, Taystee realized that she had become the mom of her group. And while she wasn't happy to discover this new role, she is perfectly suited for it.
With a whole crew of inmates entering Litchfield in the very last moments of Season 3, you'll have a new characters to follow when Season 4 premieres on June 17. But at least you'll be fully up on what the characters you've known and loved (or known and hated) did in Season 3.
Images: JoJo Whilden/Netflix; Giphy (20)