Why You Should Def Catch 'The Legend Of Tarzan'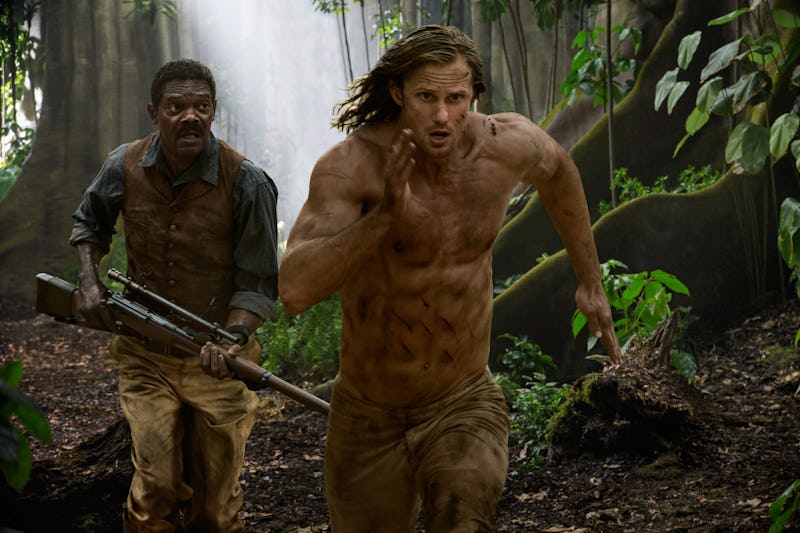 The Legend of Tarzan hits theaters on July 1, but this isn't the old Disney tale you remember from almost 20 years ago. In fact, it's important that you read ahead before bringing your young ones out for family movie night. At first glance, the trailer makes the new film look like a retelling of the story you've already heard. However, the Legend of Tarzan plot centers around Tarzan (Alexander Skarsgård) returning to the jungle after living a life in Europe as John Clayton III. He re-enters the Congo as a trade emissary and gets stuck in the midst of Captain Rom's (Christoph Waltz) evil with his wife Jane (Margot Robbie), and that fascinating tale is just one of the many reasons Legend of Tarzan looks to be can't-miss entertainment.
The new film seems to bring a fresh face to the classic jungle book that has been rewritten and re-filmed countless times. Personally, I think it will be a box office summer hit, because everyone wants to know the next part of the favorite monkey man's story. It is loosely based off of books by Edgar Rice Burroughs and Dark Horse comics which focused on Tarzan's life beyond the jungle, but the film has a cast full of stars, a crew that can't be topped, and an interesting new plotline. Below, 11 reasons the movie will swing you to new heights.
1. The Director Knows How To Work His Magic
David Yates directed several Harry Potter movies and Fantastic Beasts and Where to Find Them. When watching the trailer for The Legend of Tarzan, you can already see signs of Yates' direction. The visuals are spectacular and the ominous blue shots make it clear that this movie means no monkey business.
2. Waltz Is #VillainGoals
Waltz wreaked havoc in Inglorious Bastards as "the Jew Hunter." And he's no stranger to wild animals, since he played an abusive ring master in Water for Elephants. It is easy to see why this Oscar-winning actor is gonna kill it as the film's dangerous Belgian antagonist.
3. It's 50 Shades Of Hotness
The movie isn't rated G like the original, so audiences can definitely expect some jungle steam. According to Entertainment Weekly, Yates asked Robbie to punch Skarsgård during their sex scene in order to make the scene more carnal. Skarsgård and Robbie are two of the hottest actors I've ever seen, so audiences can only hope the sequel of this movie is equally sexy.
4. Skarsgård's Bod Catches Flight
Skarsgård may now be swinging shirtless through the trees at you in 3D, but if that's not enough for you, you should know that he presented a MTV Video Movie Award without pants on. As reported by US Weekly, he told fans, "Me Tarzan. I gotta give the fans a little skin."
5. It's A Movie With A Message
The film is the story of Tarzan's return to the jungle where he sheds civilization (and his clothes) in order to battle evil. He leaves his elaborate life to go back to his roots, and audiences should take note, because this simplistic message is something we're all in dire need of. The movie also promotes saving the environment and analyzes the threats of greed.
6. Feminist Jane Is No Damsel In Distress
According to The Guardian, Yates wanted to portray Jane as a feminist. In the original Disney cartoon, Jane wouldn't have lasted longer than 10 minutes past the opening credits without Tarzan, her knight in shining loincloth. We can all thank Yates for the lack of ruffles and the emphasis on #girlpower in the new movie.
7. It Provides Some Serious Work-Out Motivation
After watching Skarsgård shirtless for three hours, you may be inspired to hit the gym to work on your own six-pack. The movie launched the #tarzanchallenge on social media, where you can watch fitness videos and get healthy recipes. In June, there was even a Tough Mudder race in Lake Tahoe to promote the film. Fans can now take to Instagram to show off their best monkey moves with the trendy new hashtag.
8. You Can Save The Elephants
The movie is helping stop the ivory trade and the killing of elephants by encouraging donations to the Elephant Protection Initiative. According to Stop Ivory, there are only 460,000 elephants left in the world, but we can help them with our growing awareness and support for the cause. This September, leaders from around the Earth will vote on an amendment to protect them, and you can help by including your voice on the website or donating to the cause.
9. The Cast Is Hollywood Gold
According to Entertainment Weekly, Skarsgård beat out top tier hollywood men Tom Hardy, Henry Cavill, Michael Phelps and Charlie Hunnam for the role of Tarzan. And as reported by Variety, before Robbie took the role of Jane, Jessica Chastain was considered for the part. The film also features Samuel L. Jackson, who's not only the second highest paid Hollywood actor of all time but a true national treasure. With this casting pool, the caliber of the movie's cast can't be beat.
10. You'll Get Major Hair Envy
Robbie is always a stunner, but she's almost unrecognizable with her new hair color in the film. This summery do will definitely inspire hair trends for the season, and it might even tempt you to opt for redder tones next time you hit the salon.
11. The Soundtrack Welcomes You to The Jungle
The soundtrack features a new song by Hozier called "Better Love" that you can soon expect to hear all over the radio. Zoe Mthiyane, who previously sang The Lion King with Hans Zimmer, performs the haunting number. In the animated version of Tarzan, Phil Collins managed to orchestrate pure genius, but in this film, Rupert Greyson Williams created a mature suspenseful soundtrack to fit the forest feel.
Tarzan is a story that is accessible to people of all ages. It would be easy to think of this film as an old children's tale, but this new movie allows you to enter the planet of the apes with a new, mature attitude.
Images: Giphy; Warner Bros