Kylie Jenner Revealed One Hint About New Lipsticks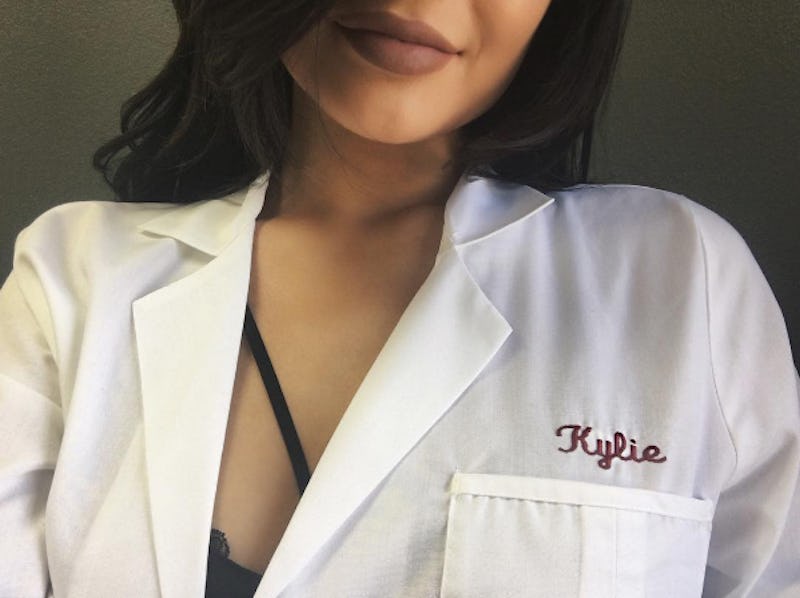 As always, Kylie Jenner is keeping her new Lip Kit shades top secret, following the announcement of a giant Kylie Cosmetics restock on Snapchat just days ago. But, thankfully, the youngest Keeping Up With The Kardashians star and makeup mogul has let one secret slip about the upcoming summer shades and the news is actually unexpected, considering the last line consisted of bright blue lipsticks "Skylie" and "Freedom."
One fan asked Jenner the following question on Twitter last night "Can you tell us something about your new colors?" and she was kind enough to provide an answer. "They are very wearable," Jenner tweeted back. Sure, she isn't really giving anything away about her summer Lip Kit shades, but knowing that they're colors we can wear on the daily is pretty helpful. I'm going to go ahead and assume they're not going to be anything as crazy as the bright blue Skylie shade.
In fact, I'm going to hazard a couple of guesses as to what the shades could be. Keeping in mind the colors that the Kardashian sisters tend to prefer as well as what would actually be super wearable for summer, my main guess is that Jenner is going to release a new line of nude, neutral toned Kylie Lip Kits to add to our summer makeup collections. Sure, she's done that before, but there are endless possibilities for beige and brown colors. Or maybe she'll surprise us with a new rosy mauve!
It's no secret that Jenner wears her own Lip Kits on the regular, so who knows if King Kylie has been rocking a new shade on any of her social media outlets before making an official announcement. With that in mind, the influx of selfies with Jenner rocking nude tones might just feature previous Lip Kits or even different brands.
And outside of lipstick news, there's been much speculation about Jenner's promised expansion of her makeup line in July. This could mean a step away from the lips and into new beauty territory. I for one would absolutely adore for Jenner to bring out a highlighter, or even some eye makeup!
But like I said, this is all total speculation and only Jenner, momager Kris, and her team at the Kylie Cosmetics factory will know the truth about what we can expect to see this month. As for now, my bet's on that the new "wearable" Lip Kits will include new neutrals!
Image: Kylie Jenner/Instagram