Kat Von Is Launching A Lot Of New Liquid Lippies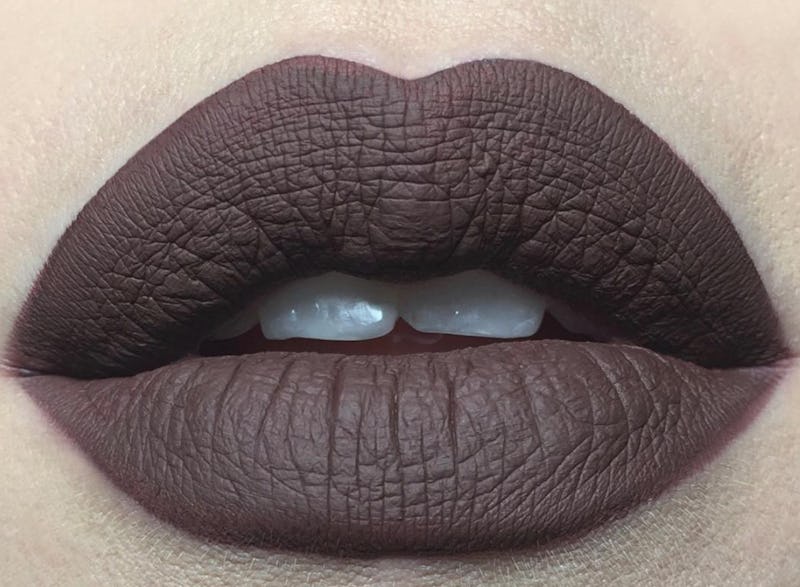 Want more proof that matte liquid lipsticks will continue to be a dominant trend for the foreseeable future, besides the fact that Kylie Jenner just launched her biggest Lip Kit restock in her brand's history? Well, Kat Von D is releasing new Everlasting Liquid Lipsticks later this year. The makeup mogul and celeb tattoo artist shared a brand new shade, dubbed "Crucifix," on her personal Instagram feed. It's a plum x taupe shade that looks like it could be universally wearable with every skintone. When will the new Kat Von D Everlasting liquid lippies be available and how many shades are there?
In the caption of her Insta post, Kat Von D confirmed that Crucifix is one of 20 new shades coming later this year. One can assume the new lippies should cruise into Sephoras and onto the Kat Von D Beauty site by the fall, if not sooner. Remember, the new jewel-toned Serpentina eyeshadow palette lands at Sephora.com on July 5 — tomorrow— while the new Lock-It face brushes are are coming this month, as well. So it's a #ByeMoney month for Kat Von D-evotees.
Kat Von D Beauty is also expanding the shade range for the best-selling and beloved Lock-It Foundation. The brand is adding 13 (!!!) new hues.
But let's behold Crucifix, shall we?
Oooh! Check out that depth and that velvet-y richness. It's such a beautiful plum-tinted taupe. It's anything but basic or boring brown, that's for sure!
The neon shade on the bottom lip is a new lip hue, as well.
Kat Von D really knows how to slay a matte lip, as evidenced by this selfie.
So Kat Von D Beauty is adding new Everlasting liquid lippies, new brushes, new Lock-It shades, and a new palette. But what about that Kat Von D collab with Too Faced Cosmetics?
Images: Kat Von D/Instagram (3)